Looking to effectively guide the ship in Urban Meyer's absence, acting head coach Ryan Day did exactly that yesterday as Ohio State wrecked the Oregon State Beavers, 77-31, in front of 102,169 faithful in the Shoe. 
The win made it 19-straight season-opening wins, good for the longest active steak in the FBS and Day's squad tied a school record with those 77 points, set back in 2016 against Bowling Green. 
With the offense humming to the tune of 721 total yards (2nd-most school history) and 10 touchdowns, the defense had its ups and downs highlighted by elite defensive line play but unsteady contributions from the secondary in particular.  
So let's get into some of the good and bad as we jump into the first Five Things for the 2018 season. 
---
DESTINY UNBOUND
Dwayne Haskins sure looked the part in his first collegiate start completing 22-of-30 passes for 313 yards with five touchdowns (two jet sweeps, tbf) against just one interception in a performance that left fans salivating for what the future might hold. 
His yards and touchdowns set school-bests for a quarterback making a first start in Columbus but honestly it wasn't even the numbers, it was the way he directed the offense that has me bullish on what Ohio State can accomplish this season. 
Haskins started the game with eight-straight completions, whipping darts all over the field with an effortless flick of the wrist. Yes, most of his first-reads were open but even when receivers were fairly well-covered, he showed little hesitation in throwing his guys open and/or leading them to improve YAC opportunities. 
Hell, his first incompletion could've been caught as he just missed Parris Campbell on a 33-yard strike that bounced off Campbell's right hand after he had to try and spin his body against the grain of his route. 
The redshirt sophomore directed the offense to touchdowns on its first seven possessions, making his receiving corps look significantly deeper and more explosive than we've seen in recent past. That said, it was one game – we all realize that – but it's hard not to get the feeling that the ceiling for the offense with Haskins at the controls is higher than that of the last few years. 
That said, the potential downside is we could see a few more turnovers/mistakes of the aggressive variety such as Haskins' only interception of the day coming on a play when he should've taken a sack if he didn't have enough time to throw the ball away. Instead, he forced a lofted ball into traffic in the middle of the field. 
To be fair, we didn't get to see too much of Haskins under fire and while he did effectively elude light pressure a few times, it will be interesting to see how his decision-making is impacted against a team able to create more angst in the pocket. 
On the day, Haskins slightly bettered his yards per completion average from 2017 (14.1) by going for 14.2 yards per completion which if you're curious compares favorably to J.T. Barrett's 12.7 from a year ago. 
Oh, and he only rushed the ball TWO TIMES which was glorious to see but will that be the norm against better teams and/or when Urban Meyer returns to the sideline? We'll have to wait and see but it sure looked like Mike Weber and J.K. Dobbins would be happy to log their fair share of the 165 carries Barrett tallied last year.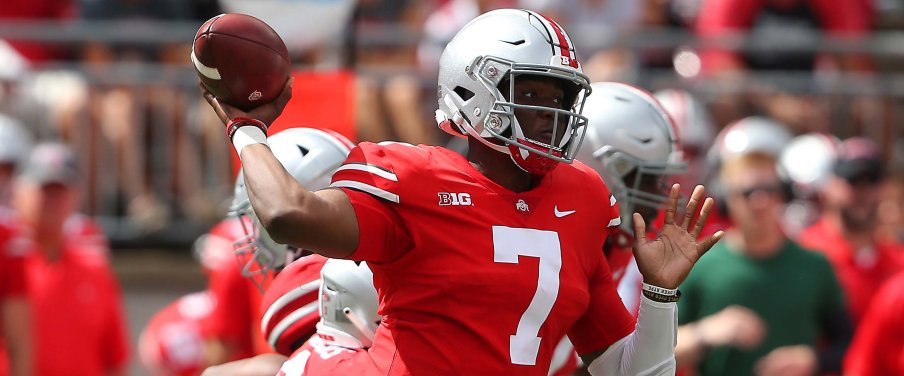 FAST ENOUGH FOR YOU
After injury slowed him a bit last season, coupled obviously with J.K. Dobbins exploding onto the scene, Mike Weber finally busted out last November with a solid three-game stretch against Michigan State, Illinois and Michigan in which he unleashed an extra gear of breakaway speed we hadn't seen to that point. 
Weber had touchdown runs of 47 and 82 yards against the Spartans, a 43-yarder against the Illini and finally a 25-yarder against the Wolverines due almost exclusively to a return of burst and speed that had been missing since a nagging hamstring injury limited occurred in fall camp and kept cropping up throughout the first half of last season. 
That same Mike Weber we saw last November was on full display yesterday as he sliced and diced the Beavers posting career-highs in rushing yards (186) and rushing touchdowns (3) including another breakaway score, this time of the 49-yard variety. 
Make no mistake, the Beaver defense isn't making the '85 Bears jealous but Weber's quickness through the hole, acceleration into the second level and his desire to bowl over defensive backs if he couldn't go around them was something to behold. 
A seasoned veteran, he also executed a key block on Parris Campbell's jet sweep touchdown making it 56-21 good guys. 
I think we're all happy for Weber who has been nothing short of a pro ever since Dobbins came in as, at minimum, a co-starter on the heels of Weber rushing for over 1,000 yards as a redshirt freshman back in 2016. 
Hat tip to Mike Weber. Ohio State needs both of these guys to rain fire if it wants to make a playoff run and Weber certainly looks like he's ready to do his part. 
MEAN MR. MUSTARD
It's no secret penalties have been a problem for Ohio State statistically since Meyer arrived in Columbus as the Buckeyes have ranked no better than 45th nationally in penalties per game (5.6 in 2014) and have seen their penalties per game increase each of the last three seasons, spiking to 6.9 in 2017, good for 114th nationally which is the worst of Meyer's OSU tenure. 
Yesterday was unfortunately more of the same as Ohio State was whistled for six flags for 50 yards with a few others being declined and therefore not counting against the tally. 
As is typical, false starts led the way as Malcolm Pridgeon, Josh Myers and Thayer Munford all got off early. 
On the other side of the ball, cornerback Jeffrey Okudah was whistled for two pass interference infractions on the same drive, moving the Beavers from their own 32 yard line to the Buckeye 38.
Chase Young jumped offside on both of the plays resulting in Okudah PI calls but of course Oregon State declined them. Robert Landers also notched an offsides flag but it became irrelevant as Nick Bosa jumped on a fumble to kill the Beavers' opening possession. 
Overall, no critical flags but something the staff must continue to address.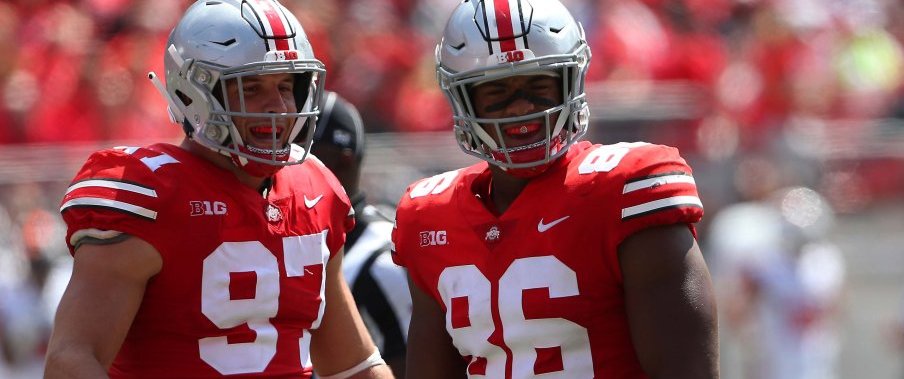 SAW IT AGAIN 
Once again, it looks like Larry Johnson is going to field a monster defensive line.
Expected to be elite, Johnson's unit did not disappoint especially in the first half as the starters treated their guests quite rudely. 
Nick Bosa was unblockable in the opening half tallying four tackles, two sacks and two fumble recoveries, one of which came in the end zone giving Ohio State a 42-7 lead late in the second quarter. 
Dre'Mont Jones also proved a handful for the Beaver front as he posted three stops including a pair of sacks with one of those stalling an Oregon State possession previously extended by Okudah's PI calls. 
Robert Landers also shot a gap and recorded a TFL while Bosa's counterpart, Chase Young, overcame some early jitters to log a pair of quarterback hurries. He also just missed a sack when Bosa got the the quarterback a fraction of a second earlier. 
We'll see how the depth develops but there's no question the starting front four is one of the top two or three groups in the land battling for position behind Clemson's wrecking crew. 
ARMY OF ONE? 
Though he was on the field as Ohio State went through pregame warmups, it became apparent pretty quickly that captain, starting safety and the team's leading returning tackler would not play against the Beavers. 
Soon after he was seen on the field in pads but not repping with his teammates, Ohio State announced Fuller is dealing with a hamstring issue. 
Ohio State was already looking for someone to step up at the safety spot opposite Fuller and that didn't happen yesterday as Isaiah Pryor and Jahsen Wint took their lumps as Oregon State exposed their collective inexperience on numerous occasions. 
Wint finished second on the team with five tackles but wasn't stellar in run support, assisting some long runs by Artavis Pierce with either bad angles or not enough speed though by no means would I assert he was primarily or solely to blame for the handful of rushing gashes. 
Similarly, Wint offered little help over the top after Pryor appeared to get caught looking into the backfield as his hot route receiver, Trevon Bradford, got behind him for a 49-yard catch and run touchdown tying the game at 7-7 in the early going. 
Bradford would beat Pryor by a few yards in the closing seconds of the first half for another touchdown catch, this one a 7-yard connection in the left corner of the end zone. 
Pryor did record a PBU in the second half but wow was it a rough day for the duo, one of which needs to step up as a serviceable option alongside the elite play of Fuller once he returns to health. 
I'm not trying to bang on these guys because it's tough to get through a first start especially without the security blanket Fuller would've have provided but the reality is the cliche about players making big leaps from game one to game two needs to hold true for fans not to starting sweating a bit about who can effectively help Fuller hold down the back line of Ohio State's defense.