As he prepared to lead the Ohio State football team onto the field before the Buckeyes' season opener at Ohio Stadium on Saturday, Ryan Day couldn't help but have a moment of disbelief.
"Standing in the tunnel and looking up at Ohio State and the Horseshoe, about to run out with the team, and I just looked over at (assistant director of football operations) Quinn (Tempel), and I'm like: 'We really doing this?' He said, 'Yeah.' And I had a smile on my face and ran out," Day said.
With Urban Meyer serving his first game of a three-game suspension, Ryan Day served as Ohio State's acting head coach for Saturday's game against Oregon State. In his first game ever as a head coach at any level, Day also earned his first win as a head coach, as the Buckeyes rolled past Oregon State to a 77-31 victory.
Day said he wasn't nervous going into Saturday's game because of the belief he had in the Buckeyes, and the belief he knew they had in themselves.
"There was a quiet confidence about this team all along," Day said. "There's a quiet confidence about a lot of guys on our team. And when you're surrounded with players and coaches that have your back and that you know you've been through some stuff with, you kind of feel good about it."
As he reflected back on his first head coaching experience, Day said there were several moments that stood out as special to him, including the bed check at the team hotel the night before the game and the Skull Session before the game on Saturday morning.
"Going around and being with each of the guys in their room, that was a really cool experience for me," Day said. "The Skull Session, and the support that we all felt going into the Skull Session, was really awesome."
One thing Day reiterated after the game, though, as he had said earlier in the week, was that he wasn't trying to replace Meyer – who will return to the team from suspension on Monday, though he won't be allowed to coach in either of the next two games – but just trying to make sure the Buckeyes started their season strong despite Meyer's absence.
"Again, I've said this before, my job is not to replace Coach Meyer," Day said. "My job is to just keep this place until he gets back. And I never wanted to replace him. Just wanted to keep this thing going in the right direction."
"There was a quiet confidence about this team all along."– Ryan Day
10 Buckeyes make their first starts
Saturday's season opener was a day of firsts not only for Day as a head coach, but for many Ohio State players who had the opportunity to play major roles for the Buckeyes for the first time in their careers.
The most high-profile first-time starter for the Buckeyes on Saturday was Dwayne Haskins, who became the first Ohio State quarterback ever to throw for more than 300 yards and throw for five touchdowns in his first career start.
Haskins, who famously said as an 11-year-old back in 2008 that he would one day be the starting quarterback at Ohio State, said Saturday was the realization of "an 11-year dream."
"And I was thinking about that yesterday, just like how far I came just to be here and just to have this opportunity is a blessing," Haskins said. "It was a dream as a little kid, and just being able to go out there and do it on the field today is just remarkable."
Nine other Buckeyes also made the first starts of their careers against the Beavers: left tackle Thayer Munford, left guard Malcolm Pridgeon, tight end Luke Farrell, defensive end Jonathon Cooper, defensive tackle Robert Landers, linebackers Baron Browning and Pete Werner and safeties Isaiah Pryor and Jahsen Wint.
Standouts among them included Pridgeon – who was one of three players, along with running back Mike Weber and wide receiver Terry McLaurin, called up in front of the team by Day in recognition of their performances after Saturday's game – and Werner, who tied for the team lead with five tackles and forced a fumble in the end zone that was recovered by Nick Bosa for a touchdown.
Werner said Saturday was special for him, too, as he had the opportunity to start after primarily playing only on special teams last season.
"It was a great learning experience, especially being out there my first start," Werner said. "My emotions, tried to keep them intact. A little bit nervous, a little bit of that, but I think I handled it well."
Pryor had an up-and-down first start for the Buckeyes, as he recorded two tackles and a pass breakup but also suffered some beats in coverage, but he also said it was special to have the opportunity to start for the first time – and to get to do so along with another safety, Wint, as Jordan Fuller missed the game with a hamstring injury.
"We talked about it a lot, we had a great time being out there and it was a great learning experience," Pryor said.
The waiting is the hardest part
After finishing the first half with a 42-14 lead, Ohio State had the momentum of the game on its side, and looked as though it would be able to cruise into the second half to finish off an easy victory.
Instead of returning to the field after a 20-minute halftime, however, the Buckeyes had to wait for one hour and 12 minutes to start the second half, as lightning strikes in the area and heavy rain kept the teams in their locker rooms much longer than usual.
Day said the Buckeyes got "a little nervous" during the weather delay, and those nerves showed themselves in the third quarter – at least on the defensive side of the ball, as Artavis Pierce gashed Ohio State's defense for touchdown runs of 80 and 78 yards in a quarter in which the Beavers scored 17 points.
Overall, though, Day said he was pleased with the way the Buckeyes handled the weather delay, particularly in regards to how director of sports performance Mickey Marotti and his strength and conditioning coach made sure the players would be ready to go when they returned to the field.
"Mick and the strength staff are the best in the country," Day said. "They did a great job of hydrating the guys, making sure they got off their feet, and we had a good plan coming out in the second half. And I thought we played well in the second half as well."
Additionally, Day said seeing the fans who stayed at Ohio Stadium throughout the weather delay to cheer on the Buckeyes in the second half was another moment he wouldn't forget from his head coaching debut.
"Coming out in the second half and seeing all the fans come back after a long delay, coming out before the game and seeing the support and going through the line, and just the support that I felt and this team felt walking from the Skull Session to the stadium was really, really cool. And you could feel it, and it was emotional."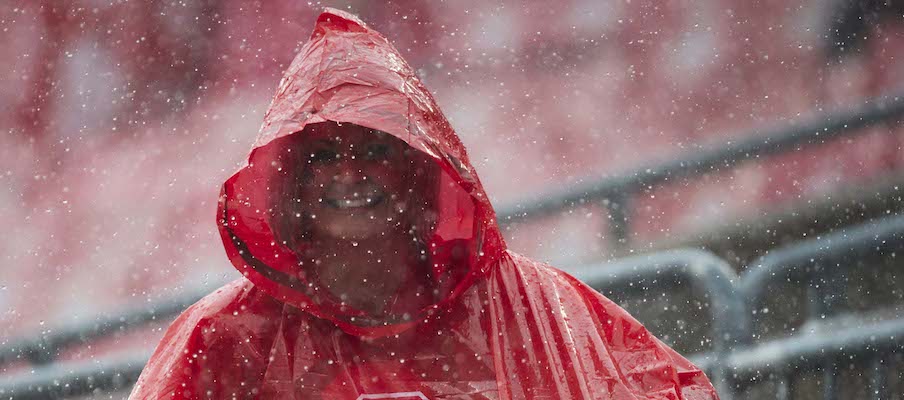 Saturday's game was the third time in 27 Ohio State football games that the Buckeyes had to wait out a weather delay. After previously not having a game delayed due to weather since they hosted USC on Sept. 29, 1990, the Buckeyes had back-to-back games delayed due to weather against Tulsa on Sept. 10, 2016 and at Oklahoma on Sept. 17, 2016.