For the first time since Ohio State's fall camp began two weeks ago, we got to hear – or more accurately, read – from interim head coach Ryan Day about how the Buckeyes have performed in their first two weeks of preseason practices and how some of the team's remaining position battles are playing out, as he released a statement on Friday afternoon with updates on each of Ohio State's position groups.
While there are still plenty of questions that remain unanswered, as neither Day nor any other Ohio State players or coaches have been made available to the media while the university's investigation of Urban Meyer is ongoing, Friday's release did give us some insight about how practices are playing out and which players could be making the biggest pushes for playing time.
A few of the biggest takeaways from what Day said on Friday:
Borland, Baldwin and Babb still recovering
Perhaps most newsworthy, Day provided updates on several players who are recovering from injuries, including true freshman quarterback Matthew Baldwin and wide receiver Kamryn Babb and the Buckeyes' incumbent starter at middle linebacker, Tuf Borland.
While Baldwin has been seen throwing the ball in some of the "Win the Moment" videos posted to Ohio State's social media accounts, Day said Friday that Baldwin is still recovering from the ACL surgery he underwent in January, "and won't be 100 percent for another couple of weeks." As such, Dwayne Haskins and Tate Martell have taken the majority of the practice reps at quarterback (Day did not provide any context on whether Martell is still competing with Haskins for the starting job).
Babb is expected to miss the season after tearing his ACL during a workout in May, but Day provided a positive update on his long-term prognosis on Friday, saying that Babb "is on pace for a full recovery and is working daily with sports medicine on his rehab."
Day's statement didn't discuss any specifics on Borland's recovery from the Achilles injury he suffered this spring, but said that Justin Hilliard and Baron Browning have continued to compete for the starting middle linebacker job while Borland remains limited. Borland has been seen practicing with the team, but Day's statement suggests that there is still uncertainty about whether he'll be ready to play when the season begins on Sept. 1.
Day also reported that redshirt sophomore tight end Jake Hausmann, one of four players competing for playing time at that position, "missed a few practices due to a hamstring injury but is back now and practicing well."
Offensive line competitions continue
One of the biggest questions is how the Buckeyes will proceed forward at left tackle and center – arguably the two most important positions on the offensive line – as they replace Jamarco Jones and Billy Price. And according to Day's update on Friday, the competitions at those positions remain unsettled with just two weeks to go until the season opener.
"Thayer Munford and Josh Alabi have been competing for the starting left tackle spot while Brady Taylor, Michael Jordan and Josh Myers have all been taking snaps at center," Day said Friday.
Munford has been a presumed starter at offensive tackle since the beginning of spring – when initially, Munford was slated to play right tackle and Isaiah Prince was set to move to left tackle – but the Buckeyes aren't ready to firmly name him as a starter yet. Alabi drew praise for his progress this spring, too, so it appears to still at least be somewhat of a possibility that he could win the job going into the season.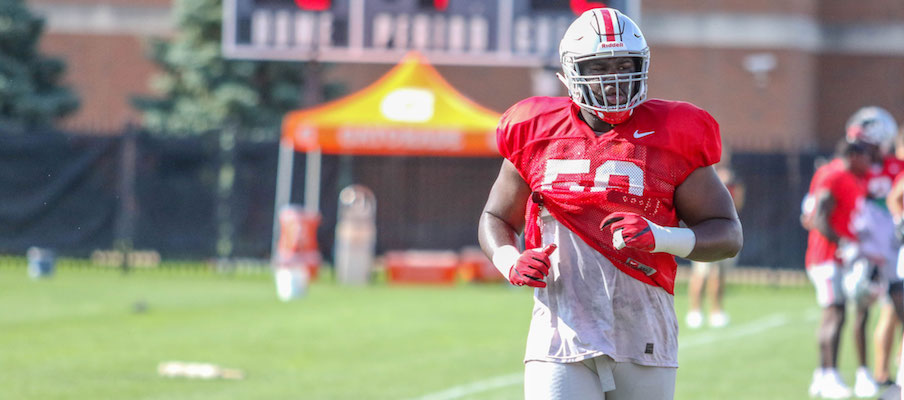 At center, meanwhile, the Buckeyes are still deciding whether to move Jordan to the middle of the offensive line or keep him at left guard, where he has started for the past two years. And that decision still appears as though it could ultimately come down to whether the Buckeyes believe Taylor or Malcolm Pridgeon – both redshirt seniors – is the offensive lineman who belongs in their starting five, with Day noting that Pridgeon's development at guard has been "a bright spot."
A notable omission from Day's update on the offensive line: Branden Bowen, who started the first six games of last season at right guard before breaking his tibia and fibula. Friday's update by Day suggested that Demetrius Knox, who started the final eight games of last season at right guard, is a solidified starter along with Jordan and Prince.
Linebacker competition remains deep
Even with Borland still limited by his injury, Day suggested in his statement on Friday that the Buckeyes still have six other linebackers who are in the mix to potentially earn starting spots.
"There are fierce competitions at all three positions," Day said. "Baron Browning and Justin Hilliard are battling at Mike while Tuf Borland is recovering from his Achilles injury. At the Sam, Dante Booker and Pete Werner are all over the field making plays on a daily basis and Malik Harrison and Keandre Jones have both stepped up in their new roles."
None of that is new from what linebackers coach Bill Davis said this spring – with the exception of Booker, who is back on the field after missing the entire spring with injury – but it remains hard to forecast what the linebacker lineup will look like when the season begins. Harrison seems like the safest bet to be in the starting lineup, while Borland should retain the middle linebacker job once he is fully healthy, but it wouldn't come as a surprise to see any of Jones, Booker or Werner in the lineup at the other outside linebacker spot.
It's also possible that Browning could eventually factor into the competition at weakside linebacker – where he began practices this spring before Borland's injury – but for now, it appears as though the Buckeyes might need him at middle linebacker for at least their first couple games.
Safety battle could be down to two
When Ohio State's coaches discusses the safety competition at the end of this spring, they consistently described that battle as "wide open," with as many as six players potentially having a chance to earn the starting job alongside Jordan Fuller this fall. With just two weeks to go until the season now, though, it appears likely that one of two safeties – true sophomore Isaiah Pryor or redshirt sophomore Jahsen Wint – will ultimately emerge as the second starter.
"There has been excellent competition to determine who will be the starter opposite Fuller, between Isaiah Pryor and Jahsen Wint," Day said. "Brendon White and Amir Riep are fueling the competition by showing up on film and making plays. The play of a couple of true freshmen – Josh Proctor and Marcus Hooker – has been encouraging."
While all six safeties are mentioned in Day's statement, the first sentence spells out that Pryor and Wint are at the top of the pecking order among them, and that shouldn't come as a surprise.
Pryor worked with the first-team defense this spring and has continued to do so this fall, so he still seems to be the frontrunner to start at the position. Wint has drawn praise from his coaches and teammates for his development dating back to spring, though, so it appears likely that he would be the top backup at the position if the season started right now.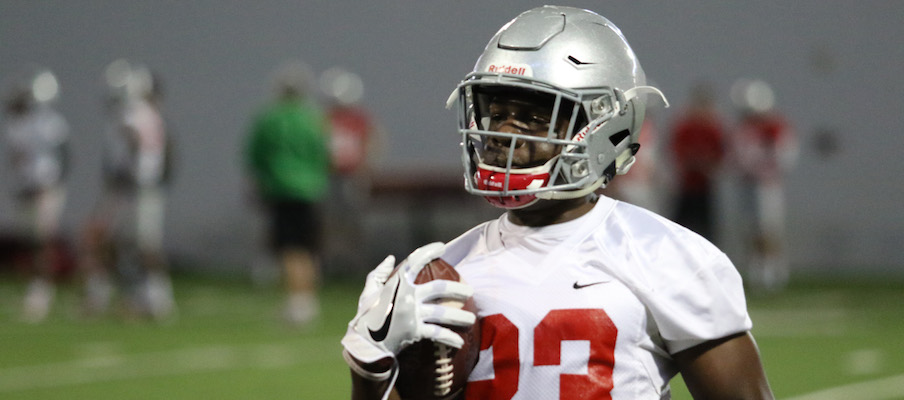 Freshman defensive linemen could play
Even with the departures of Sam Hubbard, Tyquan Lewis, Jalyn Holmes and Tracy Sprinkle from last season, Ohio State is still loaded with returning defensive line talent. As Day noted in his statement, the core of the group is made up by Nick Bosa, Dre'Mont Jones, Robert Landers, Jashon Cornell, Davon Hamilton, Jonathan Cooper and Chase Young.
Even with all of that talent, though, Day also suggested on Friday that a few of the Buckeyes' true freshman defensive linemen could crack the rotation as well.
"There are some individuals in that freshman class who are positioning themselves to play this fall," Day said. "Depth at this position group might be the strongest on the team."
Two clear-cut candidates to fit that description are defensive tackle Tommy Togiai, who was the only freshman to lose his black stripe this spring, and fellow defensive tackle Taron Vincent, who became one of the first freshmen to lose his black stripe this fall even though he wasn't an early enrollee.
Another true freshman defensive linemen to watch could be Tyreke Smith, who is talented enough to push Cornell for the fourth spot in the defensive end rotation.
Saunders could crack the rotation
Another one of the biggest questions asked this offseason has been how the Buckeyes will manage to find playing time for their smorgasbord of talented wide receivers. With Parris Campbell, Johnnie Dixon, Terry McLaurin, K.J. Hill, Austin Mack and Binjimen Victor all back from last season, it could be tough for Ohio State to find regular playing time for any of their other wide receivers.
In his statement on Friday, though, Day did list C.J. Saunders in the same sentence with those receivers, suggesting that if any other wideout is going to crack the regular rotation, Saunders – a former walk-on who was placed on scholarship this spring – could be the top candidate.
"The upperclassmen – Parris Campbell, Johnnie Dixon, Terry McLaurin and K.J. Hill – have set the standard for work ethic on offense and we are expecting big things from them this season. Austin Mack, Binjimen Victor and C.J. Saunders have also been practicing at a high level, making this unit very deep," Day said.
Day also noted that two of the Buckeyes' true freshman wide receivers, Chris Olave and Jaelen Gill, have also emerged with their performance thus far in camp. Notably, though, Day didn't mention either Jaylen Harris or Demario McCall – two of the other receivers, along with Saunders, who were expected to make a push for a spot in the rotation this preseason.
---
Check back with Eleven Warriors for further updates from Ohio State fall camp on Saturday morning, when the media will be allowed to watch the first three periods of the Buckeyes' practice.