Going into his 20th season as the head coach at the University of New Hampshire, Sean McDonnell says he has been fortunate enough to coach several players who have demonstrated the qualities to become great coaches themselves.
One of those players was Ryan Day, who is now the offensive coordinator, quarterbacks coach and for the time being, the interim head coach at Ohio State.
A native of Manchester, New Hampshire, Day was the starting quarterback for UNH from 1999 to 2001 – McDonnell's first three years as the Wildcats' head coach – and was hired to be the Wildcats' tight ends coach straight out of college in 2002.
After one year on the staff at his alma mater, Day spent two years as a graduate assistant at Boston College and one year as a graduate assistant at Florida before becoming the wide receivers coach at Temple, where he spent one year before becoming the wide receivers coach at Boston College. Day then returned to Temple for one year as the offensive coordinator and wide receivers coach, then returned to Boston College to two years as the offensive coordinator and quarterbacks coach, before one-year stints as the quarterbacks coach for the NFL's Philadelphia Eagles and San Francisco 49ers.
After his first season as Ohio State's quarterbacks coach last year, Day was promoted to offensive coordinator in January, and now, he's leading the Buckeyes on a temporary basis – at least for now – while Urban Meyer is on paid administrative leave.
Still just 39 years old, Day is leading one of the most prominent college football programs in the country, and even if that proves to be a brief assignment – as Ohio State is expected to wrap up its investigation of Meyer in the next week – he's emerged as one of college football's most highly regarded assistant coaches, and will likely be a full-time head coach at one school or another sooner than later.
Day's rise through the coaching industry has been impressive, but McDonnell – who saw that potential more than 20 years ago – isn't surprised.
"Ryan's a smart kid, hard-working, understands the game, and you knew that sooner or later he's going to have an opportunity to be a head coach," McDonnell told Eleven Warriors in a phone interview this week. "I'm sure he didn't want it to come this way, but I'm sure he's going to do a very good job given that opportunity."
McDonnell, who was the offensive coordinator for UNH before he became the head coach, said he started seeing those qualities in Day while he was still in high school, when he would make the drive from Manchester to Durham to participate in camps with the Wildcats.
"He talks the talk and could give it back to you, in a sense where you understand what's going on, and the great thing about being around Ryan with that, he was like that in our junior one-day camps when he was coming up here from Manchester Central," McDonnell said. "So from an early age I saw that in him, to be honest with you."
"Ryan's a smart kid, hard-working, understands the game, and you knew that sooner or later he's going to have an opportunity to be a head coach."– Sean McDonnell, Ryan Day's head coach at UNH
As a quarterback, McDonnell described Day as an "outstanding player" – he held several school passing records at the end of his career – and said a big reason why Day was successful as a player was because of the same qualities that have made him a successful coach.
"He was a captain, and a bunch of the intangibles that come along with that were always part of Ryan's makeup," McDonnell said. "He was one of these inquisitive guys, and he was one of these guys always asking how and why. I always thought that he was a very smart player … he was always engaged in the learning process. Some people refer to it as like being a sponge, always soaks these things in, but Ryan was very engaged in learning."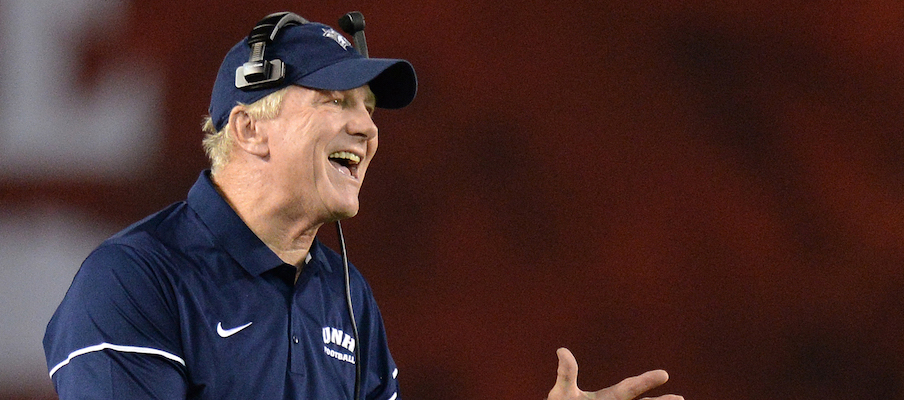 Since then, McDonnell has continued to keep a close eye on his former quarterback and watched him grow through the coaching ranks.
"We were fortunate, we got him to stay here and coach the tight ends (for one year), and what I saw from him early, was the way that kids were very interactive with him and were engaged in the teaching and coaching process that Ryan was working with," McDonnell said. "Then I got to follow him … and I've kept in touch with him … every step of the way, I've talked football with him, and he's great at talking about it. It's not just about X's and O's, it's about how kids react, how they are, how they respond. And besides being a really smart coach that way, I just think people like playing for him. I think kids like getting coached and teached by him."
Since Day was named as Ohio State's acting head coach last Wednesday, McDonnell said he has been in touch with Day via text message, letting him know he is available if he has any questions. McDonnell said he didn't think Day would need any advice from him, though, because of the other coaches Day has to lean on in Columbus, including defensive coordinator Greg Schiano and fellow offensive coordinator Kevin Wilson – both former head coaches themselves – and co-defensive coordinator Alex Grinch, who also worked for McDonnell at UNH from 2005 to 2008.
"He's a smart guy," McDonnell said of Day. "A real smart guy. And I think he's got a lot of people out there that are in the system. I think he's got three or four people out there that he can lean on, that know the ins and outs about Ohio State better that I can help with. So I think he's smart enough to realize that."