As Joe Burrow, Dwayne Haskins and Tate Martell compete this spring for the opportunity to be Ohio State's starting quarterback this fall, all three quarterbacks believe Ryan Day has helped put them in positions to succeed.
While Day has only been Ohio State's quarterbacks coach for one year, all three quarterbacks say he has played a key role in developing them and preparing them for their opportunity this spring.
"He's taken all of our games – J.T., me, Dwayne and Tate – took all of our games to the next level with his knowledge from the NFL and his knowledge of college as well," said Burrow, a redshirt junior who was coached by Tim Beck in his first two years at Ohio State before Day arrived last winter. "He's really bumped our game up."
Haskins, a redshirt sophomore, has known Day since his days at The Bullis School in Potomac, Maryland, when Day was the offensive coordinator and quarterbacks coach at Boston College and attempted to recruit him to play for the Eagles. So while Haskins committed to play for Beck and the Buckeyes and began his Ohio State career learning from Beck, he says he was excited when Day became his coach.
"He's doing a great job," Haskins said. "He's a really creative mind. He puts a lot of stuff in every day."
Martell, a redshirt freshman, also committed to Ohio State when Beck was quarterbacks coach and wasn't recruited by Day, who spent two years in the NFL (one with the Philadelphia Eagles, one with the San Francisco 49ers) in between his stint at BC and arrival at OSU. But Martell, who has had Day as his quarterbacks coach since he's arrived in Columbus, says his relationship with Day has grown very close.
"I can go to him about anything," Martell said of Day. "That's the biggest thing. I've been able to go to him about everything and pretty much anything that I need to. He's been like a dad that's here in Ohio for me."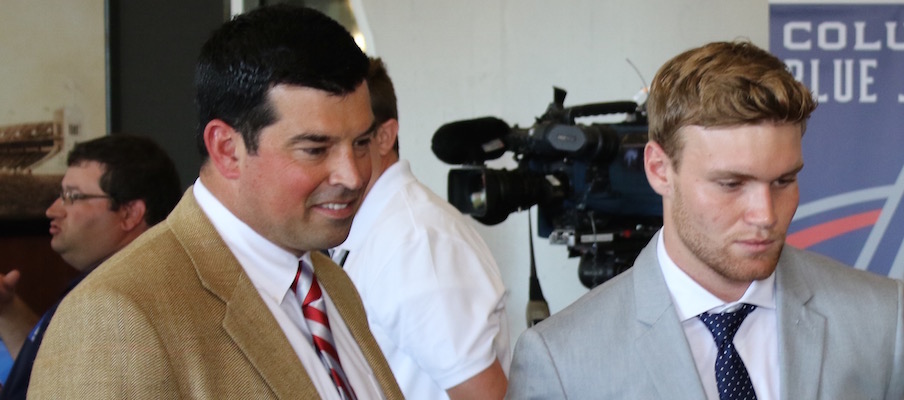 J.T. Barrett, Ohio State's starting quarterback last season, expressed similar sentiments last season to those that the Buckeyes' current quarterbacks are this spring, giving credit to Day in his one and only year of working with Day for helping him improve as a passer and prepare to take his game to the next level.
"When Coach Day came in, he was talking about how in the NFL, everybody is covered. I was like, 'Why would you throw the ball if everybody is covered?' Guys are not always going to be wide open," Barrett said last August. "I never thought about it (like that) before. If there is a (defender) draped all over my guy, to me, that man is covered so I am not throwing the ball. Now, the mindset is different from the quarterback perspective. You have to understand that sometimes that is as much as you are going to get."
That trust that Day has already built up with his quarterbacks was perhaps one reason why Ohio State signed Day to a three-year contract in February, which made Day both the first assistant coach to receive a three-year contract in Urban Meyer's tenure as head coach and one of the first two Ohio State assistants ever to receive an annual salary of $1 million or more. Day was also promoted from co-offensive coordinator to offensive coordinator in the process, becoming the Buckeyes' primary play caller (though Kevin Wilson remains an offensive coordinator as well) while continuing his duties as quarterbacks coach.
"He's taken all of our games – J.T., me, Dwayne and Tate – took all of our games to the next level with his knowledge from the NFL and his knowledge of college as well."– Joe Burrow on Ryan Day
While Day's ability to develop quarterbacks hasn't really been put to the test yet – that will happen this year, with the Buckeyes having a new starting quarterback – his reputation as a coach is already such that Day received multiple lucrative opportunities this offseason, including a potential SEC head coaching opportunity and an offer to become the offensive coordinator of the NFL's Tennessee Titans. But Meyer, recognizing Day's value to his own staff, made a big push to keep Day around.
"An excellent coach," Meyer said when asked about Day on Monday. "One of the better ones I've had."
Asked last week why he decided to stay at Ohio State when he could have become a head coach at another school or gone back to the NFL, Day said he made that decision for the same reason he believed players like Mike Weber, Parris Campbell and Isaiah Prince decided to stay instead of declaring for the 2018 NFL draft: because Ohio State is a great place to be.
"We love Ohio State," Day said. "This place is unlike any other place. It's a great place to work. Got a great group of quarterbacks to work with here. My family loves Columbus. It's the best place to work in America, and I really believe that. So my family loves it here, and I love it here."