"Well, I think all of us as coaches like to be on the radar from a standpoint of recognizing that our kids have worked hard and have earned this opportunity to be at a wonderful Bowl game."
"We obviously don't like to be on the radar when we err, but we know that's part of being on the radar. And it's not wrong. But as far as whether we've been under the radar or over the radar, I guess I don't check the radar that close. But we've been working hard to prepare ourselves and get ready to play a whale of a football team."
"And I've been pleased with our preparation. The beauty of games, as you look back, there's been, what, 28 games so far? You look at those games that have been played, and the same things that make the difference in games during the regular season are the ones that make the difference in this game. And so what we've got to do is we've got to make sure we do the things you need to do to be successful against a very, very good team. And I wish I could help you more on the radar thing, because I'm not that knowledgeable on where we are there."
"It's a bad answer, I know."
---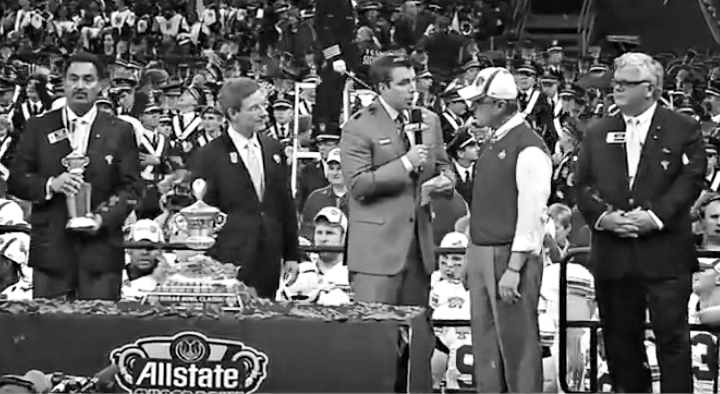 Congratulations to you gluttons who consumed every bit of that 200-plus word answer to a throwaway question. This was The Jim Tressel Experience™ which Buckeye fans grew accustomed to for his decade coaching in Columbus. That meandering explanation to nowhere was his answer to this in New Orleans on Jan 3, 2011:
Jim, how much lower on the radar screen would you have rather have been on this Bowl with all that's going on?
Try to figure out if he was talking about an actual or metaphorical radar there. Maybe both? Either way, he acknowledged, 200-plus words later, that he had given a bad answer. Hey, at least it was really long and not provocative. That's all that matters.
Tressel was the king of speaking for several minutes without actually saying anything. He was as folksy and lacking urgency as he was complimentary and endearing, whether the Buckeyes had just won the game (often) or lost it (not often). He was all of those things, but he was rarely direct with his answers. For Tressel that sort of thing wasn't a phrase or idiom, it was a damn comma.
Travel back to the longest evening in the Ohio State football canon of the current millennium - Glendale, AZ, January 2007, BCS Championship. That nightmare could not end soon enough, and because life is merciless and cruel, the head coach and several players were stuck in the postgame press conference, being forced to extend their televised funeral.
Coach Tressel, the last two games you gave up a total of 80 points. What happened defensively?
I think if you look at the last two games, in both cases we turned it over back in there. And earlier in the year I think after about eight or nine games, we're in the top few in the country in turnover margin, and that helps your defense. And so, you know, very seldom do we get into an evaluation process that leaves any part of our game out, whether it's what the special teams did or didn't do to affect the defense or what the offense did or didn't do to affect the defense. I would say this, you know, Florida is a good offense. And I thought for a good majority of this year that Chris Leak was a little underappreciated. I think he's an outstanding player. Makes things happen. He's in command of what they do. Gets the ball spread around to some very good guys. And so I'm sure part of it is that Florida is very good. Part of it is that the other components of the whole team left the defense in some tough situations, as we did in our last game in the regular season. But I'm sure we can turn on the defensive film and see where we could have done better there. 
Another 200-plus words, this time to answer what was basically hey coach, please describe what getting murdered and then desecrated at your coronation feels like.
It's difficult to parse his reasoning, but he led with losing the turnover battle as a difference maker, which is odd because the 12-1 Buckeyes finished in the negative for that category in 2006, so...no, that wasn't it. He didn't answer the question. He just said anything, and it was allowed.
This happens all of the time in football press conferences. It has become the expectation for both fans and the journalists in attendance - just say something we can print so we can all get out of here. Coachspeak is an inefficient, non-committal language that carries many dialects and we're all conditioned to it.
---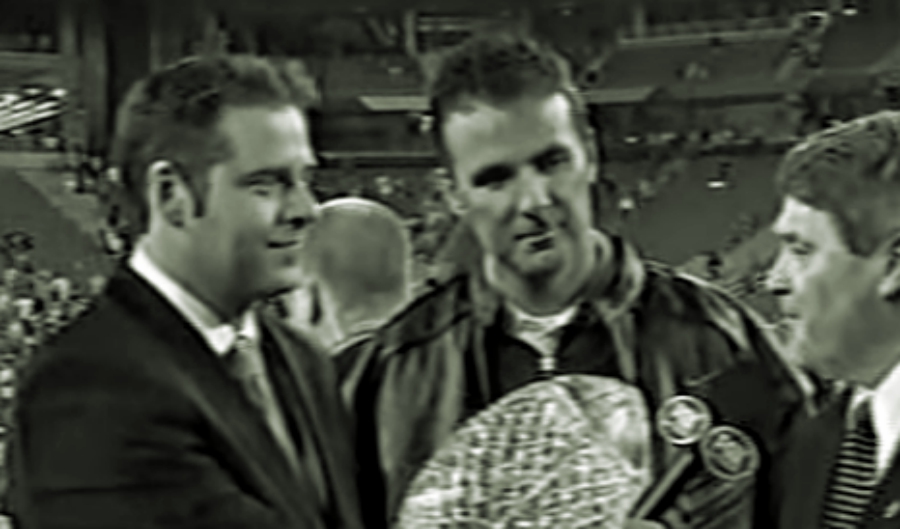 Ohio State's current head coach speaks one of those dialects, yet it sounds little like Tressel's did - let's stay in the same nightmare evening: Coach Meyer, you just won the BCS championship and throttled Ohio State, which had previously beaten two other No.2 teams. How big of a factor was overall team speed? (emphasis added)
I have to watch the film. I think the combination of mixing up coverages, we used to be a man coverage team solely and I don't think we can do that much, not against a team like this. Not with the speed. You saw how fast Teddy was out in opening kick-off. I saw him walk out to the locker room. I don't believe he came back. The thing that makes Ohio State different than some other teams, they match speed with the physicalness. 
Raise your hand if you would have guessed that Florida's head coach was the only person that night in the stadium or watching on television who didn't see what everyone else saw.
The Gators were viscerally faster all night, except during the opening kickoff when Ginn...hey did he ever come back onto the field after that touchdown? Can't be sure until we check the film. He may have played some more; it's hard to say. Fifty-one days to prepare for the fastest player in the sport and detail freak Urban Meyer could not definitively remember if he even played a down. Okay.
No one batted an eyelash. And no one cared because coaches drop non-committal phrases all the time. Not a single Urban, you really don't know if Ted Ginn played tonight? Coaches say anything into microphones because their answers are rarely intended to carry any real weight. They bark at their players and are direct to a fault on daily basis, up until the point they have to go on the record.
MEYER'S most direct answers to questions almost always arrive under duress, which is to say he's more forthcoming when HE LOSES.
If you're bored, pick any Tressel/Ohio State or Meyer/Florida-or-Ohio State press conference transcript and scrutinize the questions and answers of your choosing. Pick any one for any coach, anywhere. You'll find a whole lot of hedging half-or-non-answers everywhere you look, and few consequences to saying nothing of substance.
They're conditioned. We are too. This language has a name - it's Coachspeak.
Coachspeak was born out of PR-driven caution to not accidentally blurt out anything that's headline worthy, too revealing or becomes a story in and of itself - because it's impossible to un-say something into a microphone. Don't get in trouble by saying too much, because you can't get in trouble for saying too little. Usually.
Half-answer all of the questions you're given and none of the questions you're not, and then move onto the next question. Don't think too hard. Just get to the end. Time is a vacuum.
And that's usually true, because coaches take softballs ranging from "what does your defensive backfield need to reduce the number of big plays" (answer: a series of whatevers) to "who is going to start at right tackle" (answer: a series of whomevers). Everyone writes it down, everyone else half-reads the story, everyone goes away.
Usually.
---
Coaches speak knowing that their words are going to be printed somewhere. The psychology behind what and how you say something when there's a microphone present is rarely rooted in being courageous or direct.
Urban's most direct answers to questions almost always arrive under duress, which is to say he's more forthcoming when his team loses (not often).
Q. When you were down last week this time, you talked about the maturity that your team showed in rallying against Penn State. Iowa scored 31 straight points after it was tied at 17. Did you misjudge the maturity level or the ability? Or is it a case of Iowa playing really well and you were just having a bad day?

COACH MEYER: I thought Iowa played really well. And we didn't play really well, and turnovers and not being able to get off the field on defense caused that game to turn out the way it did.
Yeah. That's what happened in Iowa City. He didn't have to check the film or anything.
Meyer was at his most vulnerable when he arrived at Ohio State and was pressed to describe what flaming out in Gainesville was like - probably because the questions felt a little more important - and why this time would be different, because flaming out twice would be bad. Those answers mattered more.
Saying nothing so often without consequence is not healthy conditioning, and it was at its most evident with Meyer's answers to Bill Landis, Doug Lesmerises and then Austin Ward when they asked him about Zach Smith's dismissal.
He prefaced his time on the podium by saying he would only take two questions before getting to football things, setting the tone from the outset: I do not want to talk about this thing you probably want me to talk about. He took three, and in each case he made it clear he had no interest in discussing firing the grandson of his favorite recently-deceased non-relative in the world.
Don't get in trouble by saying too much, because you can't get in trouble for saying too little. Usually.
This is an attempt at gerrymandering the press, where coaches select their questions the same way politicians choose their voters. He wasn't brave enough adequately captures the essence of what Meyer said about Smith's termination, especially in light of his subsequent mea culpa. He wasn't brave enough might also end up describing his actions around Smith for several years, once and if that information is made available.
Everyone understands that most of these guys just want to coach ball. Everything else, from players getting in trouble to the endless stream of requests - is a hassle. Those ancillary job requirements get in the way of coaching ball. Leading a team of 6th graders comes with none of those mundane obligations, but there are fewer commas in the salary too. It's a trade-off. 
So they do it half-assed with dripping reluctance as Meyer did in Chicago, nailing every element of Coachspeak in a sequence that captured the entirety of the dialect: Indirect, incomplete, inconclusive and evasive. Usually coaches get a pass for answering questions like that.
Usually.