You may have heard by now that Ohio State pumps players into the NFL about as often as you pump gas into your car. 
The 2018 NFL season is set to feature a plethora of former Buckeyes facing each other on the NFL gridiron, and we decided to take a look at the top five games on the NFL schedule that will see former members of the Scarlet and Gray play each other. 
Week 1: Colts at Bengals

The Bengals open the 2018 season at home with a pair of Ohio State rookies on its roster in Billy Price and Sam Hubbard. Across the way, the Colts are slowly building a defense that features more and more former Buckeyes. 
Tyquan Lewis was drafted by the Colts in the second round of the 2018 draft, pairing him with the likes of Malik Hooker and John Simon on the Indianapolis defense. Joshua Perry was also on the Colts defense until last week, when he was released.
The Colts also start former Ohio State tackle Jack Mewhort along their offensive line. Mewhort could very well get matched up with Hubbard on one side of the ball, while Price could be asked to block Lewis at some point throughout the game. Add in the playmaking ability of Hooker, and you have a good Week 1 matchup with plenty of former Buckeyes flying around in the Queen City. 
Week 2: Browns at Saints

The Saints have more former Ohio State players on their roster than any other team in the NFL, and will play host to the Cleveland Browns in Week 2, a matchup that will likely be a mismatch, but will see a pair of former Buckeye receivers defended by the Browns No. 4 overall draft pick. 
Denzel Ward will likely get a chance to defend his former Ohio State teammate Michael Thomas when these two teams square off, and could also be matched up against veteran speedster Ted Ginn, who enters his second season with New Orleans. 
On the other side of the ball, Carlos Hyde will enter his second game with the Browns, while the Saints defense boasts a trio of Buckeyes in the secondary. Kurt Coleman came over from Carolina in the offseason, joining the likes of Vonn Bell and Marshon Lattimore in the New Orleans defensive backfield. 
Week 6: Chargers at Browns

The last time Cleveland won a game, it came at home against the Chargers in December of 2016. That might also be the next time the Browns win a game, as they open the 2018 season with the Steelers, Saints, Jets, Raiders and Ravens, respectively.
The Chargers only carry a pair of Buckeyes on their roster in Joey Bosa and Cardale Jones, but watching Bosa play in Ohio again is something that should bring a few Cleveland area Buckeye fans out to the stadium. He enters his third year in the NFL, and watching him matched up against the likes of Hyde is somewhat intriguing.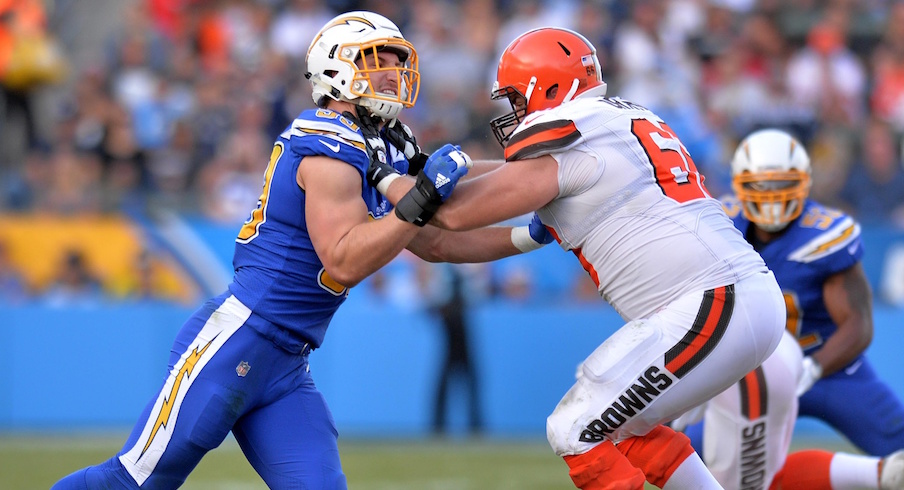 Jones is in a battle to make the cut for the Chargers, but should the stars align and Jones earns a few reps in his hometown, it could make for a fun day at FirstEnergy Stadium, something that really hasn't been said since, well, ever. 
Week 10: Bengals at Saints

This game doesn't feature many, if any, one-on-one matchups between former Buckeyes, but could be a competitive game on the gridiron. 
As previously mentioned, the Saints have a pair of Buckeyes in their receivers room and three former Silver Bullets on defense, making for a fun game to watch for Ohio State NFL fans. By this time, Hubbard should be playing more and Price should be fitting in nicely with the Bengals offensive line. 
And who knows? Maybe J.T. Barrett gets a few reps as a Saint? (runs and hides from the comment section).
Week 15: Colts at Cowboys

The Cowboys have a trio of Buckeyes on offense, and the Colts have a trio of Buckeyes on defense, so this matchup should be a blast for Ohio State fans to watch. 
Ezekiel Elliott enters his third season as the Cowboys' premier running back, while Noah Brown and Rod Smith spell starters frequently at their respective positions. With Dez Bryant gone, Brown could be in line for more reps if he makes the cut this fall, while Smith has proven himself to be a reliable and capable backup to his former Buckeye teammate in the backfield. 
For the Colts, Lewis, Simon and Hooker will be tasked with slowing down a Dallas offense that should be competing for a playoff spot in 2018, but with the way things go in Jerry World, anything is possible in Week 15.