A season ago, Ohio State's linebacker play – and unit maestro Bill Davis – came under fire due to some spotty play and questionable personnel decisions. After being added to the staff in December of 2016, Davis took over the linebacking unit after Luke Fickell headed to the Queen City. 
After his first season in Columbus, the jury still seems to be out; at least among the Ohio State fanbase. 
Jerome Baker was expected to see his stock soar in 2017, but the junior lacked consistency and had an up-and-down type of season. To say that the unit struggled in the losses against Oklahoma and Iowa would be a massive understatement. Ohio State's linebackers simply had no answer for the Sooners' play-action game while Iowa's tight ends caught nine passes and scored four touchdowns.
Finally, the general handling of Tuf Borland and Chris Worley also left a lot of folks scratching their heads. Worley excelled on the outside in 2016, but as a senior in 2017 he never really found his groove manning the inside. The defense seemed to settle in when Borland was ultimately moved to the middle with Worley flanking him on the weak side. 
Fast forward to 2018 and there's still plenty of questions at linebacker. The Buckeyes now must replace three starters due to the departures of Baker and Worley as well as Tuf Borland's achilles injury. A redshirt sophomore this season, Borland was expected to be the man in the middle, and he should be just that once he returns from injury. 
There's no definitive timeline for Borland's return, but Meyer did say he's hoping to have him back in September. Until he is back up and running, all eyes may be on Billy Davis as he attempts to solve one of Ohio State's few remaining position battles.
While all three linebacker spots appear up for grabs, it's the man in the middle who's expected to lead the defense. Raekwon McMillan held things down for two years before heading off to the NFL, and while Borland will be asked to do much of the same, finding a capable fill-in – for however long it may be – has to be a priority for the coaching staff. 
Going up against Oregon State and Rutgers in Columbus won't be much of a concern, but week three's showdown against TCU in Jerry World is going to present a challenge. By the time Sept. 15 rolls around, the Buckeyes are going to need to have an answer on the inside.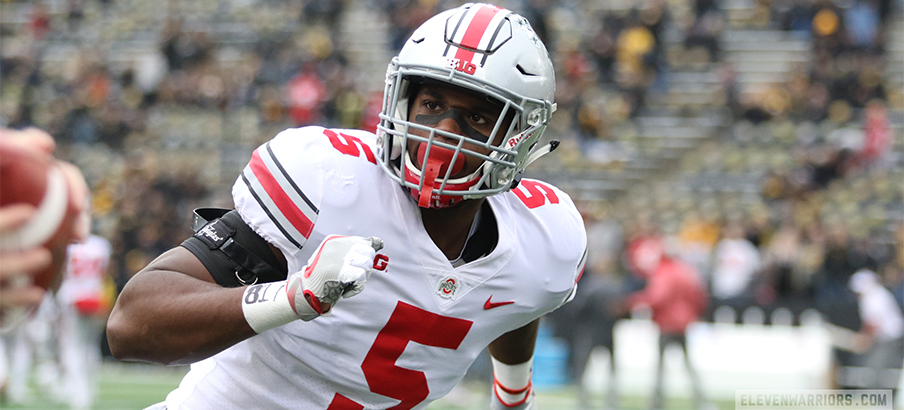 The battle between Justin Hilliard and Baron Browning will wage into the fall as the redshirt junior and true sophomore look to take over in the middle. Along with the vacant safety spot alongside Jordan Fuller, it may very well be the most intriguing defensive storyline of the summer. 
The defense was a mess at times last year, and a lot of the chaos may have stemmed from the aforementioned Worley handling. Now in his second season, the Buckeyes – and Bill Davis – probably can't afford to make another personnel mistake; at least not against teams like TCU, Penn State, Michigan, and Michigan State.
Justin Hilliard arrived in 2015 as one of the country's most heralded linebacker prospects. His career has been plagued by injuries, but he has made his share of plays on special teams. Browning came to Columbus in January of 2017 and saw action as a true freshman. He may be the team's most athletic linebacker and likely has the versatility to play in multiple spots. 
It seems like most expect Browning's talent and athleticism to be the difference, but right now there's no clear answer at the spot. A torn bicep has cost Hilliard a good portion of his career thus far, and it may be now or never for the former five-star from Cincinnati's St. Xavier High School. 
In our post-spring depth chart projection, we had Browning winning the battle with the caveat that he could perhaps move back to the outside once Borland returns. Meyer, however, has maintained that the spot is very much still up for grabs. 
There are plenty of decisions that need to be made with Ohio State's linebacking unit, but perhaps the biggest move of Bill Davis' Buckeye career will be finding the best man to start the season in the middle.