Of the 41 former Ohio State players who were on NFL rosters last season, 35 of them were selected in either the NFL draft or NFL supplemental draft.
It's one of the six who wasn't, though, who will now be the highest-paid Buckeye in the league.
Andrew Norwell is set to earn that designation on Wednesday, when the new league year begins, having reportedly agreed to sign a five-year, $66.5 million contract with the Jacksonville Jaguars. With an average salary of $13.3 million, Norwell not only becomes the richest Buckeye in the NFL, but also the league's highest-paid guard.
Norwell's new contract comes after he played his first four NFL seasons with the Carolina Panthers, which culminated with him earning AP All-Pro honors as the league's best left guard in 2017 – a height few would have expected him to reach just four years ago, when he went unselected in the 2014 NFL draft, but which made him one of the top free agents on the market this offseason.
With a new contract that surpasses that of Cameron Heyward, who previously became the highest-paid Buckeye in the NFL when he signed a six-year, $59.2 million contract with the Pittsburgh Steelers in 2015, Norwell becomes the first Ohio State product in the NFL with an eight-figure average salary.
NFL's Highest-Paid Buckeyes


| Rank | Player | Team | Contract Terms | Average Salary |
| --- | --- | --- | --- | --- |
| 1 | ANDREW NORWELL | JACKSONVILLE JAGUARS | 5 YEARS, $66.5 MILLION | $13,300,000* |
| 2 | CAMERON HEYWARD | PITTSBURGH STEELERS | 6 YEARS, $59.2 MILLION | $9,866,667 |
| 3 | MALCOLM JENKINS | PHILADELPHIA EAGLES | 4 YEARS, $35 MILLION | $8,750,000 |
| 4 | RYAN SHAZIER | PITTSBURGH STEELERS | FIFTH-YEAR OPTION | $8,718,000 |
| 5 | BRADLEY ROBY | DENVER BRONCOS | FIFTH-YEAR OPTION | $8,526,000 |
| 6 | COREY LINSLEY | GREEN BAY PACKERS | 3 YEARS, $25.5 MILLION | $8,500,000 |
*Contract not yet official
Ohio State's coaches are already using that as recruiting material – Urban Meyer, Zach Smith and Larry Johnson all retweeted Adam Schefter's report of Norwell's new contract on Tuesday – and one can't help but think Norwell's former offensive line coach, Ed Warinner, might use it as recruiting material at Michigan, too.
The Buckeyes coaches will have plenty more recruiting material soon, though, because it won't be more than a couple years before Norwell has Buckeye company in the eight-figure club.
Former Ohio State defensive end Joey Bosa and wide receiver Michael Thomas, each entering their third seasons in the NFL, are well on their way to being among the league's highest-paid players at their respective positions at the end of their four-year rookie contracts. Considering the inflation that takes place with NFL salaries each offseason, and how much the top players at their positions are already getting paid, both of them could end up making close to $20 million per year on their second contracts.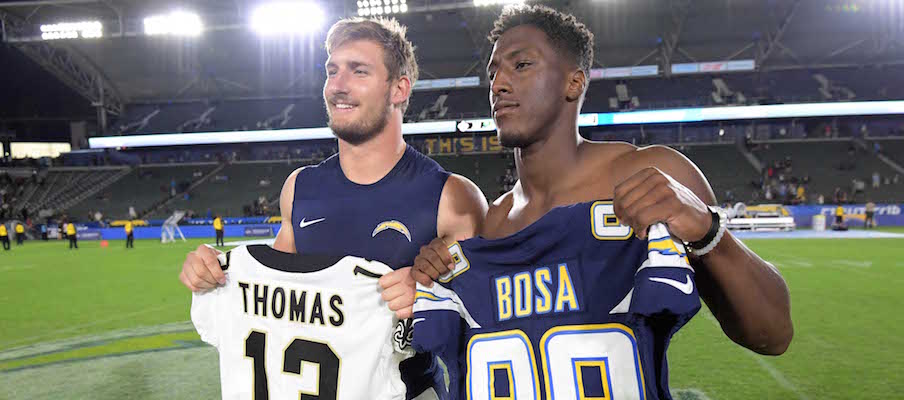 Fellow 2016 NFL draft pick Ezekiel Elliott, who is also already among the best players at his position, should also be a candidate to join the eight-figure club when he comes up for a new contract in 2020. That's less certain in his case, though, because running backs aren't as highly valued in today's NFL as wide receivers, defensive ends or offensive linemen – and his off-field drama this past year, which included serving a six-game league suspension, could also have an effect on his future contract negotiations.
Another Buckeye from their loaded 2016 draft class who could be in for a big payday in two or three years is Taylor Decker, depending on how well he develops and performs between now and when he becomes a free agent. 
2017 first-round pick Marshon Lattimore, meanwhile, already appears well on his way to becoming one of the highest-paid cornerbacks in the NFL in a few years – even after just one season in the league – after earning Defensive Rookie of the Year honors for a dominant first season with the New Orleans Saints.
Considering the deals that some of the top cornerbacks on this year's free-agent market have already agreed to this week – former Montana and Los Angeles Rams cornerback Trumaine Johnson is reportedly set to sign with the Jets for roughly $15 million per year, while former West Alabama and New England Patriots cornerback Malcolm Butler is reportedly set to sign with the Tennessee Titans for more than $12 million per year, both according to NFL Media's Ian Rapoport – another former Ohio State cornerback who could be a candidate for a big payday next offseason could be Bradley Roby, who is currently set to make more than $8.5 million this season while playing on a fifth-year option with the Denver Broncos.
While it's unlikely that any other Buckeyes will join Norwell in the eight-figure club this offseason, there are at least a few other Buckeyes who should soon find themselves with some extra spending money in their pockets.
Former Ohio State running back Carlos Hyde reportedly agreed to a three-year deal worth more than $15 million on Wednesday morning.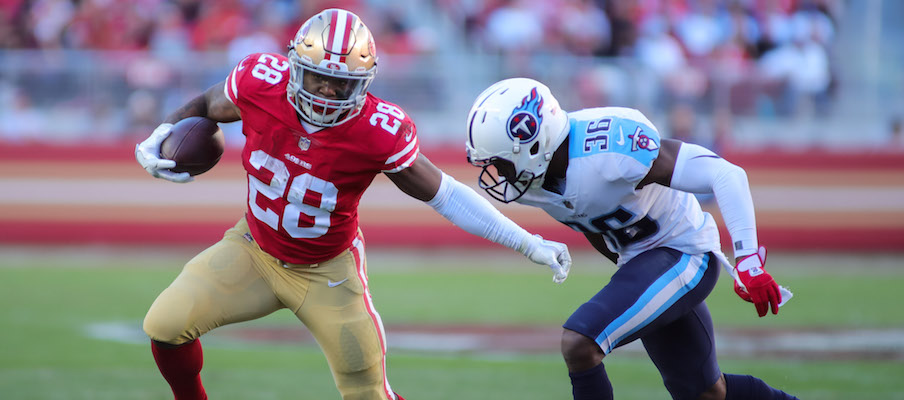 Former Ohio State special teamer Nate Ebner is also likely in line for at least a slight raise after agreeing on Tuesday to re-sign with the Patriots on a two-year deal.
Buckeye quarterback-turned-NFL wide receiver Terrelle Pryor and former Ohio State offensive lineman Jack Mewhort are also among the players who are set to officially become free agents on Wednesday, and with most of the top free agents on the market having already agreed to deals by Tuesday, each of them should have enough demand to line up fairly lucrative deals for themselves over the next few days.
Former Ohio State offensive lineman Alex Boone and kicker Mike Nugent aren't likely to command large contracts at this point in their careers, but both of them are set to hit free agency on Wednesday as well.
Although free agency doesn't even officially begin until 4 p.m. Wednesday afternoon, Norwell has already a new standard for how lucrative an NFL career can be for a former Buckeye. Yet his contract should only be the beginning of what should be a financially fruitful week for Buckeyes in the NFL, while also a precursor to even bigger contracts for some of Ohio State's biggest recent stars in years to come.