We're now less than 20 days from some tangible Buckeye football happenings as Urban Meyer's program is set to begin spring drills March 6th. 
With the anticipation of the Buckeyes taking the field, I felt like throwing out five predictions for the upcoming season. 
Before I jump into those, let's first revisit my 2017 season predictions which were made well after last year's spring drills. (Since all those extra happenings did little to help my accuracy, I figure why wait this year.)
My initial prediction last year said the Buckeye defense would break the school record of 47 sacks. The commentariat largely panned that guess and while you all were ultimately right to do so, Ohio State did come pretty damn close, registering 45 sacks led by Nick Bosa's 8.5 and 7.0 each from Sam Hubbard and Tyquan Lewis. 
My biggest swing and a miss was the assertion Mike Weber would rush for 1,400 yards. #WellActually, would you believe I meant to say J.K. Dobbins would rush for 1,400? Turns out, Dobbins would go for 1,403 while Weber tallied 640 on 101 carries thanks to early season injuries and the awesomeness of Dobbins. 
A more generic pick, I felt the 2017 pass defense would finally feel the sting of early departures and that was largely true as the unit finished 30th in the land giving up 195 yards per game compared to the 2016 pass defense which wound up 7th in the nation at 172 yards per game. 
Next, I suggested the 2017 offensive line would move to the Top 25 in Sacks Allowed after finishing 68th in 2016 giving up 2.15 sacks per game. While the 2017 unit improved, it only climbed to 36th nationally yielding 1.57 sacks per game. 
Finally, I said no true wide receiver (meaning H-backs don't count) would reach 500 yards. That one came through as Terry McLaurin led the true outside receivers with 436 yards and Johnny Dixon had 422. 
So, overall, not great but not terrible. 
With 2017 reviewed, let's move on to 2018. 
RASHOD BERRY WILL NOT ONLY STAY AT TIGHT END, HE'LL TOP MARCUS BAUGH'S 2017 NUMBERS
This one could get hairy since there's currently no guarantee Berry won't be moved to defensive end but considering Kevin Wilson talked about him briefly on a radio spot last week, I'm hoping it's fairly safe to say the redshirt junior has a home on offense. 
The other issue with projecting Berry for a big season is the hype surrounding incoming freshman Jeremy Ruckert, the No. 2 tight end prospect nationally coming out of high school. 
The good news for Berry is Ruckert won't arrive on campus until summer, giving Rashod time to solidify his spot. 
In the end, I'll take Berry to better Baugh's receptions total (28) by going for around 33 with his yardage going for about 400 (Baugh had 304). 
JORDAN FULLER WILL BECOME JUST THE SECOND SAFETY SINCE 2001 TO LEAD OSU IN TACKLES
Buckeye safeties have led the defense in tackles five times in the last 25 seasons.
C.J. Barnett was the most recent to accomplish the feat (2011) after Mike Doss did it twice (2000, 2001). 

Last year, Jordan Fuller held the team lead in tackles for most of the year before a late season leg injury forced him to miss the Illinois game while hampering his production in a few others. 
Still, Fuller tallied 70 stops on the year which was just two shy of Jerome Baker's team-leading 72. Fuller's 70 tackles featured a team-leading 57 solo stops, 13 clear of second-place Damon Webb. 
With Fuller now having a full season of starting under his belt and the notion Ohio State could deploy a bit of a rotation at the linebacker spots, I'm going on a bit of a limb and tabbing the junior to lead the 2018 Buckeye defense in total tackles. 
DEMARIO MCCALL FINALLY MAKES HIS MARK - ON SPECIAL TEAMS
Buckeye legend Demario McCall has a mere 565 all-purpose yards under his belt through nine games spread across two seasons thanks to injuries and Ohio State's ridiculous depth at running back and in the slot. 
Assuming his health concerns are finally in the rear view mirror come fall, McCall will still have issues getting reps on offense considering the tandem of Dobbins and Weber returning at tailback and the combo of Parris Campbell and K.J. Hill still holding down the H-back position. 
So how can Meyer get McCall some touches? My belief (or maybe I should say hope) is McCall will get his chance as both a punt return and kickoff return man. 
Hill served as the starting punt returner last year and while sure-handed, he was also pretty pedestrian averaging 5.54 yards per return, good for 43rd in the nation. 
Meanwhile, Campbell was an electric kickoff return man averaging 36.6 yards per return last year but injuries eventually knocked him out of that role. Assuming Meyer's decision to remove Campbell from those duties holds for 2018 which is a bet I'm willing to make (which I suppose could certainly be a mistake), the answer isn't Mike Weber after he took over for Parris and averaged 15.9 yards per return. If his nine attempts were enough to qualify, Weber's average would've fell well outside the Top-100 in the nation. 
As such, I'm going all-in on McCall winning both jobs  – though I'll admit the kickoff gig is much more likely – on the way to All-Big Ten honors as a return specialist. 
JEFFREY OKUDAH LEAPFROGS DAMON ARNETTE AND KENDALL SHEFFIELD AS TEAM'S BEST CB
Though Kerry Coombs is no longer overseeing the reps given to each cornerback, it's a good bet Ohio State still looks to rotate its best three cornerbacks and of course all three will see plenty of snaps when the Buckeyes deploy a nickel package. 
With the since-departed Denzel Ward opting out of the Cotton Bowl, we saw Kendall Sheffield play all but one defensive snap against USC while Damon Arnette and Jeffrey Okudah essentially split time when OSU went base with Arnette playing most of the first half while Okudah handed the second half. Of course, as our Dan Hope noted in his Cotton Bowl Snap Counts, both played a ton as the Buckeyes went nickel for much of the game.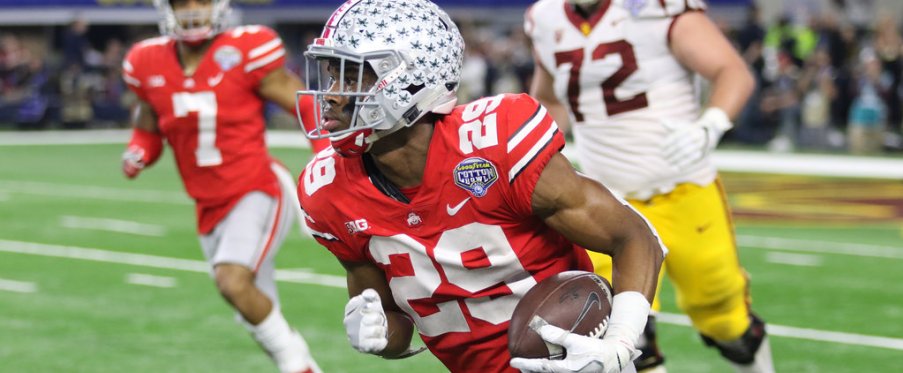 Arnette and Sheffield definitely saw more snaps over the full season than Okudah but I like the way he came on late, a clear indication of his growing comfort in the system as a true freshman. 
While I won't attempt to quantify this pick with numbers since those don't often tell the story with cornerbacks, my call is Okudah, now a true sophomore, emerges as the team's most valuable cover guy in 2018 ahead of the two redshirt juniors in Sheffield and Arnette. 
NICK BOSA AND CHASE YOUNG BOTH RECORD AT LEAST 10.0 SACKS
This one might be considered by some to be a gigantic reach since only once in school history has Ohio State had two guys tally at least 10 sacks in a season. Can you guess which combo accomplished the feat? 
If you guessed Mike Vrabel (12.0) and Matt Finkes (11.0) claim your prize as the duo turned the trick way back in 1994. 
I'm bullish on Nick Bosa and Chase Young joining this exclusive club for a few reasons. The obvious reason is the elite talent both bring to the table.
Another key reason the pair could have a chance at 10.0+ each is the fact the Buckeyes are thin on proven pass rushers off the edge meaning Bosa and Young could see significantly more snaps than Larry Johnson typically gives to his guys out of necessity. 
Combine that with the amount of talent the Buckeyes boast in the middle of the defensive line headlined by Dre'Mont Jones and Bobby Landers and opposing offensive lines will have their hands full across the board. 
Last year, Nick Bosa put up 8.5 sacks while Chase Young registered 3.5 in limited snaps. It's a lock a healthy Bosa will go for at least 10 meaning it's up to Young to take my prediction to the promised land.