We don't yet know who Ohio State's starting quarterback will be in 2018, but we do know that he should have plenty of talent around him to work with.
With Mike Weber, Parris Campbell and Johnnie Dixon all indicating in the past week that they will be staying in Columbus instead of declaring for the 2018 NFL draft, Ohio State is set to return its entire stable of running backs and at least four of its top six receivers from last season.
And while Ohio State might need more from its returning runners and pass-catchers this season for its offense to operate at a truly elite level, the 2018 Buckeyes will also have plenty of young up-and-coming talent ready to push the returning players for playing time.
While Weber was surpassed on the depth chart this past season by J.K. Dobbins, forcing him to play second fiddle to the Buckeyes' breakout star running back, the return of Weber for 2018 is still a big coup for Ohio State's offense. When Weber was at his best this past season – notably against Michigan State and Illinois, when he ripped off back-to-back games with 100 or more rushing yards and two touchdowns each, including three total touchdowns of 40-plus yards – the Buckeyes had a true two-headed monster at the running back position.
Dobbins, who the Buckeyes have the luxury of having for at least two more years, has already emerged as the team's best offensive playmaker. Having already proven himself to be an electric and consistent runner, carrying the ball for 1,403 yards and seven touchdowns as a freshman, Dobbins could truly emerge as one of college football's best running backs in 2018 if he can become more of a difference-maker as a receiver out of the backfield.
The breakaway speed that Weber showed on his big-play runs in 2017, however, shows the kind of weapon he could be in tandem with Dobbins if he can stay fully healthy after being plagued by a hamstring injury for the first half of this past season.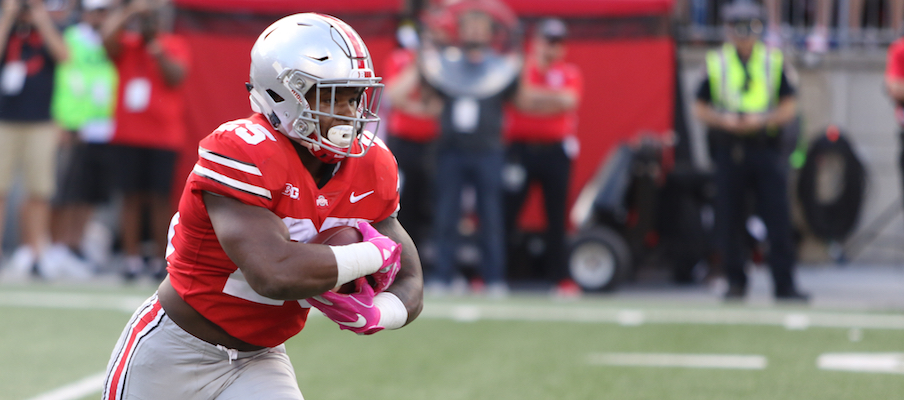 Campbell and Dixon, meanwhile, return as Ohio State's top two big-play threats in the receiving game this past season. While the Buckeyes will be looking for more consistency from both as downfield receivers, both showed plenty of ability to make game-changing plays in their redshirt junior years.
Campbell led the Buckeyes with 584 receiving yards on just 40 catches this past season, routinely turning short passes into much longer gains, while also making an impact when used as a runner (10 carries for 132 yards and a touchdown) and kick returner (nine returns for 329 yards). While he has been plagued by drops over the course of his career, he is an explosive athlete who is a threat to make a big play any time he has the ball in space.
Dixon, meanwhile, averaged a whopping 23.4 yards per catch this past season, scoring a team-high eight touchdowns on just 18 receptions, six of which went for gains of 30 yards or more. He never emerged as one of J.T. Barrett's go-to targets, and had just one catch in the Buckeyes' final five games of 2017, but his proven ability to turn touches into touchdowns could certainly be a valuable asset for Ohio State's new starting quarterback.
Binjimen Victor and Austin Mack, who ranked fifth and sixth on the Buckeyes in receiving yards in 2017 but are big, athletic targets who have shown glimpses of star potential, will each be back for at least one more year. K.J. Hill, who led Ohio State with 56 receptions in 2017, and Terry McLaurin, who third on the Buckeyes in receptions (29), receiving yards (436) and receiving touchdowns (six), are both draft-eligible and have not confirmed that they will be returning for 2018, but with the NFL draft declaration deadline being just three days away, it appears likely that the Buckeyes could return all of their top six receivers from 2017.
Beyond returning all the running backs and wide receivers who played regularly this past season, the Buckeyes have plenty of other contenders to challenge for playing time at both spots.
Ohio State's running back depth chart also includes Antonio Williams, who was solid in limited duty in 2017 (57 carries for 290 yards and three touchdowns); Demario McCall, who has shown the speed and elusiveness to be a dynamic playmaker as either a running back or H-back if given opportunities; and a trio of talented incoming freshmen in Jaelen Gill (who is likely to play H-back), Brian Snead and Master Teague III. Adding those five players to the combination of Dobbins and Weber could give Ohio State the deepest running back in the depth chart, including a multitude of players with different skill sets who could carve out roles to impact the game in different ways.
Candidates to play bigger roles at wide receiver include C.J. Saunders, who was impressive in limited action as a slot receiver this past season despite being a walk-on, and Jaylen Harris, who played only sparingly as a true freshman but has the size and athleticism to give the Buckeyes more downfield playmaking ability. Like at running back, the Buckeyes also have a talented trio of incoming freshmen at wide receiver in Kamryn Babb, Cameron Brown and L'Christian "Blue" Smith.
The one offensive skill position where the Buckeyes don't have much in terms of proven returning playmakers, with two-year starter Marcus Baugh exhausting his eligibility, is at tight end. But the Buckeyes have numerous candidates to have emerge as weapons at that position, too.
Converted defensive end Rashod Berry remains raw as a tight end, but he's an impressive athlete with great size who did show big-play ability in limited action this past season, turning just six catches into 100 yards and two touchdowns. Luke Farrell and Jake Hausmann haven't played much in their first two years as Buckeyes, but both were four-star recruits who could have the potential for breakout years in 2018. The top potential playmaker of all, though, could be incoming freshman Jeremy Ruckert, who Ohio State coach Urban Meyer described on Early Signing Day as "the best tight end prospect that I've ever seen and recruited."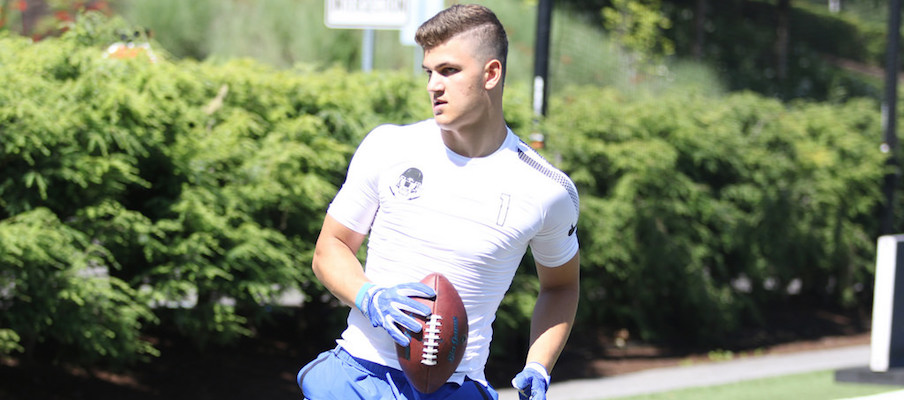 The biggest problem with having so many potential playmakers is figuring out how to get the ball into all their hands, but that's a good problem to have. Although a few Buckeyes could end up being unhappy with their amount of playmaking opportunities, Ohio State's coaches would certainly rather have too many offensive weapons than not enough.
Ohio State's deep roster of playmakers could have an impact on who wins the starting quarterback competition as well. While the Buckeyes will certainly want to have a quarterback who can create big plays himself – whether that be by launching deep balls with his arm, running for yardage with his feet or ideally, a healthy combination of both – the most effective Ohio State quarterback for 2018 could ultimately be the one who is able to best utilize the talent around him.
Regardless of who ultimately tops the depth chart at each offensive skill position next year, there's one thing that appears for sure: Ohio State will have plenty of players on the field who can be difference-makers when the ball comes their way, which will make the Buckeyes offense tough for any defense to prepare for.