When an Ohio State football player wins a national individual award, his photo goes up on the walls surrounding the indoor practice field at the Woody Hayes Athletic Center.
Billy Price's picture can now be added to those walls.
The fifth-year senior center won the Rimington Trophy on Thursday night, becoming the second straight Buckeye and third total Buckeye to win the award, and in the process, cemented his standing as one of Ohio State's most decorated offensive linemen ever.
Price already earned his place in Ohio State's record books earlier this year when he surpassed Luke Fickell's school record for consecutive games started. That record will be difficult for anyone to break, considering that Price is on track to start his 55th consecutive game (which will also tie Pat Elflein's record for most career games played) in the Cotton Bowl.
Price has started every game of his four playing seasons at Ohio State, beginning with the 2014 season, when he was the left guard on a unit that had one of the most dominant stretches an Ohio State offensive line has ever had, leading the way for Ezekiel Elliott and the Buckeyes to run to a national championship.
Since then, Price has gone on to play all three positions on Ohio State's interior offensive line. After two seasons playing left guard, Price earned first-team All-American honors from the American Football Coaches Association in his lone full season playing right guard in 2016.
In his lone season playing center, Price has made his final season his best, already earning first-team All-American designations from the Walter Camp Football Foundation and Sports Illustrated, but also surpassing his best individual accomplishments by being named Big Ten Offensive Lineman of the Year and then, on Thursday night, being named the best center in college football.
Your 2017 @rimingtontrophy award winner @b_price54 on the big stage! pic.twitter.com/TbW40l5CbD

— Ohio State Football (@OhioStateFB) December 7, 2017
Three Ohio State offensive linemen have won the Rimington Trophy, which was established in 2000, also including Price's predecessor, Pat Elflein (who won the award in 2016), and LeCharles Bentley (2001).
Six Ohio State offensive linemen have been named Big Ten Offensive Lineman of the Year, which was first awarded in 1984, with Price, Elflein and Bentley joined by Taylor Decker (2015), Orlando Pace (1995 and 1996) and Korey Stringer (1993 and 1994).
Thirteen Ohio State offensive linemen have been two-time first-team All-Americans, with Price, Pace and Stringer joining Rob Murphy (1997 and 1998), Chris Ward (1976 and 1977), John Hicks (1972 and 1973), Jim Parker (1955 and 1956), Warren Amling (1945 and 1946), Bill Willis (1943 and 1944), Joseph Gailus (1932 and 1933), Leo Raskowski (1926 and 1927), Edwin Hess (1925 and 1926) and Iolas Huffman (1920 and 1921).
Only Price, however, can say he has earned all three of those distinctions.
That's not to say that Price is Ohio State's best offensive lineman ever. Parker, Hicks and Pace – who each won the Outland Trophy, had unanimous All-American seasons and have since been inducted into the College Football Hall of Fame – remain the gold standards. It's virtually impossible to compare Price to the likes of Raskowski, Hess and Huffman, considering that nearly a century has passed between their careers.
What Price's accomplishments this season have ensured, though, is that Price should at least have a place in the conversation among Ohio State's offensive line greats for years to come.
At a position where few statistics are consistently kept, Price has nonetheless managed to fill up his resume with tangible qualifiers – from his record-setting streak to his expanding case of awards – that justify his excellence. And while he hasn't always gotten as much attention for his play as other Buckeyes who play more flashy positions, he's as consistent a player as the Buckeyes have had over the last four years – or just about any four-year stretch, for that matter.
By the end of his freshman season, Price was already good enough to be an asset for a team that went on to win a national title, and he's only gotten better in his three years since.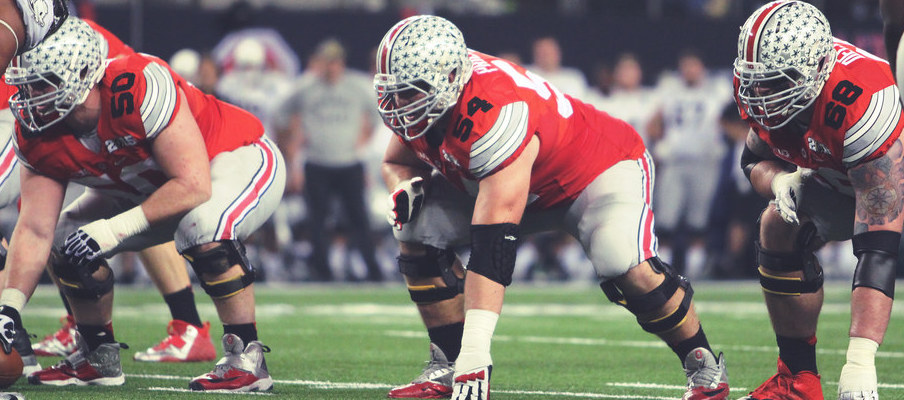 He's moved between spots on the offensive line – a task that's easier said than done – without a noticeable hitch, only playing better as he has changed positions over the last two years.
And although Price had already established himself as one of college football's best offensive linemen in 2016, he truly saved his best season for last. Outside of a few off-target snaps, which one would expect from a first-year center, Price has been made few mistakes but many great plays, hitting key blocks to spring big plays in the running game while providing a linchpin in the middle of the line in pass protection.
Price has done all of that while being one of the Buckeyes' most respected leaders, serving as a captain in his final two seasons on the team, and excelling in the classroom – graduating in May and earning Academic All-Big Ten honors this fall – though he will leave Ohio State after this season as a highly regarded prospect for the 2018 NFL draft, with the expectation that he could have a lengthy and successful professional football career in front of him.
Where Price ranks among Ohio State's all-time offensive line greats can be left open for debate (please feel free to have it among yourselves in the comments section), but two things are for sure. His impact on the Buckeyes' success over the past four years, in which Ohio State has won 48 of 54 games, has been consistent and significant. And by virtue of winning the Rimington Award, and the picture that will soon hang in the Woody Hayes Athletic Center, Price's legacy should live on within the Ohio State football program for many years to come.