Wisconsin is the only remaining Power 5 team with an undefeated record, but are the Badgers as good as their record indicates?
That's the big question going into this weekend, and a question we will have a better answer to after this weekend, when Wisconsin – who is 12-0, but has not played any teams ranked in the top 20 of the College Football Playoff standings – plays Ohio State in the Big Ten Championship Game on Saturday.
While much of this week's conversation has been centered around the possibility of Ohio State making the College Football Playoff, that possibility hinges entirely around Ohio State beating Wisconsin, a task that will be much easier said than done considering how consistently successful Wisconsin has been this year.
But just how good is Wisconsin, and what are the biggest threats the Badgers pose to the Buckeyes in Saturday's game in Indianapolis?
For answers to those questions and more, we bring in Jason Galloway, the Wisconsin football beat writer for the Wisconsin State Journal, for our conference championship game edition of Across the Field.
Q: Jason, what do you think has enabled the Badgers to go undefeated this season?
Galloway: Well, their soft schedule certainly doesn't hurt. There is something to be said, though, about a team going through an entire 12-game season while really only being even in danger of losing one time (which was an eventual 24-10 win over Michigan). Some of those wins have been ugly, but Wisconsin's done what it's needed to do. The Badgers attribute much of their success to taking their season one week at a time, not worrying about what anybody's saying about them and just focusing each week on getting another win. Every team likely tries to do the same thing, but Wisconsin's found a way to truly live by that.
Q: The asterisk on Wisconsin's 12-0 record is that it has not played any top teams this year. Do you believe the Badgers are legitimately among college football's elite?
Galloway: I can't see the Badgers winning the national championship, but I think they're a legitimate top-four team that deserves that ranking. Wisconsin's had one of the better defenses in the country the last couple years, but that side of the ball went to another level this season. The Badgers are practically shutting down every offense they face, and it'll be interesting to see that group go up against a talented Ohio State offense. Wisconsin also has more explosive weapons on offense this year in running back Jonathan Taylor and the receiving trio of A.J. Taylor, Danny Davis and Kendric Pryor. Three of those players are freshmen, with true sophomore A.J. Taylor the exception.
Q: Although Alex Hornibrook's play as Wisconsin's starting quarterback has drawn some criticism this season, he's played well enough for the Badgers to win every game. What does he bring to the Badgers offense, and what are the lingering concerns with his play?
Galloway: The real concern with Hornibrook is interceptions. He's thrown 13 this year, three of which have been returned for touchdowns, and last week's game against Minnesota was his first turnover-free game since Week 3 at BYU. The Badgers' defense has made up for many of his mistakes this season, but that'll be much more difficult against a team like Ohio State. That being said, if Hornibrook had, say, seven picks instead of 13 this year, I think fans would view his season much more positively and see the steps he's taken since his freshman year. He's made some really big throws, including a few key third-down conversions against Michigan two weeks ago that arguably saved Wisconsin's playoff chances.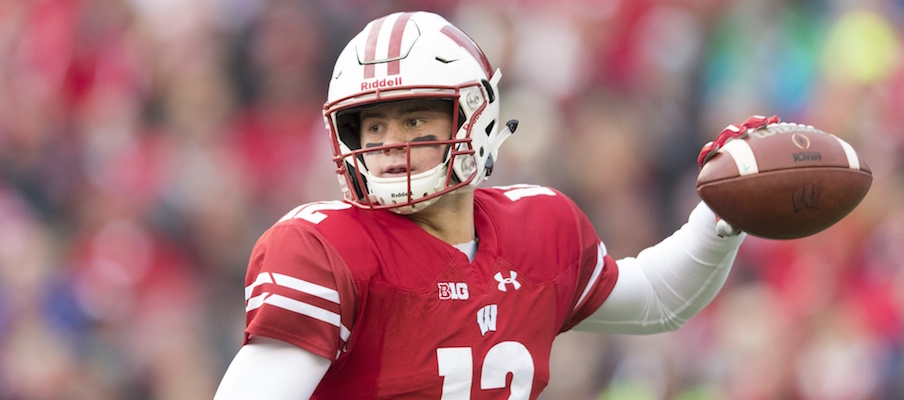 Q: Jonathan Taylor has been a first-year sensation for Wisconsin this year, winning the last seven Big Ten Freshman of the Week awards of the regular season. What makes him special, and how does he stack up with Melvin Gordon, Montee Ball, Ron Dayne and some of the great backs in recent Wisconsin history?
Galloway: Taylor's already a mature runner for his age, showing patience to let plays develop in front of him. He's got elite balance, is really hard to bring down and possesses top-end speed that the Badgers didn't have with Corey Clement last year. I wasn't following Wisconsin when Ron Dayne or Montee Ball were here, but I'd guess Taylor's faster than either while still having the physicality of a guy like Dayne. I covered Melvin Gordon's record-breaking season in 2014, and Taylor's not on that level to this point. He is still a true freshman, though, and it'll be interesting to see how much he improves over the next couple years.
Q: Wisconsin's defense ranks first in the Football Bowl Subdivision in yards allowed per game and second in the FBS in points allowed per game. What do the Badgers do defensively that make them so tough to score and move the ball on?
Galloway: In the run game, the Badgers' defensive line does a great job of eating up blocks and their outside linebackers set the edge well, giving their inside linebackers — one of the strongest positions on the team — the ability to fly around and make plays. Against the pass, Wisconsin's been able to apply even more pressure on the quarterback than in previous seasons, and many times that pressure has come with just four rushers. Adding Hawaii transfer Nick Nelson as a cover cornerback and moving the speedy Natrell Jamerson to safety have also made it much more difficult to complete long passes on this defense.
Q: Are there any players who might be under-the-radar that Ohio State and its fans should be aware of entering this game?
Galloway: Jamerson probably falls in that category. There are stars all over this defense, but he's had an underrated season. He practically never misses a tackle and can cover a lot of ground in the deep part of the field. His big plays and interceptions came early in the season, but he's made a major impact the entire year. Offensively, redshirt freshman wide receiver Kendric Pryor may be one to look out for. A.J. Taylor and Danny Davis have probably garnered more attention over the course of the season, but Pryor stepped into more playing time after No. 1 wideout Quintez Cephus suffered a season-ending injury Nov. 4 at Indiana. Pryor's proven over the last few weeks that he's going to be a great player for Wisconsin over the next few years.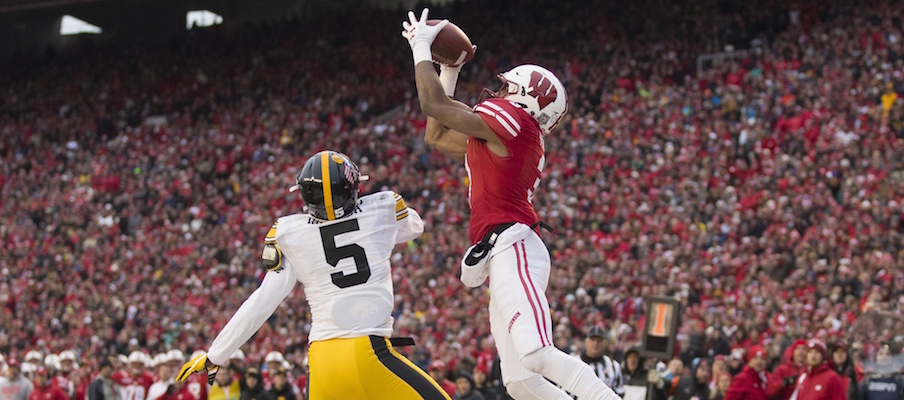 Q: Wisconsin lost 59-0 the last time the Badgers and Buckeyes met in the Big Ten Championship Game three years ago. Do you think Paul Chryst and his staff have been reminding the Badgers about that this week?
Galloway: I don't think that's on anyone's mind. Chryst and the entire coaching staff weren't here at that time, and the large majority of the players weren't, either. Last year's Big Ten Championship game loss to Penn State is much more at the forefront. Wisconsin built a 28-7 lead in that game before choking it away, and I think that loss still stings this group. If they have any extra edge or motivation this week from a previous game, it would be that one.
Q: Finally, what do you think will be the keys to the game, and how do you see it playing out?
Galloway: I think Wisconsin needs to get pressure on Barrett and contain him in the pocket. He had a couple key scrambles late in last year's overtime win in Madison. The Buckeyes will be in good shape if they create a few turnovers. The Badgers have had trouble with that this year but haven't faced an opponent capable of truly making them pay for it. Ohio State can certainly do that. I've gone back and forth on a winner for this game all week, but I'm landing on a 24-20 Wisconsin victory.