We've known for a while Ohio State would wear an alternate uniform this season. After all, the Buckeyes have done so every year since 2009.
Now we know for certain what they'll look like, as sources have shared with Eleven Warriors an up-close photo of the retail version of the jersey. It will be worn against Penn State on Oct. 28.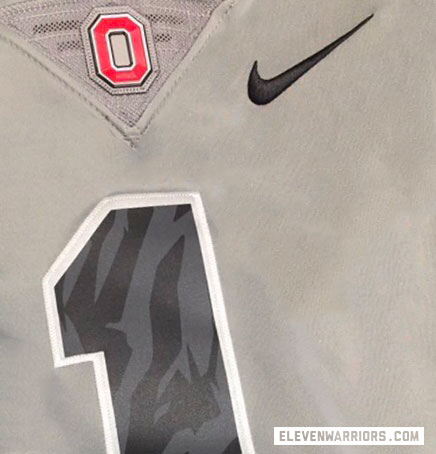 The uniforms will be on Nike's Vapor Untouchable template, which the team switched to for last year's 1916 throwback uniform and has worn since the Fiesta Bowl.
The numbers have a sublimated design, though it's unclear at this time what exactly it is. Similarly, Florida unveiled an alternate uniform on Monday night with a sublimated gator skin pattern.
As for the pattern? Well, here's one guess:
Are the numbers supposed to be buckeye tree bark? Just a guess based on previous alternate unis.

— Joel Reichert (@reichert27) October 10, 2017
Ohio State's 2011 Pro Combat uniform, worn against Wisconsin, featured a tree bark baselayer as an homage to Buckeye Grove. Then-quarterback Braxton Miller wore it against Penn State the following year, as well.
The retail versions will be available for purchase on Oct. 23 with a price tag of $150. It is unclear at this time what the helmets or pants look like, but expect them to also be gray, as Nike is pushing its college version of the NFL's Color Rush promotion this season.
Stick with Eleven Warriors for the latest on Ohio State's alternate uniforms.
UPDATE: A source close to the Ohio State football program has told Eleven Warriors the pattern in the numbers plays off of the "Land of the Wolves" mentality the team had prior to the 2016 season. It is supposed to replicate fur.
"The land of the wolves mindset is as a wolf every day, I feel like you wake up and you're just trying to find your next meal," said quarterback J.T. Barrett. "You're always attacking."
Follow Eleven  WarriorsFacebook, Twitter, Instagram and YouTube