Ohio State strength coach Mickey Marotti teams with video producer David Trichel often to formulate highlight videos, pump up bits and other things to get Urban Meyer's football team amped up for what's next.
As the calendar lurched past National Signing Day Feb. 3 Meyer looked down his roster to see 44 freshmen eligible players present. He needed the duo and their teams to come up with something big for winter conditioning. Marotti is the only soul on the planet the head coach trusts to prepare his players for Saturday afternoons on the gridiron.
"The land of the wolves mindset is as a wolf every day, I feel like you wake up and you're just trying to find your next meal. You're always attacking."– J.T. Barrett
"We lost so many guys to the NFL and graduation and I think our whole motto was the year of development," Marotti said Wednesday. "Year of development in terms of physical, mental, emotional, spiritual — everything in their lives. Because guys really have to step up and grow here quick."
Ohio State's senior class consists of six players — a paltry number of upperclassmen returning to a team that finished 12-1 last season but was meant for much, much more.
That's why this winter's theme was easy, and why Marotti and Trichel spilled it into the brains of the team the morning before its first mat drill workout last week.
"Last week for mat drills we watched a video called, 'Welcome to the land of the wolves,'" quarterback J.T. Barrett said Wednesday. "The land of the wolves mindset is as a wolf every day, I feel like you wake up and you're just trying to find your next meal. You're always attacking."
With so much youth on the roster ahead of spring practice—including seven early enrollees as part of another top-5 recruiting class—Marotti wants the players to get the feeling they've been left for dead and without any support. That way they have to find it within themselves to get where they need to be heading into 2016.
"We put this thing together and it was kind of like, I forget what movie it was, but wolves are out there in a barren land you gotta survive," Marotti said. "It's kind of the motto and the thing that we kind of grew on in the last couple weeks, was this wolf thing. You're out there in the wilderness, man, and you gotta survive. That's part of our young guys and the mentality of our young guys in the offseason."
It's all part of a drive to instill the hunger to a program that perhaps was lost at this point a year ago. Ohio State toppled Alabama and roasted Oregon to win the first-ever College Football Playoff National Championship. With so many players back from that team, complacency crept in — no matter how much they denied it.
Marotti, though, sees it a tad differently.
"Last year at this time everybody was patting them on the back and telling them how good they were and can't wait for this year. There was so much status because of what they did before," Marotti said. "I just think it's a little different because of the youth of the team and it's kind of their turn and they all make that step when it's their turn."
Marotti said he loves having a group formed that way, where the majority of players are trying to make a name for themselves and earn playing time. It all translates back to that wolf thing.
"We put this video on and all of a sudden they're like 'Wow,'" Marotti said. "This thing really hit a nerve. It hit a nerve with the head coach too. He was jacked up."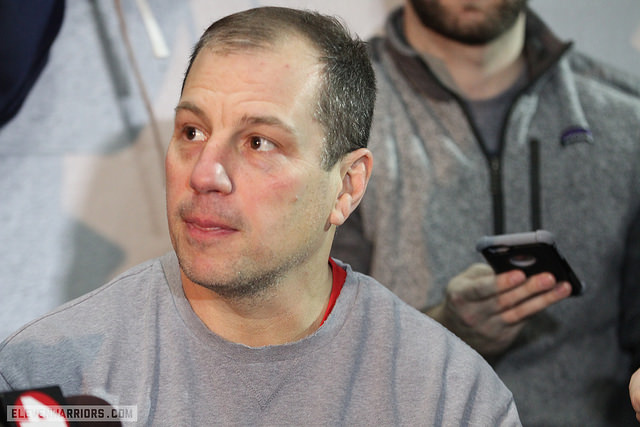 "What (Trichel) did was, he was comparing last season to a redwood forest; it's all safe, you guys have been living in this redwood forest where it's safe, there's food there's everything," starting center and fifth-year senior Pat Elflein added. "It's a barren forest now. It's snowy, it's hostile, this is 'The Land of the Wolves.' You gotta eat or be eaten."
More than half the individuals heading through winter drills had never done mat drills at Ohio State before — an absurd 47, Marotti said. Those personal man-to-man battles begin to separate those who will contribute this fall from those who will instead stand and watch.
Eat or be eaten. Kill or be killed. Survive or don't. It sounds cliché, but is serves as the basis for Ohio State's winter conditioning in 2016.
"I think two words come to mind for our young guys in the offseason: it's hungry and eager," Marotti said. "We see that. We just wanted to build on it."