J.T. Barrett became Ohio State's starting quarterback and Cardale Jones became the Buckeyes' backup quarterback when Braxton Miller suffered a season-ending shoulder injury before the 2014 season.
The Buckeyes' quarterback depth chart entering the 2017 season looks similar after Joe Burrow broke a bone in his throwing hand earlier this week, sidelining him indefinitely.
While Barrett is still the starting quarterback entering his fifth and final year at Ohio State, the Buckeyes' new backup quarterback – Dwayne Haskins – has drawn comparisons to Jones from none other than Barrett himself.
"He has kind of a mentality almost like Cardale," Barrett said last week. "His arm can take him places. It can get him in some tight spots as well, but when he is set up to throw the ball and he is in rhythm, he can rip it."
Haskins hasn't been at Ohio State as long as Burrow, so Burrow might have been more prepared to play if needed from an experience standpoint. Haskins, who hasn't yet played for the Buckeyes in an actual game, has been viewed as a risk-taker who will take some chances with the ball in attempts to make plays. That said, the four-star recruit from Potomac, Maryland, is heralded for his arm strength – much like Jones was – which gives him high upside as Ohio State's potential starting quarterback of the future.
Ohio State quarterbacks coach Ryan Day said last week that Haskins is "very talented throwing the football."
"He gets the ball out of his hand very quickly," Day said of Haskins. "Extremely accurate. And he's coming along in the classroom as well. Doing a nice job learning the offense and picking it up."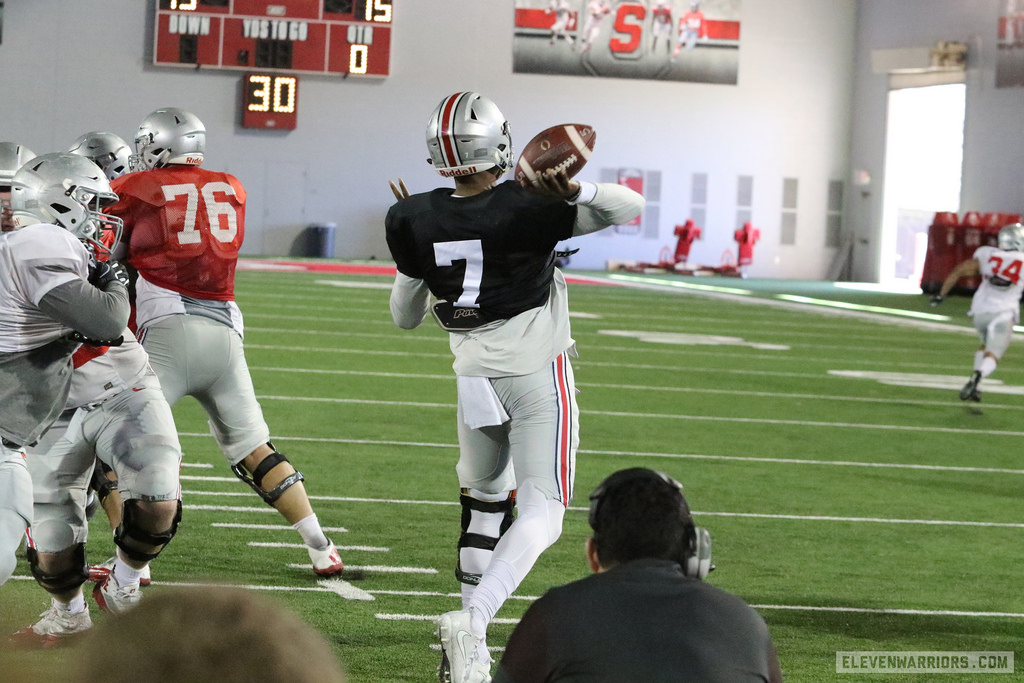 Haskins, who has his sights set on eventually being Ohio State's starting quarterback, said last week that he would be ready to play this season regardless of his place on the depth chart.
"Whether I'm going in with the ones, the twos or the young guys, it's just like I'm going in there and I'm thinking I'm the guy," Haskins said. "It's just having that mentality that one day I will be the guy, but I'm just going to keep playing that way in practice."
Haskins believes he is more mature this year and has made "really great strides" this offseason between spring practice and fall camp.
The redshirt freshman says he has a "gunslinger mentality."
"I'm just really confident … and know that I can make any throw on the field," Haskins said. "So when I go play, it's just like if someone's open, I'm going to throw it to them. If they're covered a little bit, I feel like I can get it in the window and throw it."