Mike Weber still hasn't participated in any full-contact drills during fall camp with less than two weeks to go before Ohio State's season opener at Indiana.
The Buckeyes' starting running back suffered a hamstring injury during summer workouts on July 19, just over a week before the team opened preseason practice, and has spent most of fall camp rehabbing individually with athletic trainers instead of scrimmaging with his teammates.
Weber is confident, nonetheless, that he will be ready to play when the Buckeyes play the Hoosiers in Bloomington, Ind., on Aug. 31.
"I'm not at full speed yet, but I'm going to get there, and I should be ready," Weber said. "I'm not 100 percent yet. I'm getting close. (The athletic trainers) have have been holding me back all camp to make sure that I won't have problems with it throughout the season, so I'm just listening to them and taking it day-by-day."
Weber says it was planned even before his injury that he would not go through full-contact drills in fall camp. He didn't participate in full-contact work during the spring either. Weber feels he wore down near the end of last season, so the coaches already planned to be cautious with him to keep him fresh for this season. They're being extra cautious now that he's nursing an injury, but running backs coach Tony Alford fully expects Weber to be on the field in Week 1.
"He's coming along pretty well, he's progressing," Alford said of Weber. "We're monitoring him, bringing him along at the rate we think we need to. He feels good, so we're going to keep going with the process that we've been doing. It's going pretty well, so he'll be ready."
Should Weber be unable to play or limited in the season opener, the bulk of carries would likely go to true freshman running back J.K. Dobbins, who Alford says is currently the Buckeyes' No. 2 running back "without question." But Alford gave a decisive response when asked whether Weber will start against Indiana.
"Absolutely," Alford said.
While Weber worked out almost exclusively with the athletic trainers early in fall camp, he says he is getting increasingly involved in practices each day to see what he can and can't handle.
Weber admits he is "very anxious" to get back to practicing in a full capacity, but he's listening to the advice of the coaches and trainers.
"Coach talked to me a lot, he told me to just take my time with it and be patient because hamstrings are very important," Weber said. "But I've been staying in shape, I've been running around a little bit and lifting weights real hard and making sure I stay in shape for the season."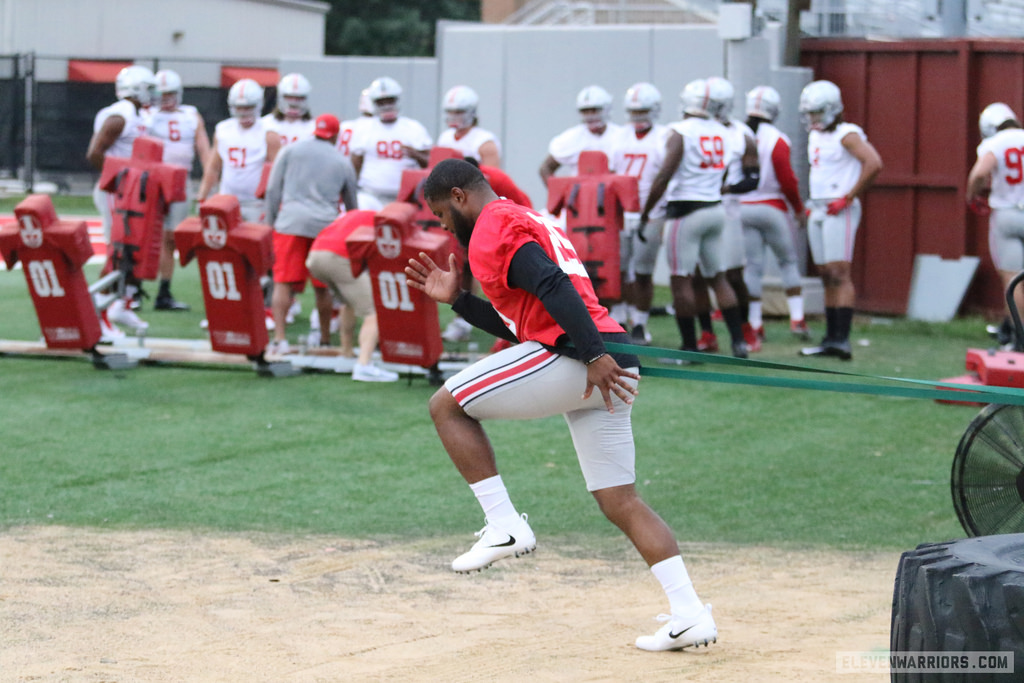 Weber feels good about where he is at from a conditioning standpoint, and believes he is in better shape – which also means he should be faster – than he was last year.
"He's legitimate fast now," Ohio State coach Urban Meyer said of Weber at Big Ten Media Days. "He wasn't fast (last year), he wasn't mature. He's very mature right now. Tony Alford's really done a nice job with him. I'm hoping you're going to see a different guy."
Alford agrees with Meyer's assessment. The running backs coach said Friday that Weber is "much more mature" and "understanding the bigger picture."
"Mike's really grown up a bunch, and he's been great," Alford said.