It's a rare thing for a true freshman to earn a starting spot his first year on major college football team, and it's nearly impossible for one to earn a starting spot on the offensive line, but last season that's exactly what happened at Ohio State.
After Jacoby Boren's departure following the 2015 season, Pat Elflein shifted to center position leaving a void at the guard position. There were a number of candidates expected to make a run at the starting spot – Matt Burrell, Demetrius Knox and Evan Lisle, just to name a few – but ultimately it was true freshman Michael Jordan who earned the spot, beating out a slew of more experienced players.
"Michael is only the second one of my career that I've ever had (do) that," Urban Meyer said at his press conference Monday afternoon. "Maurkice Pouncey and Mike Jordan can come in here and start right away."
Pouncey, of course, was drafted by the Steelers with the No. 18 overall pick following his playing career at Florida and is a five-time Pro Bowler and two-time first-team All-Pro. That's pretty good company for Jordan, and it speaks to just how rare it is for a true freshman to get the starting nod on the offensive line.
"That's a position you would rarely like to see a true freshman go play."– Urban Meyer
But a year later, the Buckeyes are in a very similar situation to 2016 with Billy Price filling Elflein's void at center, leaving an open guard spot to be filled. This time though, nearly half the candidates at the position true freshmen, including the top-two interior linemen in the 2017 class.
Wyatt Davis is one of those candidates, and he's about as blue chip as you can get. The five-star prospect is the top-rated guard in the 2017 class and the No. 25 player overall. He was named the L.A. Times Player of the Year for the state of California and a U.S. Army All-American. Playing at St. John Bosco High School, Davis played a national schedule against elite teams and elite players. He's battle tested against top competition and is probably as close to game-ready as you could hope from a true freshman.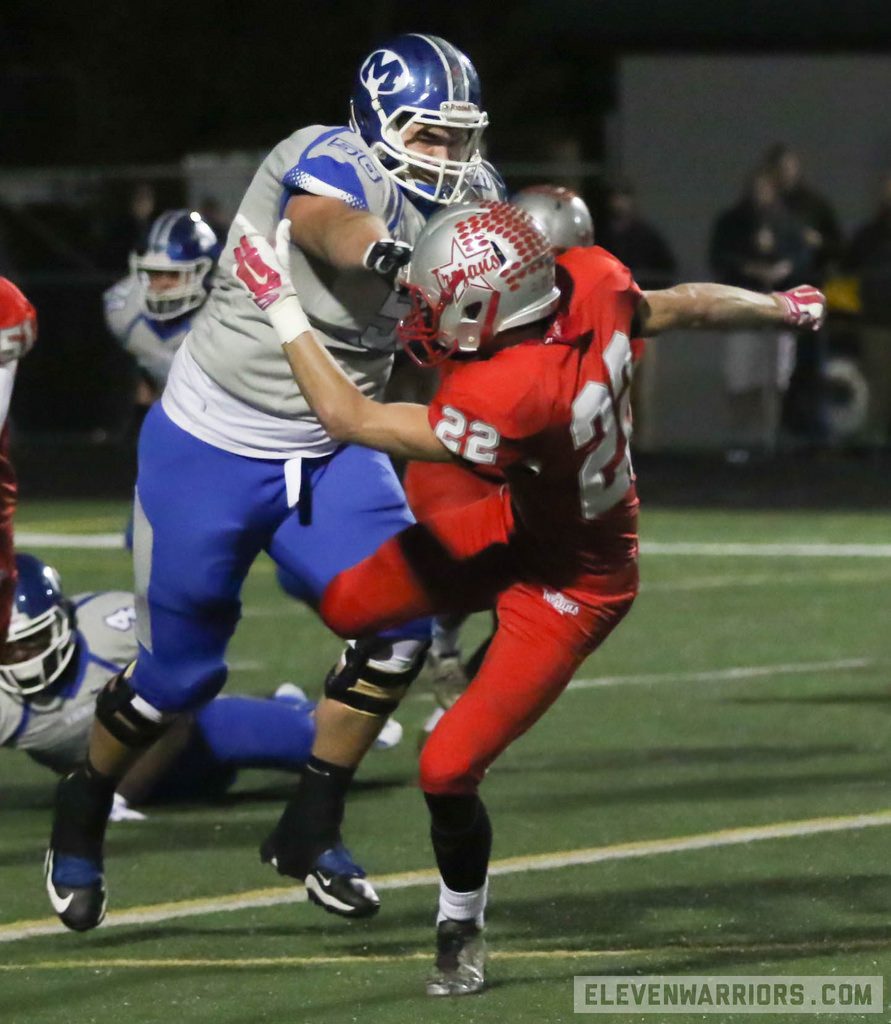 Josh Myers is another candidate. The top rated player in the state of Ohio, Myers is the No. 2 guard in the 2017 class. At 6-6, 306 lbs., he has a monster frame build for people-moving. The one knock on Myers is that playing at Miamisburg High School, he played for a run-first, triple-option team, so there are questions about his pass blocking ability. Though Myers does have a slight advantage as he was the only freshman offensive lineman to enroll early, giving him a few extra months to learn the system.
Joining the top-two interior linemen in the 2017 class is Thayer Munford. The No. 281 overall player in the class, Munford is obviously the lowest-rated offensive lineman in the 2017 class – you can't get any higher than the top-two players a that the position – but he's also the biggest. At 6-6, 320, Munford has the body of a tackle with the ability to play inside – much like Jordan last season.
With the way things are shaking out, and those three talented candidates on the roster, it seems entirely possible that a true freshman will win a starting spot on Ohio State's offensive line for the second-straight season, and Meyer – while acknowledging it's a rare outcome – would be ready and willing to make that call.
"Michael Jordan, if you evaluated, played okay, played pretty good for a freshman, but that's a position you would rarely like to see a true freshman go play," Meyer said. "Those are three guys we're excited about when Josh Myers and Thayer Munford and Wyatt Davis, those are all want-to, tryhard guys, so we have no problem playing a guy."
Whether it be a veteran or one of the newcomers, the Buckeyes will need somebody to emerge in the weeks that follow and take hold of that starting spot. With Meyer naming seven players vying for the position just last week, it's clear nobody has separated themselves yet.
With back-to-back games against Indiana and Oklahoma to open the season, it's important that the Buckeyes to have that position battle sorted out sooner than later. You don't want to be in the midst of a position battle when you open Big Ten play or host one of the top teams in the nation.