Ohio State's non-conference schedule this year consists of Army, Oklahoma, and UNLV. Next year's non-conference schedule consists of Oregon State, TCU and Tulane. This would make three of the past four seasons in which no Ohio team appeared as a non-conference foe for Ohio State, a break from what fans think is a non-conference scheduling tradition for the Buckeyes.
However, our review of Ohio State's football schedules since 1913 (the year in which it joined the Western Conference, which later became the Big Ten) suggests more interesting patterns than recent history suggests. The extent to which Ohio teams might be disappearing from Ohio State's schedules conforms to the rationale that led Ohio State to ignore in-state teams altogether from 1935 to 1991.
Ohio State's move from the Ohio Athletic Conference to the Western Conference constitutes its graduation to major program status in which it now shared a conference with heavyweights of the time like Chicago, Illinois, and Minnesota. However, Ohio State needed several years to cycle old foes like Case and Denison off its schedule. They would be mainstays in Ohio State's non-conference schedules into the 1930s.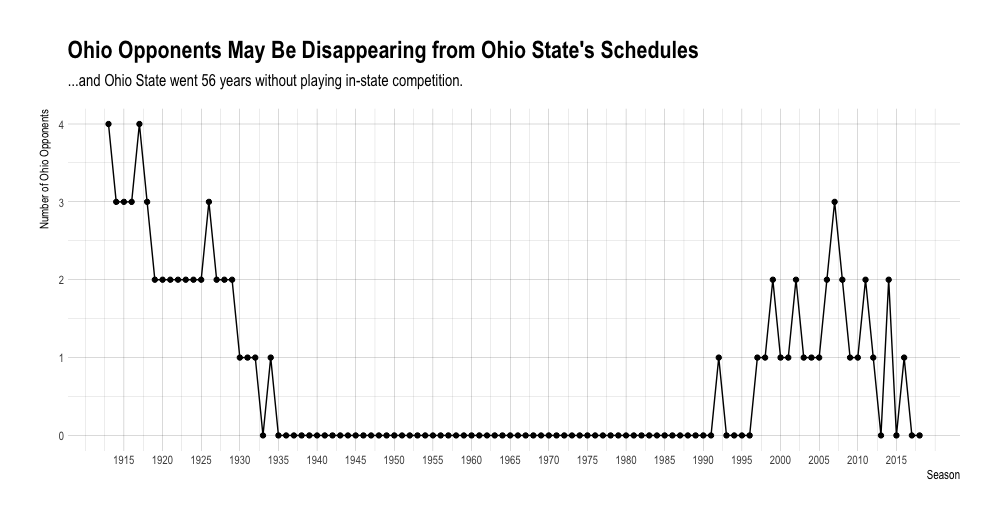 In fact, the Ohio Athletic Conference effectively was the non-conference schedule for Ohio State's first four years in the Big Ten. Ohio State filled out its 1913 schedule with Ohio Wesleyan, Western Reserve, Oberlin, and Case. Ohio State played Oberlin, Ohio Wesleyan, and Case in 1914, 1915, and 1916, winning all encounters.
The 1917 season offers a curious exception to this trend even as it fits the overall theme of Ohio State using old foes from the Ohio Athletic Conference to fill out its non-conference schedule. Ohio State started 1917 with wins over Case and Ohio Wesleyan by a combined score of 102-0. Three weeks later, it hosted Denison and routed the Big Red by a final score of 67-0.
That year, Ohio State finished its schedule with a peculiar-for-the-time trip to Montgomery, Alabama to play Auburn of the Southern Conference. That game ended in a 0-0 tie that may have cost Ohio State a national championship. Ohio State outscored its opponents that year by a final tally of 292-6, which included the season finale against a military squad from Camp Sherman in Chillicothe. The four Ohio teams that the Buckeyes played that year is the most it ever scheduled from the Buckeye State since joining the now-Big Ten in 1913.
Ohio schools still constituted the bulk of Ohio State's non-conference schedule in the 1920s though Ohio State started to look for new programs to play at the time. Attention turned east to prominent schools on the East Coast. Ohio State hosted Colgate in 1923, a contest that ended in a 23-23 tie. Columbia University appears to have the distinction as the first "home-and-home" opponent for Ohio State after the Buckeyes joined the Big Ten. Ohio State hosted the Lions in 1925, beating them 9-0. The next year's trip to the Polo Grounds ended in a 32-7 win for the Buckeyes.
Ohio State had successive series against Princeton (1927, 1928), Pitt (1929, 1930), Navy (1930, 1931), and Pennsylvania (1932, 1933). It also hosted Vanderbilt in 1931 and 1933. 
Ohio State's football ambitions were growing and, accordingly, the Buckeyes started to leave the Ohio Athletic Conference in the rear-view mirror. The 1933 season was the first in the program's entire history to exclude an Ohio foe from the schedule. That year's non-conference schedule consisted of Virginia, Vanderbilt, and the return leg of the Penn series at Franklin Field. Western Reserve returned to the schedule next year to host the Buckeyes in what became a 76-0 loss for the Red Cats. That was the last time Ohio State would play an Ohio team for several decades.
The next year's schedule consisted of Kentucky, Drake (from the Missouri Valley Conference) and, most prominently, Notre Dame. That home loss to Notre Dame, what was the "game of the century" of the time, was Ohio State's only blemish in 1935. Yet, that season cemented Ohio State's ambitions as a major program too big for its local competition. Ohio State did not play another Ohio opponent again until 1992.
The 1992 game against Bowling Green comes amid a major sorting of college football over the past several decades. Boundaries between Division I (e.g. the Big Ten) and Division III (e.g. the Ohio Athletic Conference) became clearer. Smaller programs with bigger ambitions that comprised the Ohio Athletic Conference, like Akron, Bowling Green, Kent State, and Miami, gradually worked their way to Division I status in the MAC. Thus, these schools became attractive targets for Ohio State looking to round out its schedule with, for lack of a less blunt term, "cupcakes."
Fans will remember well the scheduling routine into which the Buckeyes settled in the late 1990s and the Tressel years. Ohio State scheduled one marquee opponent every year, giving us high-profile series with Texas (2005, 2006), USC (2008, 2009), and Miami (2010, 2011). Thereafter, the athletic department typically filled out the rest of the schedule with in-state MAC snacks and offered ad hoc justifications of "keeping money in the Buckeye State" with them. 
The nadir of this scheduling practice may have been the 2007 season. Its marquee opponent that year was Washington for the road leg of a home-and-home series that started in 2003. This series looked good when it was first announced; Washington was arguably the Pac-10's best team for the entirety of the 1990s. However, Washington was hopeless under then-coach Tyrone Willingham, finishing 4-9 in 2007 and last place in the Pac-10.
Ohio State complemented that schedule with games against Akron, Kent State, and Youngstown State. The Youngstown State game, a nod to Jim Tressel's celebrated tenure as the Penguins' coach, was the first game Ohio State played against a non-major (i.e. not Division I-A) program since the game against Fort Knox in 1942.
More recent years have seen Ohio State gradually wean off in-state programs in favor of out-of-state cupcakes. The 2010 season portended more recent schedules. Only one in-state school (Ohio) appeared on the schedule as the Buckeyes looked to out-of-state competition (Marshall, Eastern Michigan) to fill out its schedule. 
Three years later, the 2013 schedule broke from recent tradition by having zero in-state foes. Ohio State's non-conference schedule that year consisted of Buffalo, San Diego State, California and Florida A&M. It was the first Ohio State football schedule free of Ohio teams since 1996.
This has continued into the present concurrent with the Big Ten's shift to a nine-game schedule. The 2015 schedule had no in-state teams. The 2017 schedule will not have one either and no Ohio team appears on the 2018 schedule either.
This an important trend we're seeing even as Ohio State's 2019 schedule tentatively has two Ohio teams on it (Cincinnati, Miami [OH]). Ohio State used to rely on Ohio teams for its non-conference schedule before determining that its ambitions were too big for the small-scale nature of its in-state competition. It started playing them after a lengthy absence as other Ohio programs solidified their place in Division I football. As the Big Ten and college football continue to evolve, Ohio State may be finding that most of its in-state competition, once again, does not match its ambitions or where the sport is headed.