They are all important. But this is the offseason, after all, which is why we are here.
Some might think it is inappropriate to pick the five most important seniors on Ohio State's 2017 football roster being that there are 11 on scholarship and basically all of them play integral roles to what the Buckeyes do.
Urban Meyer's club only sported six scholarship seniors a year ago, a statistic indicative of the Buckeyes being the most inexperienced team in the country following an exodus to the NFL Draft. Seven more guys were drafted this spring and a few others elected to return to school even though they probably would have been drafted.
That leaves Meyer with a little more senior leadership than last year. The names:
Quarterback J.T. Barrett*
Tight end Marcus Baugh*
Center Billy Price*
Left tackle Jamarco Jones
Defensive end Tyquan Lewis*
Defensive end Jalyn Holmes
Defensive tackle Tracy Sprinkle*
Defensive tackle Mike Hill*
Linebacker Chris Worley*
Safety Erick Smith
Safety Damon Webb
*Redshirt senior 
Other members of Ohio State's 2014 recruiting class who are redshirt juniors entering the 2017 season: kicker Sean Nuernberger, wide receivers Johnnie Dixon, Terry McLaurin and Parris Campbell, linebacker Dante Booker, offensive linemen Demetrius Knox and Brady Taylor and defensive linemen Dylan Thompson, Darius Slade and Sam Hubbard. Others left school early for the NFL, transferred out or retired from the sport.
Ohio State lists 17 seniors overall on its official roster but we turn our focus to those on scholarship who are the most vital to the team's success in 2017. This includes the position they play, the depth behind them at said position, their past college football experience and more. The five we chose will play the biggest roles in the Buckeyes returning to Indianapolis and the Big Ten Championship Game.
5. Damon Webb — Safety
Webb's inclusion in this list might incite some ire from fans due to his struggles at times during the 2016 season. Teams picked on him often as the weather grew cold, a more viable option to move the ball through the air than throwing at any of Ohio State's three first-round draft picks in the secondary.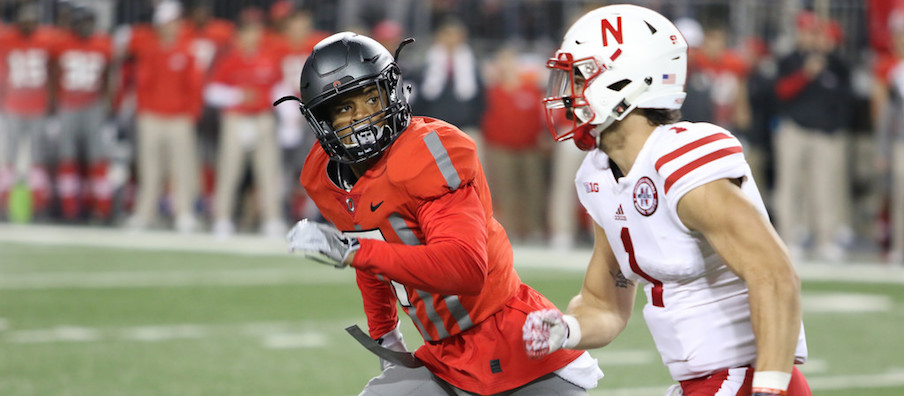 Webb still had his moments in 2016, though, namely the 36-yard interception return for a touchdown to ignite Ohio State's 62-3 rout of Nebraska. He finished fifth on the team with 57 tackles and started every game at safety. If there was a better option, you know for a fact Greg Schiano would have inserted him into the lineup in place of Webb.
Schiano and Urban Meyer glowed about Webb's progress this spring, needed noise for fans with Malik Hooker, Gareon Conley and Marshon Lattimore all onto the NFL. The Buckeyes consider Denzel Ward a returning starter at cornerback but while he did play a bunch last season it was not in the same amount as Webb. For Schiano and Kerry Coombs to establish some sort of continuity from 2016 to 2017 in the secondary, Webb is an essential part in his final season ahead of younger names like Jordan Fuller, Wayne Davis, Jahsen Wint, Isaiah Pryor and Brendon White.
4. Chris Worley — Linebacker
Worley started all 13 games a year ago at outside linebacker and by all accounts played well. He ended the season with 69 total tackles, 4.5 tackles for loss, broke up four passes, forced a fumble and combined with Malik Hooker on an interception of Michigan State's Tyler O'Connor on a 2-point conversion in the fourth quarter of a 17-16 victory over the Spartans.
Worley's offseason shift to middle linebacker in place of Raekwon McMillan this spring has been well documented. Facing a bigger responsibility on the field, Worley is now the unquestioned voice of not only the front seven but the entire defense. With new names coming into the lineup behind him in the secondary and a deep and experienced group in front of him, Worley is the leader that will make everything tick this fall.
Not to mention he becomes Ohio State's first middle linebacker in the post-Luke Fickell era. With Fickell now the head coach at the University of Cincinnati, Bill Davis will look to Worley and junior Jerome Baker, another returning starter, more than ever as training camp begins. Ohio State boasted one of the best defenses in the country in 2016. If it stays near the top of the sport in 2017, Worley's leadership will be a huge reason why.
3. (tie) Tyquan Lewis — Defensive End; Jamarco Jones — Left Tackle
Ties are lame, so please forgive me for that. But any list discussing importance from an Ohio State football sense must include the 2016 Big Ten Defensive Lineman of the Year and the team's top NFL prospect on the offensive linemen.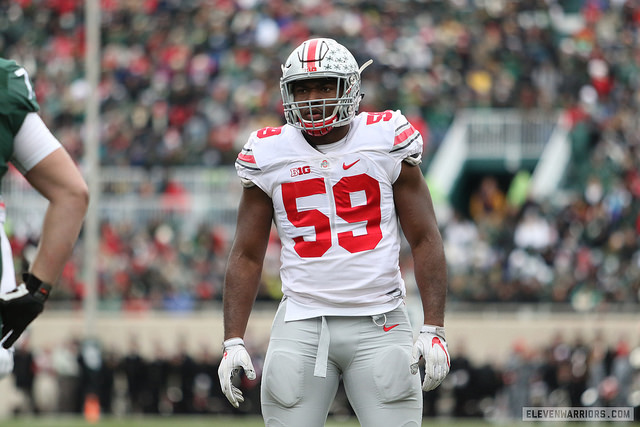 Depth in front of J.T. Barrett is not something the Buckeyes currently enjoy, as evident by the unit's woeful performance in the Fiesta Bowl against Clemson. Things went from bad to worse when Michael Jordan went down with an ankle injury, and Ohio State could be headed for a worse fate should something happen to Jamarco Jones this year. Jones has the prototypical body type and size for an NFL left tackle, which is what he will be with a solid senior campaign. For Ohio State's pass protection to get back on point this fall, Jones must be at his best.
Tyquan Lewis is wildly underappreciated, having played with Joey Bosa, Michael Bennett, Adolphus Washington and other great defensive linemen in his time at Ohio State. He got some deserved recognition last winter, though, and elected to return for his fifth season after the 31-0 loss to Clemson. Larry Johnson has talent everywhere he looks in Ohio State's defensive line room (and more is coming) but Lewis is at the head of the totem pole. A team captain and leader, he has his place on this list.
2. Billy Price — Center
For as important as Jones is to Ohio State's cause in 2017, Price coming back for his fifth season and moving to center cannot go unnoticed. Not only is he in line to be a four-year starter and is the strongest person on the team, Price ensures stability at a key position on the offense and gives the Buckeyes a pair of fifth-year seniors at center and quarterback.
Along with Barrett, Price is the team's spokesperson among players and someone Meyer turns to if he wants to find out the pulse of his team (after strength coach Mickey Marotti). Price and the offensive line didn't perform well in spots during the 2016 season, an important focus of spring football with new coordinator Kevin Wilson and quartebacks coach Ryan Day.
For the group to return to form for line coach Greg Studrawa, it starts and stops with Price. He often spoke about last year's group being "Pat Elflein's offensive line," an understandable notion for the 2016 Rimington Trophy recipient. The 2017 group now belongs to Price.
1. J.T. Barrett — Quarterback
This one is a no-brainer and if you think anything of the contrary, that is your prerogative.
Regardless how you feel about the way J.T. Barrett played both in 2015 and 2016 — not living up to the ridiculous standards he set for himself in 2014 — his experience as a three-year starter and now the first-ever three-time captain in program history is immeasurable. Barrett might not have the same physical traits as say, Joe Burrow, Dwayne Haskins or Tate Martell but if the again Buckeyes make it to the College Football Playoff, it will be with him at the most important position on the field (unless he gets hurt).
Barrett is like another coach on the field and is an excellent college quarterback with a career record of 26-4 as a starter. By the time he is done in 2017, especially with Wilson and Day breathing fresh air into the offense, Barrett will own every Ohio State passing record. He is the clear-cut No. 1 choice for most important senior on the current roster.