There is never a shortage of storylines with Urban Meyer's Ohio State football program. An added one for this coming season is the length of some of its Big Ten road trips.
A quick glance at the 2017 slate shows the Buckeyes are set to log quite a bit of air miles, with trips to Nebraska, Iowa and Rutgers on deck. Yes — Ohio State is scheduled to go to the westernmost point in the Big Ten's landscape this fall, as well as the easternmost.
The Buckeyes are not far from locking down a terrific recruiting class, the best in Meyer's tenure and arguably the most impressive in college football history in terms of average recruit rating. Other items of interest are how new offensive minds Kevin Wilson and Ryan Day mesh with fifth-year senior quarterback J.T. Barrett in an effort to get the passing game back on track. Don't forget new linebackers coach Billy Davis, either. How he steps in for program stalwart Luke Fickell, who left to be Cincinnati's head coach, is something to watch.
Meyer stresses offensive balance, something his team lost the last two seasons. With a leader like Barrett back in the fold and talent recruited at the other skill positions, the Buckeyes will be highly regarded in national polls and one of the expected Big Ten favorites.
Six players — Noah Brown, Curtis Samuel, Malik Hooker, Marshon Lattimore, Gareon Conley and Raekwon McMillan — left early for the NFL. But the Buckeyes are primed for a reload once again. They reached the College Football Playoff in 2016 without winning the Big Ten, then flopped against eventual national champion Clemson 31-0 in the Fiesta Bowl.
To get back to Indianapolis for the first time since 2014, let's take an early look at the regular season schedule that Meyer and the Buckeyes must navigate.
---
Week One
Opponent: Indiana Hoosiers — 2016 record: 6-7, 4-5 Big Ten. Lost 26-24 to Utah in the Foster Farms Bowl. Final S&P ranking: 53
Location: Memorial Stadium, Bloomington, Indiana
Date: Aug. 31
The Skinny: Indiana underwent transition late in the season, with Kevin Wilson resigning from his post as head coach on Dec. 1 after he and the administration cited philosophical differences. Reports of an investigation into alleged mistreatment of injured players ultimately forced Wilson out. After Ed Warinner left to be the offensive line coach in P.J. Fleck's new Minnesota regime, Urban Meyer hired Wilson to be his offensive coordinator and tight ends coach.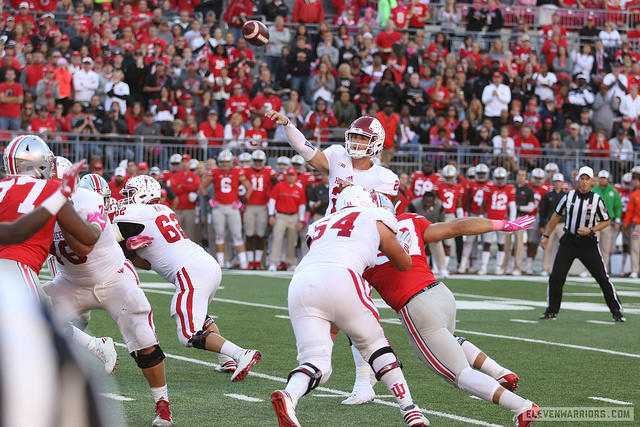 Wilson's first game with Ohio State will be against his former employer, another layer of interest to a game already carrying plenty since the two schools agreed to move the matchup to a Thursday night. The last time the Buckeyes opened a season on a Thursday was in 2010 against Marshall, though that victory was later vacated due to NCAA sanctions. The game also is set to be the first time in 41 years Ohio State opens its season against a conference foe. New Indiana head coach Tom Allen must pick up the pieces left behind by Wilson's departure. But the last time the Buckeyes traveled to Bloomington, they survived 34-27 with a last-second pass break-up by Eli Apple.
Week Two
Opponent: Oklahoma Sooners — 2016 record: 11-2, beat Auburn 35-19 in Sugar Bowl. Final S&P ranking: 10
Location: Ohio Stadium
Date: Sept. 9
The Skinny: Ohio State's marquee non-conference matchup for the second straight season, Oklahoma travels to Columbus for the back half of a home-and-home series. The Buckeyes roasted the Sooners in Norman last September, 45-24. That was part of a 1-2 start for Bob Stoops's club before it ripped off 10 straight victories, won the Big 12 and took care of Auburn in a New Year's Six bowl game.
Heisman Trophy finalist and quarterback Baker Mayfield is back for his senior season, though he must deal with the loss of three potent offensive weapons: Wide receiver Dede Westbrook (another Heisman finalist) and star running backs Joe Mixon and Samaje Perine. Stoops suspended sophomore cornerback Parrish Cobb indefinitely after a string of robberies a few weeks ago, a storyline that will be watched this offseason. But Oklahoma should be very good again, so the fact Ohio State gets two extra days to prepare for the Sooners can't be a bad thing for the Buckeyes.
Week Three
Opponent: Army Black Knights — 2016 record: 8-5, defeated North Texas 38-31 in overtime in the Heart of Dallas Bowl. Final S&P ranking: 101
Location: Ohio Stadium
Date: Sept. 16
The Skinny: Army did something for the first time in 15 years last season: it beat Navy. The annual battle of the academies was a thriller, with the Black Knights coming away on top 21-17. They closed the season on a three-game winning streak, also beating North Texas in the Heart of Dallas Bowl.
Much like the Midshipmen in 2014, Army will provide a unique challenge for Ohio State's defense. Jeff Monken's team runs the triple option, which causes stress in all kinds of ways for opponents. This game is also the first-ever meeting between the two programs.
Week Four
Opponent: UNLV Rebels — 2016 record: 4-8. Final S&P ranking: 110
Location: Ohio Stadium
Date: Sept. 23
The Skinny: For the second consecutive week, the Buckeyes are scheduled to play a team for the first time in program history. UNLV finished tied for third in the Mountain West's West Division in 2016, with its lone conference victories coming against 1-11 Fresno State, Hawai'i, and Wyoming, a wild game that ended in triple overtime with the Rebels on top 69-66.
UNLV allowed more than 430 yards and nearly 37 points per game in 2016, both numbers near the bottom of the nation statistically. Only Hawai'i allowed more points per game last season than the Rebels among teams in the Mountain West. This game could still become a trap for Ohio State, however, considering it is the week after it faces Army. We all remember what happened the last time the Buckeyes played a team the week after seeing an option offense, though Virginia Tech in 2014 figures to be a much a different animal than UNLV.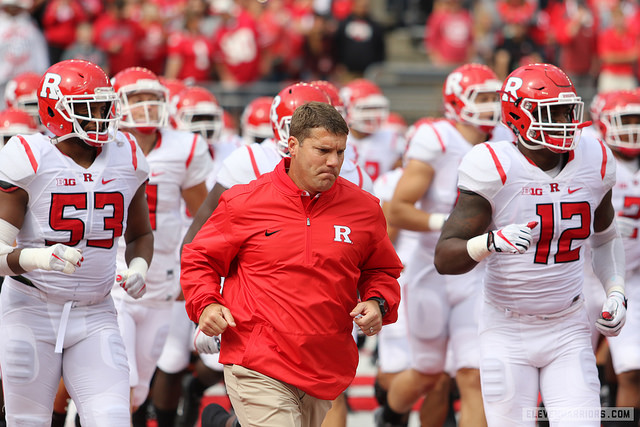 Week Five
Opponent Rutgers Scarlet Knights — 2016 record: 2-10, 0-9 Big Ten. Final S&P ranking: 114
Location: High Point Solutions Stadium, Piscataway, New Jersey
Date: Sept. 30
The Skinny: Let's call a spade a spade: Rutgers was not a good football team in 2016. Former Ohio State defensive coordinator and safeties coach Chris Ash's first year as a head coach went from bad to worse. An early season injury to all-purpose player Janarion Grant essentially ended any chance the Scarlet Knights had at winning a conference game.
Rutgers lost to Ohio State, Michigan, Michigan State and Penn State by a combined score of 224-0. Its offense couldn't score — averaged a league-worst 15.7 points per game — and its defense couldn't stop anybody — allowed a league-worst 450.7 yards per game. Ash's next recruiting class isn't horrible, ranked 43rd by 247Sports composite as of this writing. He has to start there to have any hope of competing in the Big Ten in the next few years. Until then, however, Rutgers will serve as the doormat of the entire conference.
Week Six
Opponent: Maryland Terrapins — 2016 record: 6-7, 3-6 Big Ten. Lost 36-30 to Boston College in the Quick Lane Bowl. Final S&P ranking: 87.
Location: Ohio Stadium
Date: Oct. 7
The Skinny: Maryland was not really competitive against Ohio State, Michigan or Penn State either, but did beat Michigan State. The Spartans had an awful season by their standards but that victory is one of the bright spots in DJ Durkin's first year on the job. Maryland's other two conference wins were against Rutgers and Purdue, who went a combined 5-19 in 2016.
Like Ash, Durkin must recruit and keep some of the east coach talent home in order to make noise in the Big Ten. He also must figure out his quarterback position with the graduation of not only starter Perry Hills but reserve Caleb Rowe. Is Tyrrell Pigrome the guy? Probably. But he needs to be able to do more than just use his legs to hurt defenses. The Buckeyes thumped the Terrapins 62-3 last season in College Park.
Week Seven
Opponent: Nebraska Cornhuskers — 2016 record: 9-4, 6-3 Big Ten. Lost 38-24 to Tennessee in Music City Bowl. Final S&P ranking: 46.
Location: Memorial Stadium, Lincoln, Nebraska
Date: Oct. 14
The Skinny: Ohio State showed the world that the Cornhuskers were a paper tiger last season, destroying them 62-3 with a pair of pick-sixes and four touchdown passes from J.T. Barrett, all while wearing alternate jerseys. An injury to quarterback Tommy Armstrong Jr. ended any chance Nebraska had at making a comeback, though the game was all but decided when he went down in the second quarter.
Mike Riley's third season is headlined by replacing Armstrong Jr. and Ryker Fyfe, two players that took the lion's share of the snaps at the most important position on the field the last three seasons. Riley's incoming recruiting class is ranked in the top-25 nationally so what he does with it will determine how far the Cornhuskers can go to coming out on top of a very winnable Big Ten West. The last time Ohio State traveled to the westernmost point of the Big Ten's footprint, it blew a huge lead and lost 34-27 in 2011 following an injury to quarterback Braxton Miller.
Week Eight
Date: Oct. 21
Open Week
Week Nine
Opponent: Penn State Nittany Lions — 2016 record: 11-3, 8-1 Big Ten, won the conference, lost 52-49 to USC in the Rose Bowl. Final S&P ranking: 8.
Location: Ohio Stadium
Date: Oct. 28
The Skinny: This is a game Ohio State players, fans and coaches already have circled on their calendars. The Nittany Lions spoiled Ohio State's bid at a perfect season with a come from behind 24-21 victory in State College last October. The loss kept the Buckeyes out of the Big Ten Championship, as Penn State won its remaining regular season games, topped Wisconsin in Indianapolis but then fell to USC in the grandaddy of them all.
Quarterback Trace McSorley, running back Saquon Barkley and a slew of pass-catchers — tight end Mike Gesicki and receivers DaeSean Hamilton, DeAndre Thompkins and Saeed Blacknall — all return to an offense that put up a ton of points in 2016. After beating Ohio State, James Franklin's group scored 38 or more points in each of its final seven games. Now the question is can he sustain the success? The pieces are in place, so this game will certainly be one that factors largely into who wins the Big Ten East.
Week Ten
Opponent: Iowa Hawkeyes — 2016 record: 8-5, 6-3 Big Ten. Lost 30-3 to Florida in the Outback Bowl. Final S&P ranking: 30.
Location: Kinnick Stadium, Iowa City, Iowa
Date: Nov. 4
The Skinny: Iowa took a noticeable step back last season after a 12-0 campaign in 2015 that led to a berth in the Big Ten Championship Game. That happened with its two best players still on the roster too, quarterback C.J. Beathard and cornerback Desmond King.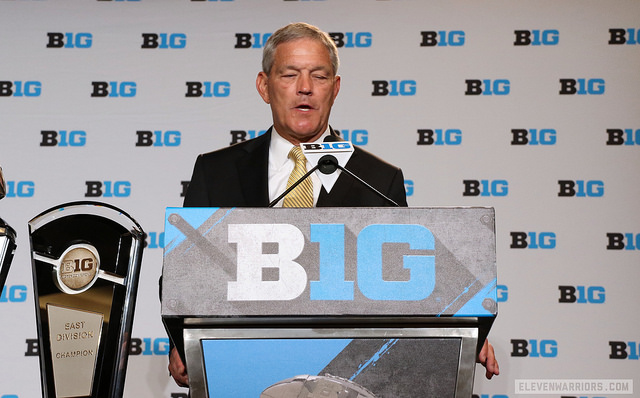 King and Beathard are gone, so Ferentz has holes to fill ahead of the 2017 season but gets to host the Buckeyes for the first time since 2010. Ohio State won that night 20-17, a win later vacated by the NCAA. The last time the two teams met came in 2013, when Carlos Hyde led the Buckeyes to a 34-24 win in Columbus. Ohio State will be favored and more talented in this matchup but playing Kinnick Stadium is no cake walk. Just ask Michigan.
Week Eleven
Opponent: Michigan State Spartans — 2016 record: 3-9. Final S&P ranking: 57.
Location: Ohio Stadium
Date: Nov. 11
The Skinny: Last year, the Spartans slugged their way through easily the worst season in Mark Dantonio's career as a head coach. The major drop off was a bit of a surprise considering they won the Big Ten and went to the College Football Playoff a year earlier. Major losses like Connor Cook, Shilique Calhoun, Jack Allen and Jack Conklin to the NFL proved too difficult to overcome.
The season proved that Dantonio doesn't quite have his program at the level of an Ohio State or even Michigan under Jim Harbaugh yet — being at or near the top of the conference annually. He must get figured out his quarterback situation quickly — three players saw significant snaps at the spot and Tyler O'Connor graduated. Still, the Spartans gave Ohio State everything it could handle on a windy and frigid day in late November last season. How well Dantonio can build around stud running back L.J. Scott and replace leading receiver R.J. Shelton will lay the groundwork to whether or not Michigan State can bounce back next season.
Week Twelve
Opponent: Illinois Fighting Illini — 2016 record: 3-9, 2-7 Big Ten. Final S&P ranking: 95.
Location: Ohio Stadium
Date: Nov. 18
The Skinny: Lovie Smith's first year in Champaign was a significant struggle with a roster beset by injuries. Illinois really struggled against top-tier teams but beat Michigan State and Rutgers for its only Big Ten wins.
Smith must recruit better for Illinois to become a threat in the Big Ten West but has his work cut out for him. Wes Lunt is gone too, so is Jeff George Jr. the answer at quarterback? Illinois only averaged 19.7 points per game in 2016 — better only than Rutgers in the conference. A late November trip to Columbus looks like it will be extremely difficult for Smith and Co.
Week Thirteen
Opponent: Michigan Wolverines — 2016 record: 10-3, 7-2 Big Ten. Lost 33-32 to Florida State in Orange Bowl. Final S&P ranking: 3.
Location: Michigan Stadium, Ann Arbor, Michigan
Date: Nov. 25
The Skinny: Jim Harbaugh swung and missed on his best chance to win the Big Ten and make the College Football Playoff to date as Michigan's coach. A team with more than 40 seniors and a Heisman Trophy finalist in Jabrill Peppers slipped up at Iowa and then lost in Columbus in double overtime. A last-second loss to Florida State in the Orange Bowl capped a disappointing end for a program still searching for its signature win under its new regime.
Say what you want about his antics, but Harbaugh is recruiting extremely well. Michigan's 2017 class ranked fourth in the country after a top-10 finish a year earlier. He will depend on those players more than ever after the departures of Peppers, Taco Charlton, Jourdan Lewis, Jake Butt and many others key contributors. The Game will hold major interest as long as Meyer and Harbaugh lead each squad. It will be no different in 2017, with the Buckeyes on a five-game winning streak against their archrival.