The trend of enrolling early as a college athlete — especially football players — has taken the world by storm. Urban Meyer and Ohio State use the option too, as more and more guys have gotten a jump start on their careers by graduating early and starting classes in January.
Nine players from Ohio State's 2017 recruiting class started their college careers on this week — Jeffrey Okudah, Josh Myers, Shaun Wade, J.K. Dobbins, Marcus Williamson, Isaiah Pryor, Tate Martell (Martell is arriving on Thursday), Baron Browning and Brendon White. We already dove into how each fits into his respective position rooms on Monday.
Some key players in Ohio State lore got to school early to get a start on conditioning and the playbook before the Meyer era ever started, among them Chris "Beanie" Wells, Maurice Clarett and Donte Whitner.
But the practice has increased since Meyer took over in 2012.
"I think it's a heck of an advantage," he said that year. "But we don't ever force that."
Let's take a look back at the guys who enrolled early in Meyer's five seasons at the helm in Columbus and how they fared in their careers.
---
2012

Early Enrollees: Wide receiver Michael Thomas, quarterback Cardale Jones, linebacker Joshua Perry, running back Bri'onte Dunn, center Jacoby Boren, safety Tyvis Powell
Thomas: Thomas got to work early in his career, playing some that fall on offense. Some immaturity issues led to a redshirt season in 2013, though, and he famously went on a Twitter rant about his team's lack of production at the wide receiver position in the 2014 Orange Bowl. Thomas made good on his word to perform at a high level, morphing himself into a premier player on the outside both in 2014 and 2015.
He left with one year of eligibility remaining after totaling 1,602 yards and 18 touchdowns on 113 catches in his career. New Orleans drafted him in the second round of the 2016 NFL Draft and Thomas excelled again, catching 92 passes for 1,137 yards and nine touchdowns as a rookie.
Jones: Everyone remembers the way Jones burst on the scene and led Ohio State to the 2014 national championship. He stepped in for an injured J.T. Barrett to beat Wisconsin, Alabama and Oregon and become the latest quarterback to lead Meyer to the zenith of the sport.
Jones left after last season and got drafted by the Buffalo Bills to cap a crazy college career that included a rocky start, a bad tweet, some major maturation and then a national title.
Boren: Not the most physically imposing or gifted player, Boren served as a stalwart on Ohio State's offensive line in 2014 and 2015. He played through a laundry list of injuries and kept coming to be the man in the middle and record a 26-2 record as a starter. Initially the backup for Corey Linsley upon his arrival, Boren certainly left his mark on the program.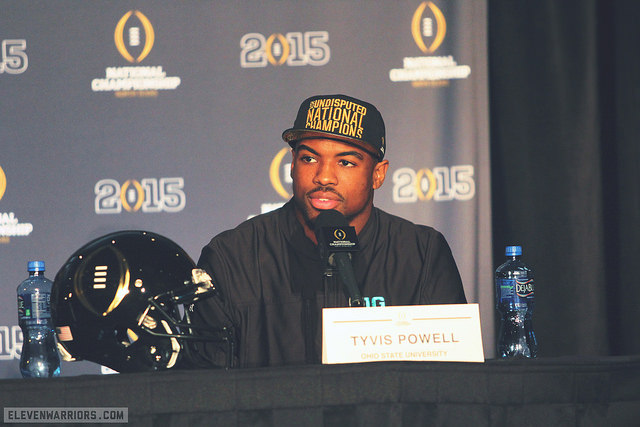 Powell: He committed amid the turmoil surrounding the Ohio State football program in the form of Tattoo-gate and ultimately Jim Tressel's departure but Powell didn't seem to care. He just wanted to be a Buckeye.
He was that and more. A three-year starter first at nickel corner then safety after a redshirt in 2012, Powell left Columbus with eight other underclassmen following the program's win in the Fiesta Bowl at the end of the 2015 season. The defensive Most Valuable Player in the College Football Playoff National Championship Game, Powell finished with 198 tackles, eight interceptions and nine passes broken up in his career.
Perry: A stud in every sense of the word, Perry led Ohio State in tackles during the 2014 national championship season with 124. In all, he racked up 298 stops in his four-year career, along with 18 tackles for loss, 7.5 sacks, an interception and six quarterback hurries.
San Diego drafted Perry in the fourth round of the 2016 NFL Draft. It is pretty evident he made the most of his opportunity to enroll early after graduating from nearby Olentangy High School.
Dunn: A highly-touted recruit, Dunn never realized his full potential at Ohio State. He only tallied 591 rushing yards and three touchdowns in three seasons. After playing briefly as a freshman, he took a redshirt in 2013 and then found himself buried on the depth chart. Meyer dismissed him from the program in July 2016 following an altercation with his girlfriend.
2013

Early Enrollees: Cornerback Eli Apple, defensive back Cam Burrows, quarterback J.T. Barrett, defensive end Tyquan Lewis, defensive tackle Tracy Sprinkle
Apple: The lone player in this class that enrolled early and is no longer at Ohio State, Apple blossomed into a first-round draft pick in 2014 and 2015. He redshirted in 2013 due to an iron deficiency, then played a huge role on the defensive overhaul that helped the Buckeyes win a national title.
The New York Giants took Apple 10th overall in the 2016 NFL Draft after he racked up 86 tackles, broke up nearly 20 passes and intercepted four others in his two years as a starter.
Barrett: With a chance to own virtually every passing record at Ohio State, Barrett elected to return for his senior season. He will work with new quarterbacks coach Ryan Day and presumed new offensive coordinator Kevin Wilson in 2017, as Meyer made major changes following his team's woeful performance in the 31-0 loss to Clemson in the Fiesta Bowl.
Barrett is 26-4 as a starter at Ohio State and can become the first quarterback to go 4-0 against Michigan in his career. He also served as a team captain in 2015 and 2016, so he will join a rare club in 2017 as a team leader once again.
Lewis: Like Barrett, Lewis is a team captain and also like the quarterback, the defensive end intends to return to Ohio State for his senior season despite already having his degree. Lewis led the Buckeyes in sacks the last two years with eight both in 2015 and 2016 and received Big Ten Defensive Lineman of the Year honors this past season.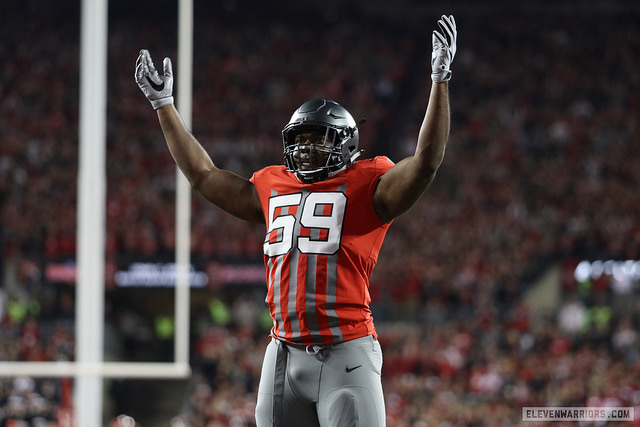 Lewis redshirted in 2013 and now is arguably the steadiest hand on Larry Johnson's defensive line. His career numbers to date: 92 total tackles, 27.5 tackles for loss and 16.5 sacks. He will serve as a key part of what Ohio State does in 2017.
Sprinkle: A rough start to his college career in the form of a redshirt continued when Meyer kicked Sprinkle off the team in the summer of 2014 after an altercation at a bar. Charges were dropped and Sprinkle was reinstated, and after waiting his turn at defensive tackle was set to start in 2016.
He did, before suffering a patella injury that cost him the year in the opener against Bowling Green. Sprinkle should be healthy and bring depth back to a position that needs it on the interior of Ohio State's defense. To date, Sprinkle has four tackles in his career.
Burrows: Perhaps more remembered for being the first commitment in Ohio State's legendary 2013 class, Burrows' career never really got to stretch its legs due to a series of injuries. He sat out this past season and graduated with 29 career tackles to his name. Burrows served as an intern on the strength team in 2016.
2014

Early Enrollees: middle linebacker Raekwon McMillan, H-back Curtis Samuel, wide receiver Johnnie Dixon, offensive lineman Kyle Trout, offensive lineman Marcelys Jones, quarterback Stephen Collier, kicker Sean Nuernberger
Samuel: Ohio State's 2014 class is bookended by Samuel and McMillan, both of whom have decided to forgo their senior seasons and enter the 2017 NFL Draft. Samuel made his decision known on Monday, nearly a week and a half after he put the finishing touches on a brilliant junior campaign where he was his team's best offensive weapon.
Samuel served as Ezekiel Elliott's backup during Ohio State's run at the national title in 2014, scoring six touchdowns and running for 383 yards on just 58 carries. He battled injuries in 2015 and adjusted to life at receiver before exploding for more than 1,600 total yards and 16 touchdowns this year. His production will be extremely difficult to replace next year — it is evident the fact he enrolled early accelerated his career.
McMillan: As previously stated, McMillan plans to take his talents to the next level after three terrific seasons in Columbus. He played considerably as a freshman, pushing Curtis Grant and having a significant role on the title team.
McMillan then led the Buckeyes in tackles the last two seasons and finished his career with 275 tackles, 17.5 tackles for loss and 6.0 sacks.
Nuernberger: He served as Ohio State's kicker as a true freshman during the national title run, making 13-of-20 field goal tries and all 89 of his extra points. But he lost his job first to Duke graduate transfer Jack Willoughby in 2015 and then walk-on Tyler Durbin after a groin injury kept him out of camp. He returns in 2017.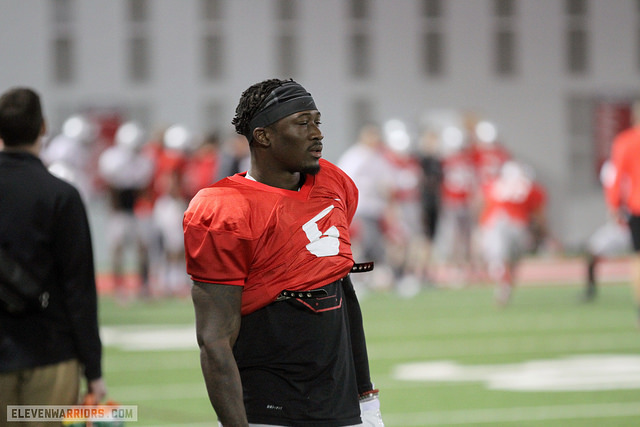 Dixon: A big-time get in 2014 as a 4-star wide receiver from Florida, Dixon's chronic knee issues forced a redshirt that year after a brief appearance against Kent State. He hardly played in 2015 but did record one catch in the season opener at Virginia Tech. Dixon caught six passes this season and also rushed for a touchdown against Rutgers. Whether or not Dixon's playing days are over due to his injuries remains to be seen.
Collier: Collier redshirted his first year on campus then was the third quarterback on the roster behind Barrett and Jones in 2015. A knee injury marooned him to the sideline again in 2016. He graduated, however, so he could be in line to work as a GA in the future. Either way, his playing days are all but over at Ohio State.
Trout: A 4-star prospect as a recruit thought to be a worthy contributor on the offensive line during his career, Trout hasn't played much at all. He is reportedly set to transfer out of the program.
Jones: A 3-star commit from Cleveland and the first one in this class, Jones didn't last long in Columbus. He transferred to Kentucky in summer 2015 but is no longer with the Wildcats.
2015

Early Enrollees: defensive tackle Jashon Cornell, linebacker Nick Conner, offensive lineman Grant Schmidt, cornerback Jamel Dean
Cornell: Cornell redshirted in 2015 like many of his classmates due to Ohio State's depth at nearly every position. A former 4-star prospect, he played sparingly this season, finishing with four tackles and 1.5 tackles for loss in five games.
Conner: Conner also redshirted his first year on campus after graduating early from Dublin Scioto High School. He played on special teams a bit this season and finished with three tackles in four games.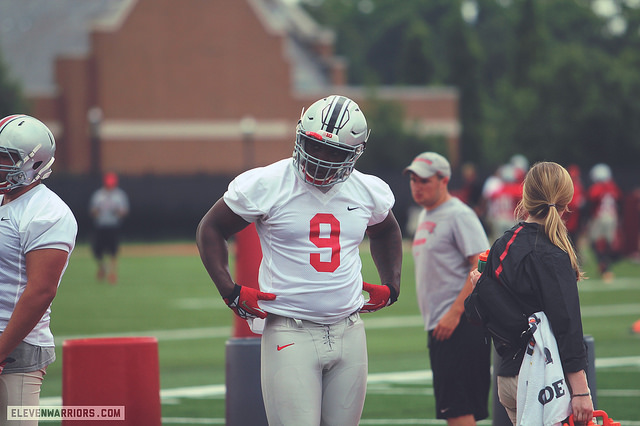 Schmidt: Schmidt never played a down for the Buckeyes. He redshirted in 2015 and transferred to Cincinnati last spring. After sitting out the 2016 season in accordance with NCAA rules, Schmidt will have a chance to make his mark with former Ohio State defensive coordinator and new Bearcat head coach Luke Fickell.
Dean: Like Schmidt, Dean never played for Ohio State either but for entirely different reasons. He enrolled early but the program's medical staff did not clear him after a knee injury. Dean transferred to Auburn and looked like he was going to play this season, only to be sidelined again with a knee injury.
2016

Early Enrollees: defensive end Jonathon Cooper, wide receiver Austin Mack, offensive lineman Michael Jordan, offensive lineman Tyler Gerald, running back Antonio Williams, defensive tackle Malik Barrow, linebacker Tuf Borland
Cooper: Saw minimal time in 2016 on Ohio State's defensive line, arguably the deepest unit on the team. Cooper did make waves when he got the chance, however, and recorded six tackles and one sack in six games this year. Look for Cooper's constant motor to play a huge role in the program moving forward.
Jordan: Perhaps the rarest breed of player in Meyer's Ohio State tenure through five seasons, Jordan started every single game for the Buckeyes at left guard in 2016. Whether that should be viewed as a product of poor recruiting or development by the other guys at his position or Jordan's freak athletic ability is up for debate. But one fact you cannot dispute is that Jordan became the first freshman to start on the offensive line at Ohio State since the great Orlando Pace in 1994.
He is in line for a starting spot again in 2017 up front, so he should serve as the banner example for players that elect to graduate early and start college in January.
Mack: The wide receiver took big advantage of getting to campus early, becoming the first player under Meyer to have his black stripe removed during spring practice. He started quickly and played well in the spring game but didn't see much time when it counted in the fall.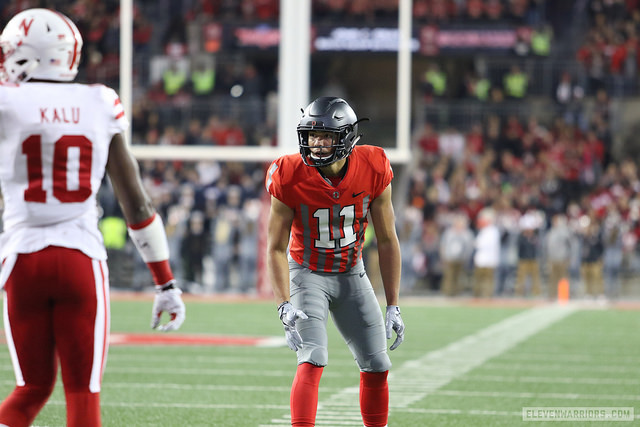 Mack saw time in 11 games, played special teams and caught two passes for 15 yards. With the departures of Noah Brown and Curtis Samuel to the NFL, expect Mack to play much more in 2017.
Williams: Williams has some work to do in order to move up on the depth chart at running back at Ohio State but he got some help with Samuel electing to turn pro. Samuel and Weber were co-starters at running back and Demario McCall got first opportunity in blowouts ahead of Williams. The latter ran for 28 yards on six carries against Rutgers in 2016. He could see more time this fall with Samuel's exit depending on where McCall plays.
Gerald: Gerald redshirted in 2016, normal for offensive linemen aside from Jordan. He should be part of the conversation as a backup this fall as long as he stays healthy and progresses.
Borland: Borland redshirted in 2016 behind the bevy of options Ohio State has at linebacker.
Barrow: Though Larry Johnson and Meyer talked about pulling Barrow's redshirt so he could help at defensive tackle after Sprinkle's knee injury, the emergence of Dre'Mont Jones kept that from happening. It was expected he would redshirt due to a knee injury that ended his high school career, and that is exactly what happened.
---
As you can see, enrolling early has its perks. But it doesn't always end up working out for early playing time, as plenty of it has to do with the players in the program at your position.
How much each of the nine guys who got to campus this week contribute in 2017 won't be decided until the fall. But the fact they are there to get a jump start should help their chances.