There is no need to beat around the bush. Ohio State's defensive line could very well be the best individual position group in the country heading into the 2017 season. 
The Buckeyes return all four starters (Sam Hubbard, Dre'Mont Jones, Michael Hill and Tyquan Lewis) from a season ago and back them up with a slew of athletes that could likely start anywhere in the country. 
Ohio State's defensive line is so deep, in fact, that Hubbard said the Buckeyes could rotate eight to 10 players up front depending on the opponent and situation. 
"It is an everyday grind. We have a lot of guys pushing each other and guys (fighting) for playing time," Hubbard said Monday. "(Defensive line coach Larry) Johnson pushes us every day. We play hard for him and he is coaching us just as hard."
A unit that could have realistically sent three players (Hubbard, Lewis, Jalyn Holmes) to the NFL returns every scholarship player that saw reps up front in 2016. That includes Tracy Sprinkle, who missed the final 12 games of last season after suffering a knee injury in the season opener against Bowling Green. 
While Hill is suspended for an indefinite amount of time, the Buckeyes boast an embarrassment of riches up front to replace him at tackle and even more talent on the edges to attack opposing backfields. 
Defensive Line In 2016

Ohio State's defensive line in 2016 had to replace the likes of Joey Bosa and Adolphus Washington, who were drafted by the San Diego (now Los Angeles) Charges and Buffalo Bills, respectively. 
Hubbard got the nod to replace Bosa full-time after filling in for him during Ohio State's 2015 win over Virginia Tech, for which Bosa was suspended. 
Hubbard started all 13 games for the Buckeyes in 2016 and finished the season seventh on the team with 46 tackles, including 3.5 sacks and eight tackles for loss. 
Bosa's younger brother, Nick, also entered the fold in 2016 and finished second on the team with five sacks, despite not starting a game. Tyquan Lewis had eight sacks to lead the team in sacks for a second straight season.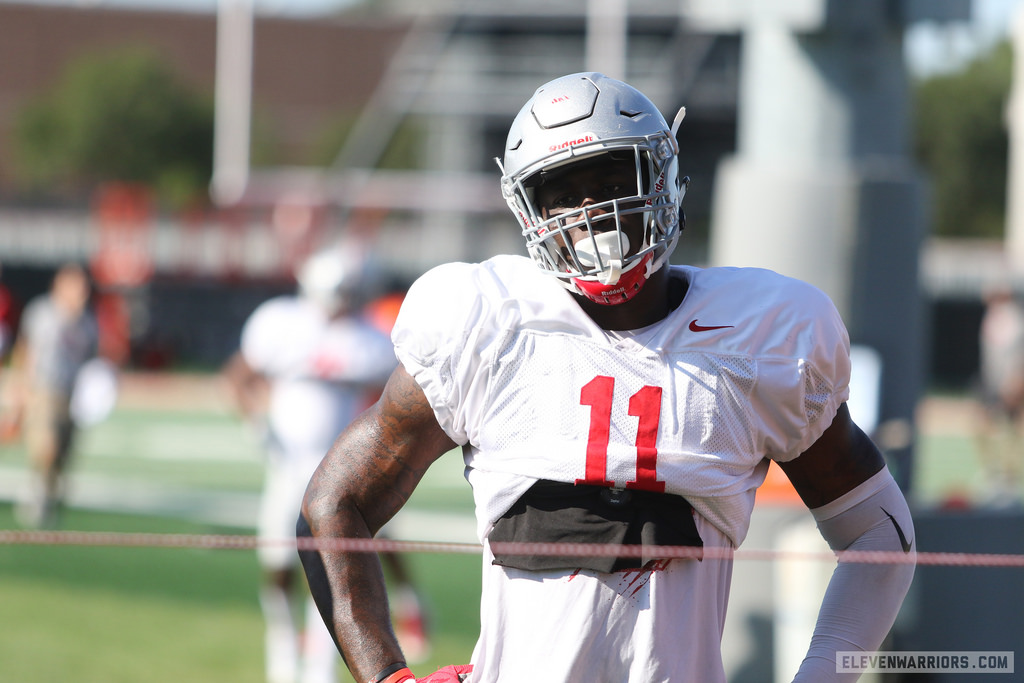 Holmes, who played significant reps for Ohio State in both 2015 and 2016 but has yet to start a game for the Buckeyes, was named a team captain on Monday. Holmes finished third on the team last season with 8.5 tackles for loss and added two sacks.
Replacing Washington on the interior also featured a revolving door. After Sprinkle went down in the season opener, Dre'Mont Jones took his starting spot for the final 12 games and the Buckeye front didn't miss a beat. Jones finished sixth on the team with 52 tackles, the most by any defensive lineman on the roster. 
Hill started all 13 games for Ohio State last season and added 21 tackles with three tackles for loss. 
Other contributors on Ohio State's interior defensive line included Robert Landers, Davon Hamilton and even Jashon Cornell at times. That trio combined for 30 tackles with 11.5 for loss and 1.5 sacks.
The one knock on Ohio State's 2016 defensive line was a lack of sacks. The unit accumulated only 28 sacks last season, which left them tied for seventh in the Big Ten.
That number could go up in 2017 with the new style of defense that defensive coordinator Greg Schiano is implementing during fall camp. 
2017 Outlook

So much has already been written about Ohio State's 2017 defensive line that there isn't much left to say. 
The Buckeyes' front four has the ability and experience to be as good as anyone in the country and give opposing offenses nightmares. 
While the unit is top-heavy with veterans, there are some young players that figure to factor in, including true freshman defensive end Chase Young. Despite being the fifth defensive end behind Lewis, Hubbard, Holmes and Nick Bosa, Larry Johnson said Monday that Young will see the field in 2017. 
"You always have somebody that shows up. Chase Young is really in the mix here," Johnson said. "I think we will get him a chance to get in the game. We are bringing him on slow. We want to make sure we don't throw too much at him."
Another player that could factor in is local product Jonathon Cooper out of Gahanna Lincoln High School. Cooper played mostly in backup duty last season but did record six tackles and a sack. He was mentioned by Holmes on Monday as the sixth defensive end that could rotate in this year.
Jones and Sprinkle figure to start on the interior with Hill suspended. Johnson said Cornell is currently the immediate backup to Jones along the defensive line. 
Ohio State has not yet announced how long Hill will be shelved, but Johnson said he will add more depth and experience to an already loaded line once he returns. 
"Mike brings some veteran stuff. He played a lot of football for us last year," Johnson said. "But one guy out, next guy up. The guys know that."
Ohio State is also bringing along freshmen defensive tackles Haskell Garrett and Jerron Cage, who appear to be early candidates for redshirt years. 
Final Word

With a rotation that could go as deep as 10 players, it is not unrealistic to think Ohio State's defensive line could break some school records this year.
That said, opposing offenses will surely plan to get the ball out quick against the Buckeye pass rush, which will leave it up to the Ohio State secondary to make plays on the football. Much like last season, a young defensive backfield is likely to get tested early and often through the air. 
Holmes said he is counting on opposing quarterbacks throwing the ball quickly, and issued a warning to signal-callers who hold onto the ball in the pocket. 
"They know the personnel that we have," Holmes said. "You wouldn't take that chance, would you?"