Ohio State's offensive line entering 2016 had one of the more interesting dynamics of any position group. 
The Buckeyes returned two veterans in Billy Price and Pat Elflein, but were forced to start true freshman Michael Jordan at guard, while also breaking in two first-year starters at left and right tackle. 
Ohio State finished the season 11-2 and earned a birth in the College Football Playoff, but the season ended with more questions than answers as the Buckeyes were throttled by Clemson, 31-0.
The offensive front for OSU allowed 28 sacks in 2016, half of which came against Penn State and Michigan combined. That same offensive line returns four out of five starters though in 2017, something position coach Greg Studrawa said makes him more comfortable entering his second season with the Buckeyes.
"I feel like I'm above air and I can breathe a little," Studrawa said Aug. 7. "If someone would've got hurt last year, there was not that confidence in those backups at all. That's why we're working so hard now, that's why we're trying guys now to build depth so when something does happen at a crucial time when someone goes in they are ready. They're not ready to fail. They're ready to go the job done and we can count on them and they're accountable to everybody on this team."
Ohio State does have to replace Price at right guard, as the fifth-year senior bumped down to center to replace Elflein, who is now with the Minnesota Vikings.
While there are four returning starters, the questions surrounding them - particularly right tackle Isaiah Prince - remain largely unanswered. Those answers might not come until Aug. 31 in Bloomington, Ind., but for now, the people within the confines of the Woody Hayes Athletic Center appear to be confident the front five will experience a resurgence in 2017.
"I just like the chemistry in the offensive staff room, which we all know how important those type of things are," head coach Urban Meyer said Aug. 7. "I think the one area that's really improved is the offensive line play, too. Obviously that's where this whole thing starts."
Offensive Line In 2016

Plenty has been written about the struggles along the offensive line from last year, so we will keep this section short and sweet.
Prince, Jordan and Jamarco Jones were all first-year starters in 2016, and for the first few weeks, looked like they would fit right in and get the Ohio State offense rolling.
The Buckeyes accumulated 1,618 rushing yards and 16 scores on the ground in their first five games of the season. The lowest output in that span was 268 yards against Tulsa, a game the Buckeyes won handily, 48-3.
The running game wasn't the problem for Ohio State in 2016, as the Buckeyes rushed for at least 200 yards in all but three games (Wisconsin, Penn State, Clemson). It was protecting Barrett in the pocket where OSU struggled the most.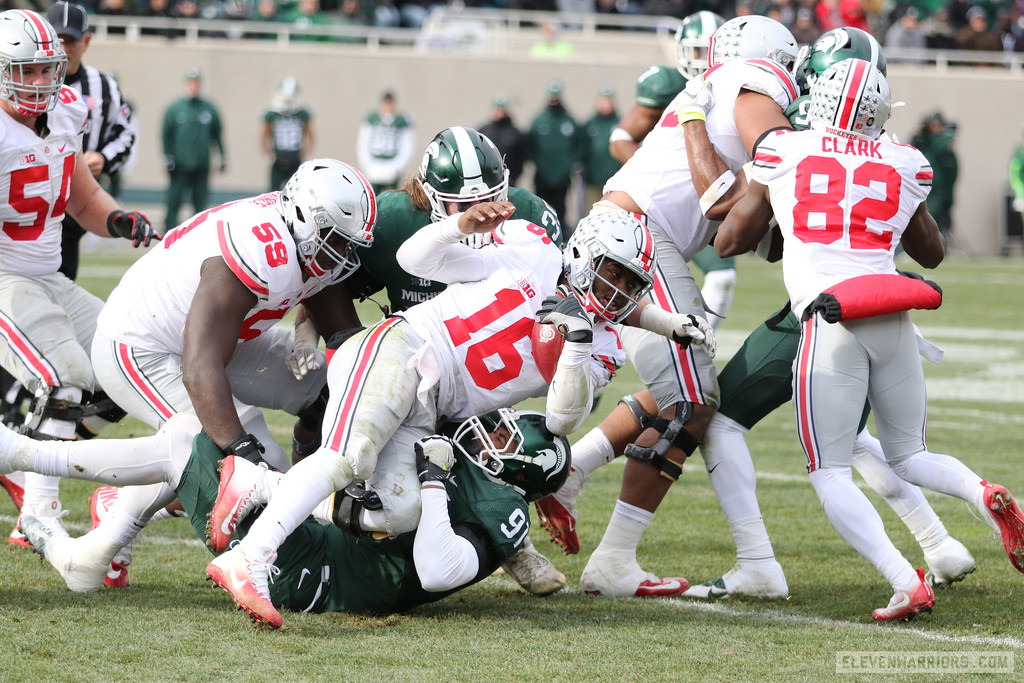 The Wolverines got to quarterback J.T. Barrett eight times in Ohio State's 30-27 double-overtime win in the regular season finale, the most sacks allowed by a Buckeye offensive line since they allowed nine in a 10-7 loss to Michigan State in 2011.
The good news for Ohio State moving forward is it can't get much worse, and Studrawa said he prefers coaching pass protection over run blocking.
"I'd rather teach the pass protection part. What's that old saying? If they bite, they come off the ball, they know how to run block and they're physical," he said. "I can teach them the other things."
2017 Outlook

As mentioned earlier, the Ohio State offensive line struggled mightily at times protecting Barrett last season. More times than not, the pressure came off the right side, where Prince played his first full season at right tackle.
Prince admitted early in fall camp that his lack of poise led to most of his struggles in 2016, but that the support he received from his coaches and teammates has given him newfound confidence heading into the new season.
"One of the main things I learned playing offensive line, you have to be confident going out (there). With the help of my brothers and coaches, it helped a lot," Prince said. "I just stopped getting so frustrated when I would make a mistake. Trying to go out there and play perfect is just not going to happen. You have got to keep your head up. If you make a mistake, you just have to move forward."
Studrawa said Prince has not only improved his attitude, but he took a positive attitude into learning from his mistakes through watching film in the offseason.
"That was his first time starting and he made some mistakes. He saw those, he's worked on those, he's watched the film, he's studied it," Studrawa said. "Now the difference in the kid is his attention to detail and the little things are not even close to where they were last year. He's focused, he's determined, and those are the things that make the difference."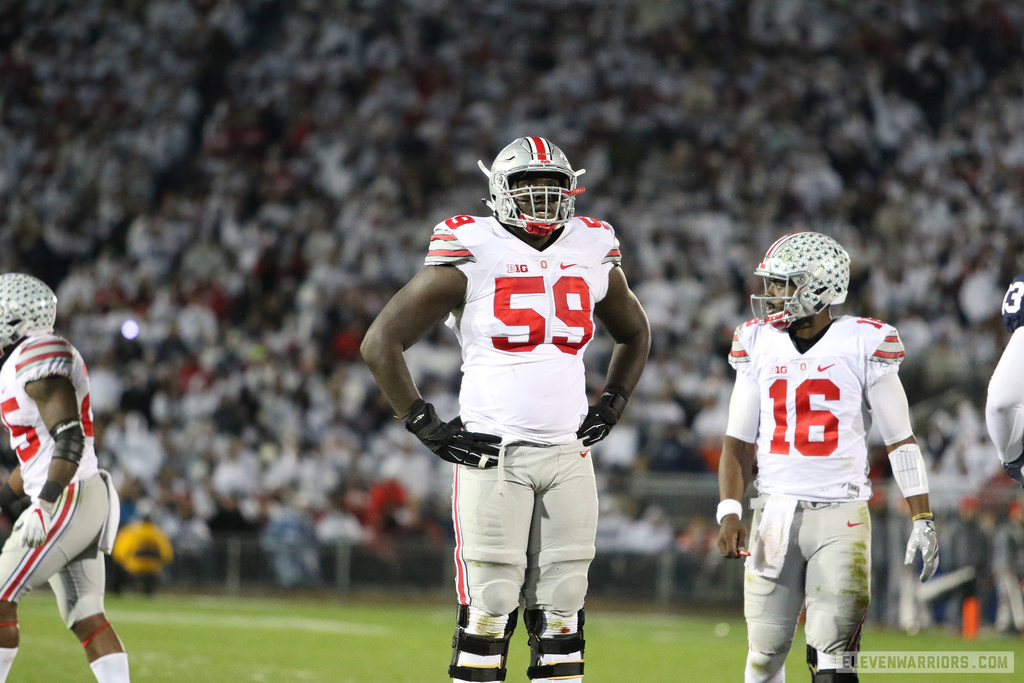 Ohio State will need Prince to be improved, largely because the Buckeyes will be replacing the guard on his side of the offensive line.
As of Aug. 20, the competition had not yet been decided as a number of players continue to battle for the right to start against Indiana on Aug. 31. Meyer said Aug. 14 that Malcolm Pridgeon, Branden Bowen, Demetrius Knox and Matt Burrell are the top four competing for the spot.
Pridgeon, a former four-star junior college transfer and member of the 2016 recruiting class, spent most of last season on the shelf after suffering an injury in fall camp. He returned to practice in a limited role during bowl practice, but has yet to see the field as a Buckeye.
Bowen was listed as the backup right tackle last season and saw playing time in Ohio State's 24-20 win over Northwestern as a blocking tight end wearing No. 44.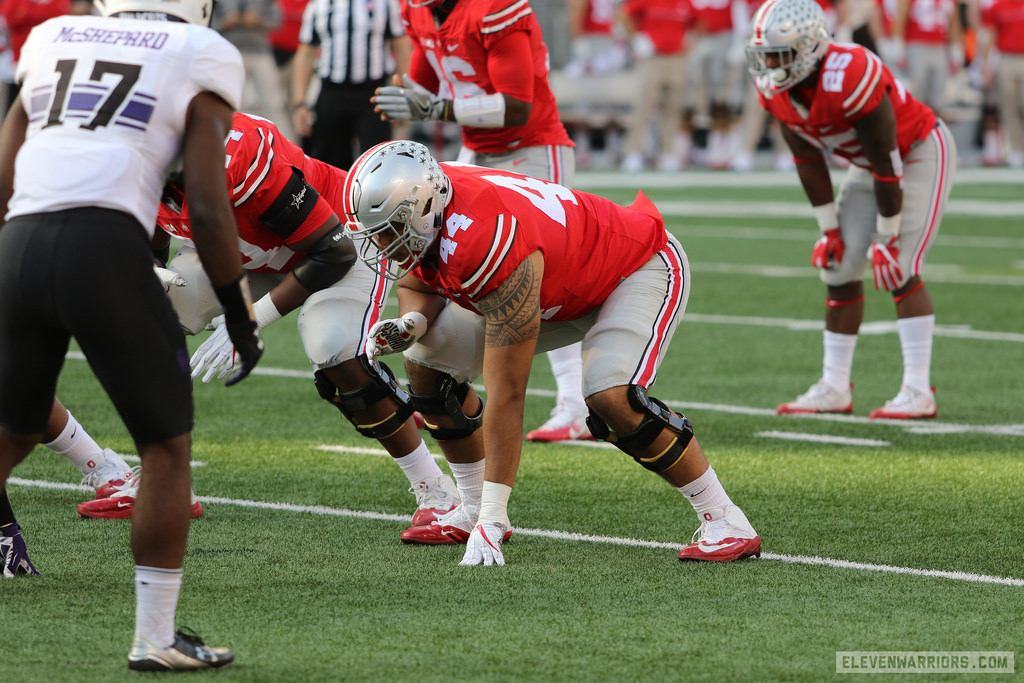 When Jordan suffered an ankle injury in Ohio State's 31-0 loss to Clemson, Knox was the player selected to replace him, but struggled to keep up with the speed of the Tiger's defensive line on multiple occasions. Burrell has seen time on special teams and in mop-up duty for Ohio State, but has yet to play significant reps with the Buckeye offense.
As for who might win the job, Studrawa said he has not ruled out rotating players at the position if one player does take a significant step forward to grab the job.
"You'd like to (find one guy), but if it ends up being two guys you'd love to be able to play two guys there. We'll see how that folds out, we've got a lot of time right now," Studrawa said Aug. 7. "The best thing they're doing is giving effort, straining and fighting for it. There's nothing greater than competition. When there's an open job guys fly around for it, and now we've got great competition. We'll find out and see how it shakes out."
The rest of the offensive line has significantly less question marks.
Price is entering his fourth season as a starter along the offensive line, although it is his first as the Buckeye center. At left tackle, Jones returns having put together a junior season that had some speculating if he would leave early for the 2017 NFL Draft. Jordan is set to reprise his role as Ohio State's left guard, where he also turned heads playing as a true freshman.
Final Word

Outside of the quarterback-wide receiver relationship, there might not be a unit where cohesion is more important than the offensive line. Returning four starters up front should only help the Buckeye offensive front take a giant leap forward from 2016 to 2017.
In addition to the players we have already discussed, the Buckeyes brought in an impressive haul of freshmen that could contribute on special teams and add depth to a unit that desperately needs it.
Wyatt Davis joins in-state recruits Josh Myers and Thayer Munford, who Meyer praised in the preseason, hinting that Munford could possibly appear on Ohio State's two-deep come game week.
Gavin Cupp, Jack Wohlabaugh, Kevin Feder and Brady Taylor are also names that could push for a spot on the two-deep as well. Taylor is expected to be the primary backup at center this season, though Studrawa said Wohlabaugh has made a late push for that role.