The three members of Ohio State's 2016 secondary that left school early all came off the board among the first 24 picks in the 2017 NFL Draft. As astounding as that is alone, another four players heard their names called throughout the weekend. That gives the Buckeyes 19 draft picks over the last two years.
A handful of other signed as free agents or earned mini-camp/workout invitations. Ohio State's influx of talent to the professional level could have been even more egregious had other underclassmen elected to leave following the 31-0 loss to Clemson in the Fiesta Bowl as part of the College Football Playoff.
We have to wait to see that part of the equation until next spring. In the meantime, NFL minicamps wrapped up last week, so it makes sense to see how those former Buckeyes are being received ahead of the summer months and their first-ever training camps as professionals in August.
To no surprise, the findings are overwhelmingly positive.
Marshon Lattimore — New Orleans Saints Cornerback
The first cornerback selected in the 2017 NFL Draft, the Saints went back to the Ohio State well in the hopes Lattimore helps right a secondary that ranked last in the league a year ago. And, anytime you're a first-round pick, veterans are lining up to welcome you to the pros.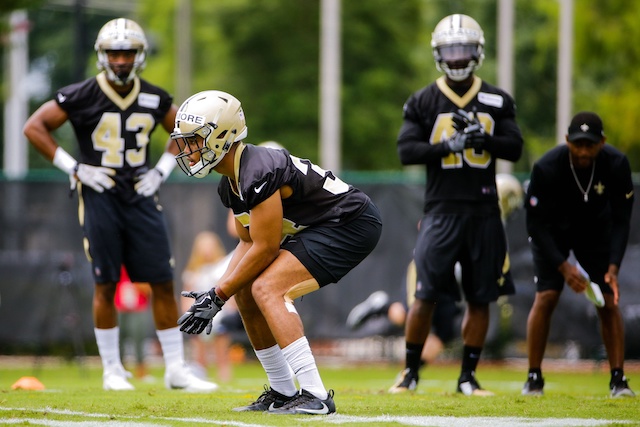 From knocking down a pass from Drew Brees intended for former Ohio State teammate Michael Thomas and then deflecting another on the very next play, Lattimore stood out at minicamp. He even earned a comparison to a popular rapper from his new head coach.
"He made a couple plays today," Sean Payton said, according to nola.com. "Listen, I told him he's going to be like Kendrick Lamar. They're all going to get in line to go see him. That's just how it is for a rookie corner. So there'll be a long line waiting to test him and he understands that. And that's part of that status."
Lattimore impressed Brees with his closing ability. Now he has to come back in August and do it again to earn the trust of secondary coach Aaron Glenn.
"The thing is once you show it to me, I expect it," Glenn said. "And he showed it all in college, so the expectation is for him to continue to show those things here at the next level."
Malik Hooker — Indianapolis Colts Safety
Hooker didn't participate in minicamp as he continues his rehab from hip labrum team and sports hernia. At the Colts Town Hall meeting, Hooker described his status as "ahead of pace" from where he wanted to be in mid-June.
Optimism continued to the coaching staff, where Chuck Pagano said he sees "something special going on" with his team. If that is true, Hooker must be healthy and a key contributor in 2017.
Gareon Conley — Oakland Raiders Cornerback
Conley missed one session of mini-camp for what was described as undisclosed reasons. His absence was not addressed by head coach Jack Del Rio because he did not meet reporters following the session. It is unclear if it had to do anything with the ongoing investigation into a Cleveland woman's allegation that Conley raped her in a hotel that came to light just before the draft.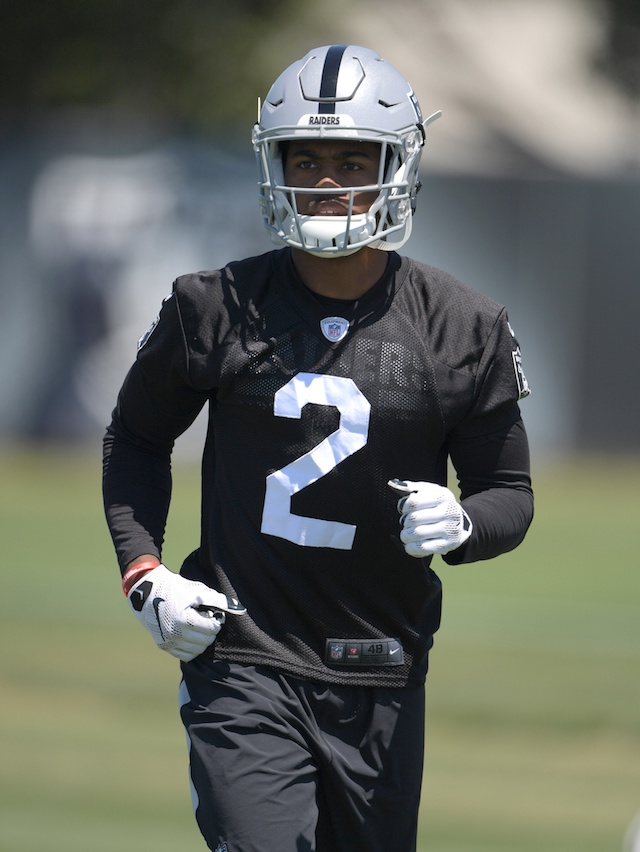 A day before Conley missed practice, Del Rio raved about the former Ohio State defensive back's athleticism and eagerness to learn. Del Rio said the "sky's the limit" for Conley in his rookie season and beyond.
"I think he's a really fine football player, he's got exceptional movement skills," Del Rio said. "Gareon has really been a sponge, learning things very quickly, he's a good learner, and a competitive guy. I think, I'm really happy we got him; I think he's going to prove to be a very good player."
Conley had been working with the second team defense as its slot corner, a job he will have a chance to win come training camp.
Curtis Samuel — Carolina Panthers Wide Receiver
The Panthers took Samuel with their second pick in the 2017 draft, 40th overall. He plays a similar style as the guy they took a night earlier with the eighth pick in the draft, Stanford's Christian McCaffrey. But even with another player in a hybrid mold taking reps in mini-camp, Samuel stood out.
One columnist for the Charlotte Observer said Samuel "looks fast even standing still."
"It's like seeing a Ferrari in somebody's driveway. Nobody has to start it. You just know," Tom Sorensen wrote. His teammates on the other side of the ball and head coach Ron Rivera share similar sentiments, even when comparing him to another former Buckeye wide receiver that spent three seasons with the Panthers and now plays for the New Orleans Saints, Ted Ginn Jr.
"I think Ted is more of a 'build up speed' guy, and Curtis is a 'right now' guy," All-Pro linebacker Thomas Davis said. "He's a guy who can go get it right now."
Added Rivera: "Yeah, 'right now' is a good way to put it. The biggest thing you see from Curtis is his acceleration. He gets from zero to top speed pretty doggone quick. He creates his separation in the 15-20 yard area. Whereas Teddy was just: 'Go.' But it was a 'build-up' go."
With McCaffrey and Samuel in the fray, it looks like the Panthers are going to be rather fast in 2017.
Raekwon McMillan — Miami Dolphins Linebacker
McMillan entered a linebacking corps that had three (likely) names as its starters in Miami but was expected to push for one alongside Kiko Alonso and Lawrence Timmons. Outside of picking Alonso's brain about his diet, the two-year starter at Ohio State had his ups and downs during OTAs and rookie minicamp.
Still, McMillan's name is the first one that pops up in the discussion on that third linebacker spot — especially if Koa Misi is not cleared after the neck injury that sidelined him this offseason.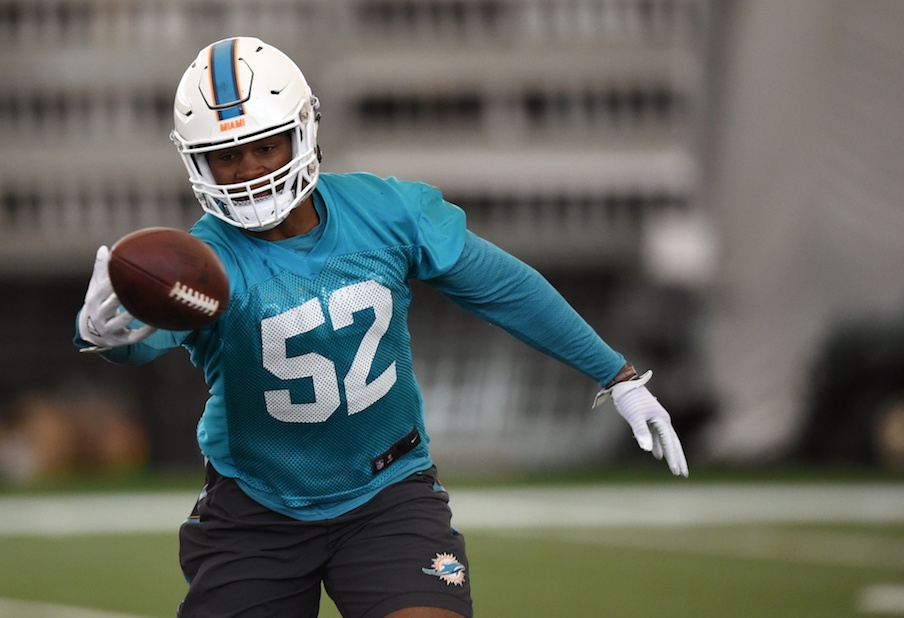 "It is probably unfair to expect a rookie to outright win a starting linebacker job during OTAs and minicamp, especially with all the things being thrown at these draft picks in a short period of time," wrote Omar Kelly of the Sun Sentinel. "But McMillan, this year's second-round pick, didn't outshine Mike Hull to lock down the third starting linebacker spot."
Alonso expects more and thinks he will get it from his new rookie teammate.
"He's a big, fast kid," Alonso said. "He's great, a good dude. He works hard. I look forward to playing with him."
Pat Elflein — Minnesota Vikings Center
The Vikings entered the draft with a host of questions about their offensive line. They left it with two draft picks up front, one being Elflein and the other guard Danny Isidora from Miami (FL).
Head coach Mike Zimmer said the versatile Elflein would start his career as a center. As a result, he has been battling incumbent Nick Easton for reps throughout OTAs and minicamp. The Vikings shuffled bodies because of injuries last year, so time will tell with how it will all shake out. For now, the 2016 recipient of the Rimington Trophy just has to capitalize on the opportunities he starts the first season of his professional career.
"They're both doing good," Zimmer said of Easton and Elflein, according to Vikings.com. "Again, it's going to come down into training camp and things like that. We may look at some other scenarios as well."
Noah Brown — Dallas Cowboys Wide Receiver
The final Buckeye drafted, Brown didn't get a phone call from Jerry Jones and Jason Garrett until Saturday afternoon in the seventh round. The 239th overall selection faces a steep hill to climb as a third-day draft selection.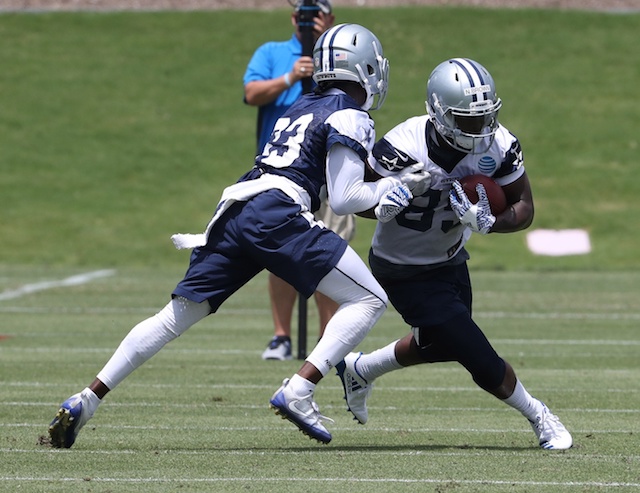 Not to mention Brown went to a franchise already armed with a slew of weapons in the passing game, notably Dez Bryant, Cole Beasley, Terrance Williams and future Hall of Fame tight end Jason Witten. In any event, one insider praised Brown after rookie camp and the fact he was a seventh round pick (and thus, cheap) might tempt the Cowboys to keep him around as their final wideout.
Ezekiel Elliott is one of Dallas's best players and a huge reason why the Cowboys drafted Brown. Garrett and offensive coordinator Scott Linehan both spoke of Elliott when they made the call to Brown on draft day. Is it enough for Brown to make the team in August?