I remember only two Ohio State losses to Michigan, and one of them happened when my age was still single digits.
As a fourth-year, 22-year old Ohio State student, my Buckeye fandom began with Jim Tressel. Since then, I've watched the Buckeyes play for four national titles and win two of them, complete two undefeated seasons, win seven Big Ten Titles, produce a Heisman Trophy winner, rebound from a large coaching scandal by hiring perhaps the best college coach ever, win the Rose Bowl, Sugar Bowl (x2) and the Fiesta Bowl (x3), and beat Michigan 13 out of 15 times.
Meanwhile, Michigan has been unspectacular to say the least.
The past 15 years, calling Michigan a paper tiger would be disingenuous; at least a paper tiger appears threatening.
I've watched the Wolverines be on the receiving end of one of the most embarrassing upsets in all of sport, then lose its first-ever game to MAC team the following season. I've watched them miss a bowl game on three separate occasions. I've heard "O-H-I-O" chants resound around the Big House.
I've watched Michigan suffer under the leadership of an athletic director who's incompetence can't even be fully expressed in this 4,000 word expose (read that, please. It's hilarious), much less a sentence. I've watched four different head coaches go a combined 2-13 against Ohio State, managing to beat one of the worst Buckeye teams in history by just one score.
In my lifetime, the Wolverines have been trash. They haven't been a powerhouse, they've been a laughingstock. They haven't been menacing, they've been comical. They haven't been a worthy final boss to end the season in an armageddon-like battle, they've been Wile E. Coyote – an nemesis, for sure, but a hilariously incompetent one that poses no real threat.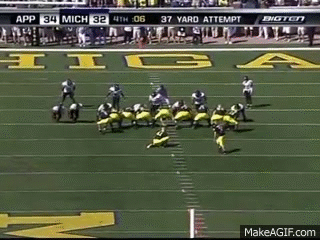 Outside of 2011, I've never been genuinely worried about Michigan beating Ohio State. Even then, I vividly remember watching the Wolverines rack up 25 yards in penalty yardage after earning a fourth-and-goal from the Ohio State 4 yard line. The Buckeyes had one of their worst teams in history and the Wolverines were still trying their best to lose.
The past 15 years, calling Michigan a paper tiger would be disingenuous; at least a paper tiger appears threatening.
The rivalry, quite honestly, hasn't been much of one. The Game has rarely had any real national or Big Ten title implications, and even if it had Michigan hasn't been competitive. The past 10 years, the mighty Boilermakers of Purdue have a better record against the Buckeyes than the Wolverines.
Recently, hatred and excitement for the greatest rivalry in all of sport has been manufactured and feigned – at least on the Buckeye end. Michigan fans have been met with compassion and sympathy instead of distain, scorn and contempt.
Saturday, everything is different. Ohio State plays a Michigan team that has a fantastic head coach, the nation's top defense and a decade-long chip on its shoulder in a game that will likely decide a college football playoff berth.
For the first time in my memory, Michigan feels like a legitimate threat to Ohio State. The Wolverines could very well win on Saturday, ruin the Buckeyes' season, win the conference and claim a spot in the playoff, and I do not know how to deal with that.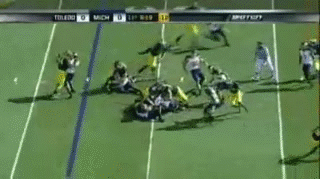 Even worse, it could be a role reversal scenario. The last time the teams met with so much on the line, Michigan went into a tailspin in the following years while Ohio State got stronger and stronger. I'm not sure I'm ready to handle that.
I don't know how to deal with a Michigan team that isn't trash. I don't know what it's like to genuinely hate the team I'm supposed to hate. I don't know what it's like to lose multiple games to that team. I don't know what it's like for the trash talk of Michigan fans to be validated.
But maybe I won't have to deal with it. Maybe Michigan's incessant incompetence is the new norm. Maybe they'll never beat Ohio State ever again. After all, did Wile E. Coyote ever catch the roadrunner? Maybe Michigan will always be hilarious. Maybe the Buckeyes will beat them every year until my dying day.
But I would settle for a victory tomorrow. We'll figure the rest out next year.