Leading 21-7 entering the 4th quarter despite looking out of sync, Ohio State collapsed the rest of the way allowing 17 straight Penn State points in a stunning 24-21 loss amid whiteout conditions in Happy Valley. 
The final nail in the coffin came as Urban Meyer's field goal unit was forced to rush a 45-yard field goal try which was blocked and returned for what proved to be the game-winning touchdown with 4:27 left in regulation. 
The loss dropped Ohio State to 6-1 on the season, snapped a 20-game win streak in true road games and cast its playoff hopes in doubt.
Give Penn State credit, beyond the 17 unanswered points to close the game the Nittany Lions dominated the Buckeye offensive line, owned special teams and made big plays on offense when absolutely necessary.
For the Buckeyes, following back-to-back roadies, a welcome home game awaits although unfortunately against a Northwestern team riding a three-game win streak. 
But before we turn our focus to Pat Fitzgerald's outfit, here are Five Things from last night's painful defeat to Penn State. 
---
TOUCHY SUBJECT
The weirdness surrounding the distribution of offensive touches in recent weeks between Mike Weber and Curtis Samuel – and to a lesser extent J.T. Barrett – continued Saturday night. 
At this point, it's almost as if Ohio State's offensive braintrust divvies up the touches based on the media narrative created following happenings in the previous game. 
For Barrett, it was three-game stretch against Oklahoma (17 carries), Rutgers (5 carries) and Indiana (26 carries) and now with Weber and Samuel, they've seen wild swings. 
With Samuel, after the Indiana postgame chatter centered on how he only had nine touches, Meyer and staff responded with 18 opportunities for him at Wisconsin – featuring him repeatedly in the 1st half – on the way to Samuel posting his most touches since recording 22 in the season opener.
In a domino effect, after the Wisconsin game saw Weber have a season-low 11 touches including just four in the 1st half prompting many to ask for clarity on the strategy as Samuel took a ton of handoffs as a running back, last night saw Weber log a season-high 29 touches. 
I have no idea what to make of this since I'm not an offensive coordinator but it seems curious, and somewhat familiar, that the staff seems unsure of how it wants to deploy its three best weapons. 
I understand that from game to game different guys could be featured based on matchups but a disparity of 29 touches for Weber and 10 for Samuel in a close game is mind-blowing. 
ZONE SICKS
It's no secret the wide receivers are easily the weakest link and they took their ineffectiveness to a new low against Penn State. 
Despite Barrett recording a career-high 28 completions only five went to wide receivers, or 18%. That's even worse than versus Indiana when the wideouts logged two grabs out of nine total completions, or 22%. 
Noah Brown led the way last night with three catches for 45 yards but dropped another for what would've been about a 10-yard gain. 
Parris Campbell recorded one catch for six yards and cost Ohio State a big play when he failed to clear his zone quickly enough, clogging the path of a Samuel route that might have gone for a touchdown. Instead, Ohio State settled for a field goal to take a 3-0 lead.
Believe it or not, Campbell is Ohio State's 2nd-most prolific true wide receiver with nine receptions in seven games. Four of those came against Rutgers.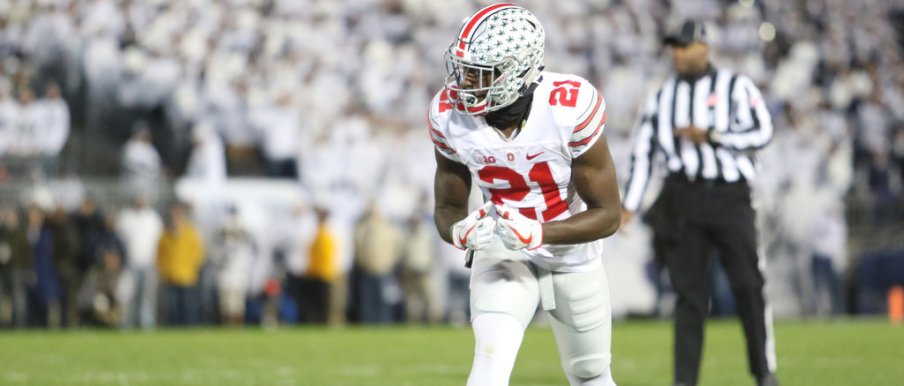 Terry McLaurin had one reception for 19 yards but his youth, inexperience and a few drops of his own continue to limit his production. 
James Clark has been in the program for a good while now but has just four receptions this year. Last night he was targeted on one of the biggest plays of the year and Barrett's deep ball went off his facemask though that was pretty understandable after the Penn State defender grabbed Clark's right arm and should've been flagged for pass interference. 
In a nutshell however the group struggles mightily to gain separation against man coverage. 
Barrett will never say it but he clearly doesn't have confidence in this group beyond Brown and it only further exacerbates his own problems of throwing off his back foot on deep balls and waiting too long to get rid of the ball. It looks like he's afraid to throw a guy open; maybe that's a lack of trust in a lot of things? 
No matter what it is, it's hard to believe the issues can be remedied quickly and opponents will continue scheming to load the box and stop the run, daring Barrett and the receiving corps to win the game through the air. 
STRAIGHT GASH HOMIE
Penn State quarterback Trace McSorley completed a dismal eight of 23 passes last night, good for 35%. 
In a vacuum a stat line like that spells defeat but strange as it was, McSorley hit Ohio State's league-leading pass efficiency defense with two impressive drives keyed by big passing plays. 
McSorley ended the 1st half with a 7-play, 74-yard drive hitting on 3/4 passes for 73 yards, the last 20 coming via a perfect toss to Chris Godwin, on Gareon Conley no less, for a touchdown cutting Ohio State's lead to 12-7 at intermission. The clutch throw preceded a 34-yard strike in a recurring theme of opposing offenses isolating Damon Arnette in coverage and burning him for a huge gain. 
Early in the 4th quarter, McSorley engineered a 5-play, 90-yard drive hitting on 2/3 throws including a 35-yard hookup with Saeed Blacknall, on Marshon Lattimore no less, setting up McSorley's own 2-yard touchdown run pulling Penn State to within seven at 21-14. 
On the two key drives, McSorley completed 5/7 throws for 124 yards, or 81% of his total passing yards output for the game. 
No hate to Conley and Lattimore – they are both studs and easily Ohio State's two best coverage guys – but it was an ominous sign to see them both beat essentially for touchdowns on the same night. 
BAUGH-HUMBUG
A metaphor for the entire evening was tight end Marcus Baugh's own Jekyll and Hyde performance. 
The fourth-year junior posted a career-high five receptions and 55 yards with a touchdown amid other less-than-stellar happenings. 
First, his 26-yard touchdown off a tremendous catch and run along the right sideline giving Ohio State a 9-0 lead showcased just how gifted a player we're talking about. 
On a 3rd and 11 in the 2nd half, Baugh again showed NFL-level strength and determination catching about an 8-yard ball then dragging a few defenders just past the line to gain giving the Buckeyes a crucial fresh set of downs. 
Along with those highlights however Baugh dropped a 3rd and 4 pass (though he was bailed out via an illegal substitution penalty) and posted another drop on a 1st down play during Ohio State's field goal drive extending the lead to 12-0.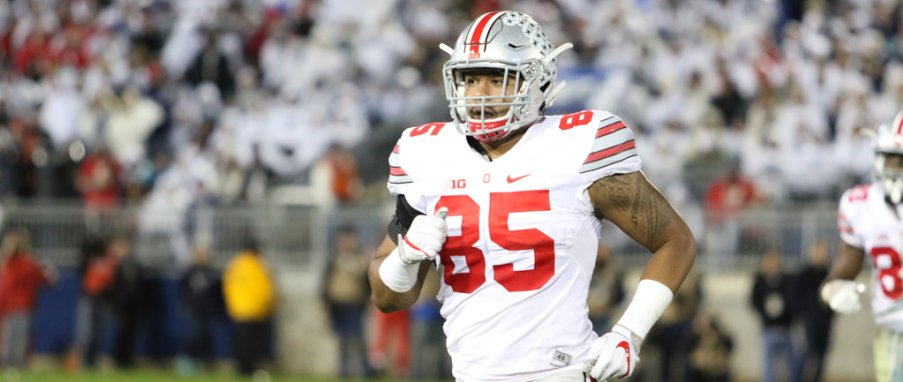 On the same possession Baugh had probably his biggest gaffe of the night. On 3rd and 11 from the PSU 13, it looked like Baugh failed to notice a Penn State blitz making him the hot receiver and therefore never adjusted his route. Expecting something different, Barrett targeted Baugh, who ran a different route and never looked back, triggering the field goal try. 
Finally, on Ohio State's final possession Baugh committed a false start turning a manageable 3rd and 4 into a problematic 3rd and 9 though a Barrett seed to Samuel extended the drive for a few more plays. 
Bottom line, Baugh has enough talent to be an NFL starter someday but the mental mistakes, drops and need to shore up his blocking make him as frustrating as he is talented. 
KICKS JUST KEEP GETTING HARDER TO FIND
How else can you define Ohio State's effort on special teams last night other than to call it a shitshow? 
Obviously the crushing blow came on a blocked 45-yard field goal try scooped up by Tyler Davis and returned for the game-winning 60-yard touchdown return. 
Field goals get blocked – it happens – but where last night's kick felt like it was blocked by your groin instead of at the line of scrimmage was because Urban Meyer opted not to call timeout as his unit rushed to beat the play clock even though he was sitting on two timeouts. 
Yes, that's the ultimate in armchair quarterbacking but even though Tyler Durbin had been perfect (8/8 FG) to that point and Meyer suggested Durbin nails rushed field goals in practice all the time, he's still a first-year player who came out of nowhere being asked to drill a career-long in front of 107,000 people in less-than-ideal weather conditions. 
Ohio State also had a punt blocked as Cameron Johnston's 8th effort of the night was batted sideways to the OSU 28 yard line allowing Penn State to kick a field goal trimming the Buckeye lead to 21-17 with 9:33 left in regulation. 
Returning kicks in the dank conditions was also a chore as Parris Campbell struggled to cleanly field kickoffs and Dontre Wilson again walked the tightrope on punt returns. (At least on kickoffs, I feel like it's time to give Demario McCall a look.) 
For a team that has owned field position through special teams since Meyer's arrival, last night was a painful reminder of what can happen if the special units don't perform as expected.