Could Bama beat an NFL team?
It's a question bored people routinely ask, usually in the absence of football. The answer is objectively, no. It's a resounding no even if you pick all-timers. 
The vaunted 2001 Miami Hurricanes would get their doors blown off by the 2008 Detroit Lions who went 0-16. It would not be close, either. Miami would trot out its defensive line, which was college-aged Andrew Williams, Matt Walters, William Joseph and Jerome McDougle (who would all go on to start in three NFL games, combined) matching up against Detroit's starting offensive line which in 2008 from left to right was drafted in the 1st, 4th, 2nd, 3rd, and 1st rounds.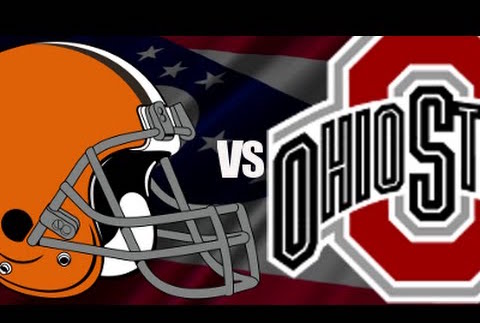 Elite collegiate offensive linemen with several years of pro experience going against those four. This fictional game would be a bloodbath. Yes, Detroit historically sucked in 2008. Against pro teams.
Lions QB Dan Orlovsky, who threw for over 10,000 yards against mostly Power 5 defenses when he was in college would have Roy Williams and Megatron to throw to - against another Power 5 defense. He had former college stars Kevin Smith and Rudi Johnson - 8,000 NFL rushing yards between them - to hand off to. Maybe if Miami got lucky, young Ed Reed, then a Thorpe finalist, could somehow sneak into the backfield and knock Orlovsky out of the game.
Detroit would then roll Daunte Culpepper onto the field, who while in decline could either hand off to Johnson or Smith for enormous gains, or if he was feeling wily enough - would have all day to throw to the wide open receiver of his choosing. That would probably be whoever drew coverage from Mike Rumph, the Canes' star college corner who was immediately switched to safety in the NFL on account of having poor coverage skills. Against pro teams.
Behind Culpepper was 2nd round pick Drew Stanton; a decorated multi-year Power 5 starter at 3rd string. Those Lions had 53 NFL players on their active roster, as all NFL teams are required to. The 2001 Canes, as exceptional as they were had, eventually, 38; in 2001 many of them were still teenagers - and all of them had only played college ball against college players.
We should be done asking this question. Apparently there's no limit to our offseason boredom.
Notoriously bad NFL coach and legendary troll king Steve Spurrier suggested in 2012 that Alabama could beat the hapless Jacksonville Jaguars (his Gamecocks had won their most recent game against the Crimson Tide at the time, though they didn't play that year). Pete Carroll, who unlike Spurrier has been at the top of both the college and pro game responded;
"I was confronted with that at times [at USC] and the falsehood is to think that that could ever take place," Carroll said Wednesday at his weekly news conference. "It ain't even close. Alabama's got a great team and Nick is a fantastic coach, but when you match up the interior lines against regular NFL teams on either side of the ball, it wouldn't even be close."
Las Vegas conservatively made Alabama 24-point underdogs in that mythical matchup. A year later when we got bored again and asked the same question several NFL analysts chuckled at the idea that such a game would be even remotely competitive. 
But now we have, allegedly, an actual NFL scout saying:
'I would trade our NFL defense right now for the Ohio State defense in a heartbeat. I'd do it right now...when you hear that you (think), 'C'mon,' but you start going through the three levels of the defense, and even some younger guys that aren't eligible in this draft class. Oh my gosh, this is a loaded football team."
That NFL scout's take illustrates 1) the dark, cognitive reality of how CTE ravages the brain 2) America's calamitous drug problem - or 3) possibly both.
So let's compare Ohio State's 2015 defensive starters with their professional counterparts that held it down last season for our continent's most pathetic professional sports franchise:
Ohio State Buckeye oR CLEVELAND BROWN: WHO YA GOT?


| POSITION | BUCKEYE | CAREER NOTE | BROWN | CAREER NOTE | VERDICT |
| --- | --- | --- | --- | --- | --- |
| END | T. LEWIS | Honorable Mention All-B1G | R. STARKS | 1st team All-ACC. 2x Pro Bowl | STARKS |
| DL | T. SCHUTT | Will go undrafted | D. SHELTON | 1st team All-Pac 12. 1st Rd pick | SHELTON |
| DL | A. WASHINGTON | 2nd team All-B1G | D. BRYANT | 2nd team All-Ivy, 7-year pro | BRYANT |
| END/ROLB | J. BOSA | 1st team All-B1G, 2nd team AP AA. | P. KRUGER | 1st team All-MWC, Super Bowl starter | PUSH |
| OLB | J. PERRY | 1st team All-B1G | C. ROBERTSON | 1st team All-Sun Belt, 5-year pro | ROBERTSON |
| MLB | R. MCMILLAN | 2nd team All-B1G | K. DANSBY | 1st team AA, 1st team SEC, All-Pro | DANSBY |
| OLB | D. LEE | 2nd team All-B1G | N. ORCHARD (R) | 1st team All-Pac 12, Hendricks winner | PUSH |
| CB | G. CONLEY | Honorable Mention All-B1G | T. WILLIAMS | Pro Bowl, Super Bowl starter | WILLIAMS |
| CB | E. APPLE | 2nd team All-B1G | C. GAINES (R) | 1st team All-AAC, 3rd team All-ACC | PUSH |
| FS | T. POWELL | Honorable Mention All-B1G | T. GIPSON | 2nd team All-MWC, Pro Bowl | GIPSON |
| SS | V. BELL | 2nd team All-B1G, 1st team AA. | D. WHITNER | 1st team All-B1G, 3x Pro Bowl | WHITNER |

Ohio State's 2015 defense, the sum or the parts, was objectively great. If you entered this exercise assuming Bosa was Ohio State's sure thing and you're confident he's already better than Paul Kruger...well, Bosa hasn't played a down of exhibition ball yet. Kruger has started in and won a Super Bowl. He's been to seven training camps. Bosa might eventually be better or have a better career, but right now he's an elite college end.
Same goes for Darron Lee and Nate Orchard. They're only one year apart; Orchard was more decorated in college and has a pro year of experience. Lee may eventually be better. We're being picky and benefit-of-the-doubting on purpose, because here's the big reveal: Maybe there are two or three guys you might take a flyer on swapping, through college football homer-colored glasses, between an elite college defense like the Buckeyes' and a shit show like the Browns.
That leaves eight players you wouldn't. And then all 11 of the professional backups whose jobs would be safe against kids who don't even start in college. Starter for starter, backup for backup, the idea that the best college roster of all time could compete against 53 pros is a fantasy. Yet we keep asking that question.
Hey, it's the offseason. And we're bored. But boredom doesn't alter the answer.