Urban did his friend Steve Addazio a favor.
"You better buckle it up, guy," he cautioned his former assistant of Northern Illinois last September. It was mere days before Addazio's Boston College team would be facing the same Huskies that held the defending national champions under 300 yards of offense on their own field - while limiting the Buckeyes to just one offensive touchdown.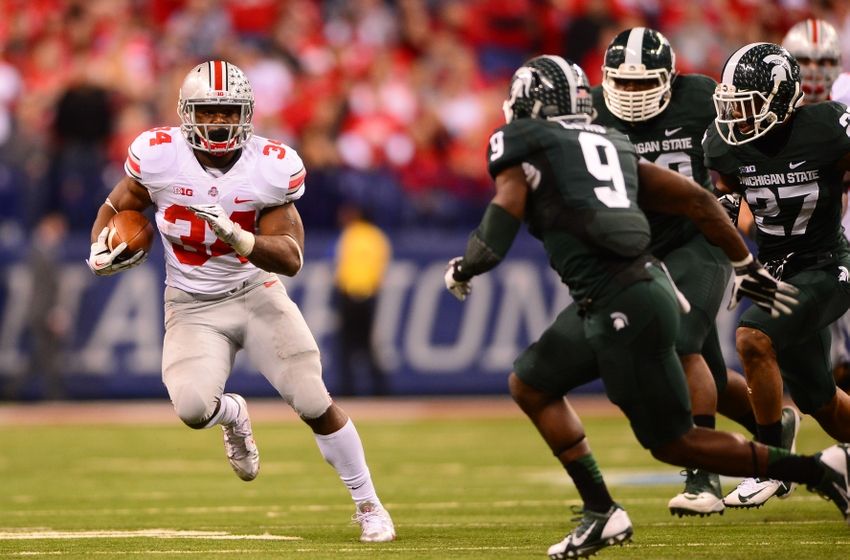 Ohio State committed seven penalties, fumbled twice and threw three interceptions that afternoon. Northern Illinois, the only MAC program to ever grace a BCS bowl, made the Buckeyes look pedestrian for an entire game for the first time in over a year. They were legitimately good. They had to be.
"They're really good," Addazio gushed at the press regarding his friend's assessment of the Huskies. "[Meyer told me] they're really tough, they're physical, they're good, they're well-coached, they're veteran, they're a good football team."
Boston College was prepared and ended up squeaking by the tough, physical, good, well-coached Huskies 17-14, while NIU was held under 20 points for the second straight week. The Huskies would lose their third straight the following Saturday at Central Michigan, but while putting up their high score against FBS competition for the month of September with 19 points.
And unfortunately for Addazio, NIU is currently BC's most recent win. The Eagles lost their final eight games in a row.
Northern Illinois' first 3-game losing streak of 2015 wasn't its last one either. It ended the season with another trifecta of sadness, punctuated by arguably the worst bowl game performance of all time; a 55-7 loss to Boise State in which the Huskies finished with 33 yards of total offense.
So perhaps Meyer's initial assessment that NIU was a really tough, physical, well-coached, veteran, good football team was skewed by his own team playing poorly. Maybe the Huskies just went off the rails once they were forced to use their 3rd string quarterback in those final three games (that's far a more common result than what Ohio State experienced under similar circumstances - but NIU couldn't break 20 points in September with their starter, either).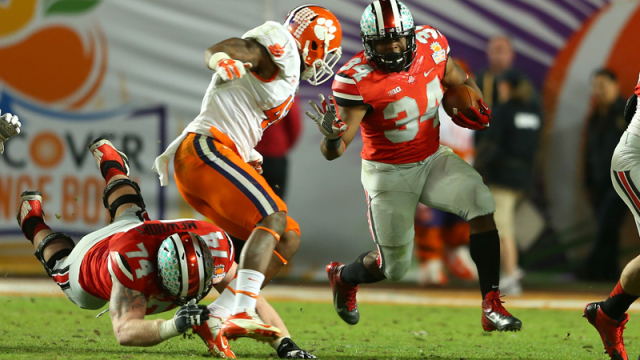 Either way, the Huskies ended up with six losses and only Rutgers and Hawai'i finished with lower Sagarin scores than NIU did among Ohio State's opponents. The exchange with Addazio wasn't Meyer manufacturing bloated pregame praise for a weak opponent, an art perfected by his mentor Lou Holtz. It may have been emblematic of the delusion we all drank up while our favorite powerhouse unexpectedly and frequently staggered toward the Michigan State game: Something wasn't quite right.
We're reluctant to talk about it. It's objectively a bad look to do so; Meyer is 50-4 at Ohio State and if you're not happy with 50-4 you're incapable of being happy. But Urb wants to get better, aspires to get better and is constantly harping on improvement - it's something you hear him say in every postgame presser. He just published a book about it.
So let's just say it: In times of crisis Ohio State's Hall of Fame and National Championship coach clings to his quarterback - and that bias has been central to each of his four losses.
It began in 2013 against Wisconsin where the butterfly effect of Meyer's tendency ended up with Christian Bryant's ankle in pieces, leaving the Buckeyes without their only competent defensive back for the remainder of the season. As weak as that unit was, Ohio State was still in position to win the Big Ten championship that season when it only gave Carlos Hyde 18 carries against Michigan State and left him out of the game-deciding 4th down play in favor of a QB run that ended behind scrimmage.
Ohio State's TAILbacks had only six 4th quarter carries - total - in the Buckeyes' four losses under Urban Meyer.
The Buckeyes then ended up in the Orange Bowl, losing to Clemson 40-35 as Hyde had one carry in the 4th quarter of a tight game. All of the pressure to win was placed on Miller's shoulders, one of which was damaged to the point of ending his collegiate career at that position. Hyde didn't get a single carry over Ohio State's final 14 plays.
Two games later J.T. Barrett was starting his first game in Ohio Stadium against Virginia Tech under the lights. He got 24 carries behind a line that was surprised by a double eagle front. Ezekiel Elliott only had eight carries that evening. He tied the game at 21 at the beginning of the 4th quarter with a 15-yard touchdown run. He only touched the ball one more time. None of the Buckeyes' final 15 plays involved a running back.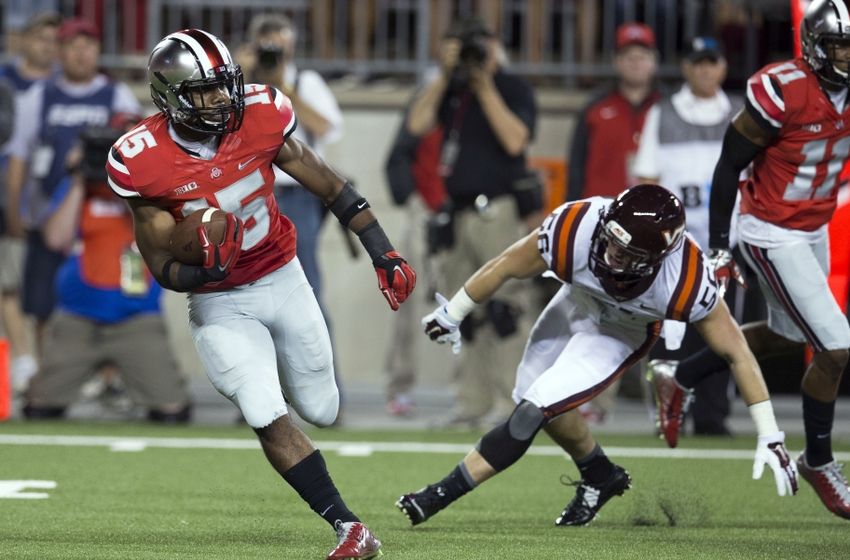 Then we have that Michigan State game from November. Zeke had 12 carries; two in the 2nd half of a tie game. Don't even start with but he had a staph infection that week - if he was healthy enough to be on the field he was healthy enough to carry the ball, especially since Ohio State wasn't brave enough to throw it.
Zeke had 108 yards on 23 carries against the tough, physical, good, well-coached Huskies on a day when everyone was off. Try to imagine how that game might have gone had he been only given half of those touches. Ohio State had a very bad day. It happens. This one could have been historically bad had the Buckeyes forgotten about their Heisman candidate.
It's no secret Meyer is enamored with quarterback play, but the most dangerous rusher on the field in a sledgehammer game is the most punishing rusher in the 4th quarter - and aside Cardale Jones with a full head of steam, that's not the quarterback.
Meyer has lost four games in 54 tries and all four went down to the wire, with either Hyde or Elliott in the backfield behind huge offensive lines. Do you know how many times Ohio State handed the ball off to its punishing, Heisman-caliber, record-setting tailbacks in those four 4th quarters? Six. Out of 58 plays. The Buckeyes did those beleaguered defensive fronts a favor by opting not to pound them.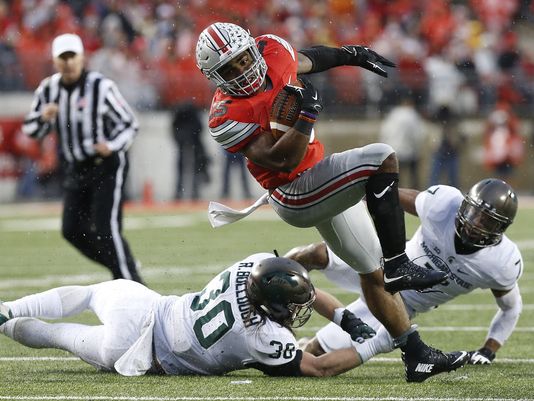 He's got 50 wins in 54 tries, recruits chooses the players from around the country that he wants on his roster like he's at a buffet and has Ohio State firmly entrenched in the national college football conversation. The upcoming NFL draft will be a showcase for Buckeye graduates and underclassmen. His strategy for running the program is without flaws. You would not trade him for anyone else. Neither would I, dead or alive.
But you don't get better by being told how great you are, and while being Nine Units Strong is a terrific strategy for winning games, ignoring the best running backs in the country late in tight games probably isn't a prudent playcalling tactic. Quarterback play is of paramount importance in Meyer's system and the reliance on that position as a playmaker and distributor has been a large part of those 50 games that landed in the win column.
But there's no rule that requires the quarterback to play the hero in a crisis. That's almost as deceiving as Northern Illinois was last September.