After a few weeks of hype just one more night's sleep separates you from dawkness in the Shoe as both players and fans come together in their newest black duds for a prime time tilt with Penn State. 
In a 49-28 win against Maryland last weekend the Buckeyes unveiled a shiny new red zone offense and committed nary a turnover for the first time since game two. 
This week, Ohio State takes on the league's 3rd ranked total defense that is also leading the conference in sacks meaning the battle in the trenches will be front and center. To discuss this topic and more, we welcome Birm, Mike and Vico to this weeks' edition of the 11W roundtable. 
---
So the red zone experiment thingy worked pretty well last week. What's your take on the strategy and if it will stick long-term? How would you answer the question Urban didn't which was if J.T. is the guy inside the 20's, why is he not the guy outside of them?
Mike: I'm not sure if it will stick long term just because I'm not overly confident in Barrett's arm, at least relative to Jones. He hit Michael Thomas on a nice ball on third and 16 against Maryland, but if he gets into long yardage situations, perhaps its better to just put Cardale back out there. Short-yardage situations, sure, Barrett can be the guy to give you a different look with power and speed options. It's a delicate situation, though, because you don't want to become too predictable with Barrett running the ball.
He isn't the guy outside the 20's because they need Jones arm to keep opposing safeties from stacking the box. As a better overall passer – particularly without a reliable deep threat at this point – Jones needs to be the guy to move the chains through the air. If they do use Jones in the red zone at all going forward, I hope the play calling is as aggressive and downhill as it was with Barrett against Maryland. Stop attacking the perimeter so much, unless you're spreading the field and getting consistent perimeter blocking. 

Vico: I can't fault the results, though I'm curious if the "treatment" (i.e. Barrett as red zone QB) was really necessary for the results. Mind you, it was Maryland and it's conceivable Jones could've had a similar great showing inside the red zone as he had outside it. I think it'll stick for the indefinite future as long as it's producing results and placating both quarterbacks, though I'm unsure of how effective it really is. Barrett's greatest asset at QB is making the right reads on option plays, though that part of the playbook left with Tom Herman. That might explain why Jones is still the guy outside the red zone. He provides a more credible vertical stretch to the field than Barrett.
Birm: I do think it will stick long-term, or at least it should. I don't anticipate it changing unless Urban moves to J.T. full-time because clearly he brings something to the offense in that short field situation that Jones lacks. Why remove 1/3 of the possible offense on the most important part of the field? 
At the midway point of the regular season, which position group gets the highest grade? What grade is it? Why?
Birm: I am going to go with one on offense and one on defense. Offensively, it's running back and that's because Ezekiel Elliott is playing at as high a level as any running back in the history of Ohio State football. Yes, he's been bottled up a few games but the overall impact he has on the game is impossible to measure. He – and by proxy the running backs – get an "A."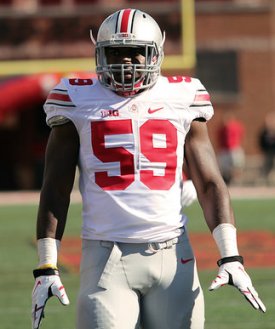 On defense, I'll with the cornerback duo of Gareon Conley and Eli Apple, who have been lights out from game one and continue to give the Buckeyes the most "silver bullet" like defense they've had since 2002. When those two have been on the field together it's been shutdown city. A. 
Mike: I would say running back, but taking Ezekiel Elliott out of the equation leaves that grade incomplete. So, I'll go with the defensive line. It felt like Meyer called out the backup d-linemen every press conference last season and during fall camp this year. His motivational tactics must have worked because they're playing incredibly well right now. Tyquan Lewis is making teams pay opposite Joey Bosa, who is still pressuring the quarterback consistently despite his low sack totals. Adolphus Washington is an animal as an interior pass rusher and Schutt is solid. The depth behind them, particularly Sam Hubbard, is giving those four guys a chance to rest. I'll give them an A-, docking them for letting some scrambling QBs find holes, although a lot of that is on linebackers for losing contain. 
Vico: I'm struggling to answer this question more than I should. The obvious answer might be at running back, though that position group is effectively just Ezekiel Elliott. Secondary has done well, minus Lattimore's struggles, Powell's poor angle against Diamont, and Bell falling asleep in coverage for Maryland's first touchdown. I'm inclined to go with wide receiver. Mike Thomas is still an all-conference performer at the position and one of the surest receivers in the country. Jalin Marshall is still viable and Braxton Miller has adapted to the position well.
Conversely, six games in, which position group gets the lowest grade? What grade is it and why?
Vico: The offensive line hasn't played well though I think much of that stems from a change in offensive philosophy and some struggles by the coaching staff to cope with defensive fronts loading the box and taking inside zone from the play sheet. I'll go with linebacker. Some plays I recall off the top of my head include linebackers crashing the wrong gap, biting on play-action, and falling victim to those throwback screens that were a glaring issue in 2013.
Birm: This is hard to say because I think every group has played ok, and none have been so consistently "bad" that they deserve to be given a failing grade. The offensive line has not been as maul-y as I would have expected, and the the linebackers have not been run-stuffy as I'd have hoped considering the obvious questions about the defensive tackle position heading into the year. I'll give those two groups a "C" but because they've lacked consistency, not that they've failed to show what they're capable of.
Mike: The Maryland performance certainly boosted the wide receiving corps' overall performance on the year, but I would give them a "C" thus far. Obviously their performance is dependent on better quarterback play, a line that can do a better job protecting Jones or Barrett, and an offense that doesn't require them to run longer routes because of third and long situations. All of those things have improved, allowing the wideouts to look better than they did earlier in the year. My main issue with the wide receiver performance – specifically because of all the perimeter runs called – was their blocking. Evan Spencer was one of the best blockers in recent memory at Ohio State, Devin Smith was solid and no one has been able to replicate what they brought. To be fair, it's significantly improved the past two games.
Who is the most under-appreciated player on the roster right now? Why?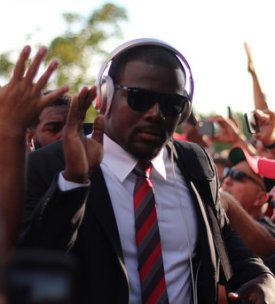 Mike: Considering the backlash he received since taking the field first at Virginia Tech, it's Cardale Jones. I won't make any excuses for him locking onto certain receivers at times, missing easy throws in the red zone and making poor decisions while throwing on the run. Still, the man hasn't lost a game as a starting QB, was obviously a key part in the national championship run and is, by all accounts, a good dude. He will be revered forever once he leaves Columbus but, for now, the criticism and constant calls for him to lose the starting job makes him under appreciated. 
Birm: Even though he's received a ton of accolades and attention so far this season, I think it's Adolphus Washington. The Buckeyes had a big problem at defensive tackle heading into the year and Washington moved to the three-technique in an attempt to remove some of the worry at the position and has done an exceptional job. He's been so good that Joey Bosa and Tyquan Lewis are getting more one-on-one attention and the entire line has benefited.
Vico: Can I go with Gareon Conley? It's hard to determined "under-appreciated" on a roster full of four-star talent, but I think Conley has unquestionably improved the caliber of cornerback play as a replacement for Doran Grant.
Mike Thomas had his first 100+ yard receiving game last weekend and is now on pace for about 67 catches and 998 yards should OSU reach the title game. Those numbers would rank 4th and 5th respectively in school history for a single-season. How much does Thomas mean to this team? Where would you slot him among other all-time great Buckeye receivers? Inside the top 10?
Vico: Ohio State struggled with mediocre wide receiver play for Urban Meyer's first two seasons in Columbus and for the first half of the national championship season. Having a sure hand (who has only one drop on the season, and it was a judgment call from last week) and all-conference-caliber performer is something all teams wish they had. However, it'd be difficult to be effusive in praise for Thomas given the pantheon of all-time greats. If he gets 998 receiving yards this season, he'll finish with 1,819 yards for what could be his final year in Columbus. If so, that'd put him at no. 14 all-time in career receiving yards, behind, wait for it, Ken-Yon Rambo.
Mike: The depth at wide receiver is a concern right now and Thomas is easily the most reliable wideout on the team. He has 11 more receptions, twice as many TDs and over 200 yards more than Jalin Marshall. Although he isn't necessarily the "deep threat" everyone wants, Thomas is still automatic on short and intermediate routes with the ability to break long runs after the catch. 
As far as his place in OSU history, few I've seen were as smooth running routes as Thomas is. I wouldn't rank him ahead of David Boston, Joey Galloway, Cris Carter, Terry Glenn, Ted Ginn Jr., Santonio Holmes or Devin Smith in terms of playmaking abilities but a few of those guys never put back-to-back seasons together quite like Thomas is projected to do. 
Birm: How much does he mean to the team? He's the only wide receiver on it, so a lot. Noah Brown and Corey Smith are done for the year, Jalin Marshall is a slot guy masquerading as a split end and doing the best he can, but Thomas is the only security blanket for the quarterbacks. His numbers will never stack him alongside guys like Cris Carter, David Boston, Terry Glenn, Santonio Holmes and others, but he's got no help around him and continues to produce at a high-level.
The Nittany Lions lead the league in sacks averaging 4.2 per game and rank 3rd in Total Defense giving up just 276 yards per game while Ohio State leads the league in rushing offense (230 yds/g). How do you see the battle in the trenches unfolding? What type of game can we expect from Ezekiel Elliott? Can the slobs give Jones/Barrett enough time to be effective through the air?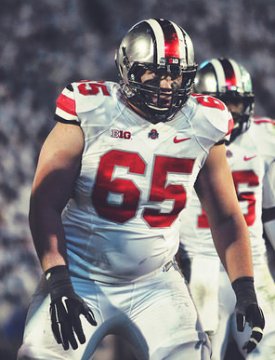 Birm: I'm going to try and be optimistic, but the truth is we've not seen a single game yet this year where the current Buckeye team is getting any kind of "push" up front, even against the subpar defensive units they've played like Indiana and Maryland. Penn State's defense is the best the Buckeyes will see until November 28th and there is some concern that this is one of those weeks where the quarterbacks will have to carry the day for Ohio State. I imagine 25-30 carries for Zeke is necessary and if he can keep his 100-yard game streak alive that should be enough to keep the Nittany Lions from pinning their ears back so far that the quarterbacks are under duress every time they drop to pass.
Vico: I like Ohio State's ability to pick up yards on the ground with Elliott, who should top 100 yards again given the volume of carries and sheer effort. I am a little pessimistic about the passing game in this contest. I haven't seen anything from Ohio State yet to demonstrate total confidence in this year's offense. I see improvement and the overall numbers are there. I still think Ohio State is in the process of assembling it all, even past the halfway mark of the season.
Mike: Penn State is more traditional in terms of how they attack the run game, or at least they appear to be. If that holds true, I expect the Buckeye offensive line to control the line of scrimmage. The slobs put together two quality games in a row and I expect them to get the Buckeye offense into in short yardage situations so the opposing d-line can't pin their ears back. It may not be evident early but if the Nittany Lions' offense continues to struggle and can't get off the field, OSU will wear down the PSU defense. Ezekiel Elliott will break a couple long TDs and rush for over 150 yards. 
I try to stick to Ohio State or upcoming opponent questions but with the big game in the Big House Saturday afternoon I'm curious to your thoughts. How surprised are you at Michigan's season to date? Who wins Saturday?
Mike: I'm not shocked Michigan's defense is good. Didn't expect them to be this dominant, but not surprised based on the talent they have, especially in their front seven. Considering how porous their offensive line was and how often they turned the ball over last year, their efficient offense – post Utah – is what surprises me the most. Their record isn't necessarily shocking, either, because of the quality of their schedule. I definitely didn't expect them to shut out BYU, though. This game will obviously go a long way in determining what I think of Michigan going forward. I think they'll beat Michigan State considering Sparty's offensive line issues and a defense that is yielding a surprising amount of yards to opponents.
Vico: I am quite surprised by Michigan. Entering the season, I thought they were objectively a five-win team playing a schedule that might get them to seven wins. Now, they're a credible threat to win the Big Ten East. Our only way to qualify Michigan's season to date is to caution that Brigham Young is two plays from a 2-4 record and UNLV, Oregon State, and Maryland suck out loud. However, that says nothing of an excellent win over a Northwestern team with a solid résumé. I like Michigan in Saturday's game against Sparty, mostly given Sparty's injuries.
Birm: I'm not surprised at Michigan's start. Before the season I predicted that they'd win 9 games and beat either Ohio State or Michigan State and so far they've gone about as I figured. I have not watched as much of them as others have probably because of game day duties, but there's no doubt that Harbaugh has his team believing in themselves and playing aggressive, competent football. 
On Saturday, I think Michigan wins and I think it's somewhere in the 20-13 range. 
Ohio State is a pretty hefty 18-point favorite Saturday night though the line has decreased since opening. Do they cover? Give us a final score and game MVP. 
Birm: My final score prediction for Saturday is Ohio State 34 and Penn State 20, so no, I guess I'm not expecting them to cover. Game MVP? I'm going to predict a big outing for Joey Bosa, and I think he makes the plays that change the course of the game this weekend.
Mike: I'll go with a comfortable 31-7 Ohio State victory. I'm expecting a slow start for the Ohio State offense but it will eventually pick up and the offensive line will wear down the tough Penn State front four. Hackenberg won't get enough time – even on quick throws to the perimeter – against OSU's d-line and they'll go three-and-out often. MVP, per usual, Ezekiel Elliott, who will break off a couple long TD runs in the fourth quarter.
Vico: Never bet on Ohio State to cover. Ohio State wins 30-17 with Ezekiel Elliott picking up MVP honors.