On a dank afternoon in Bloomington the Buckeyes had just enough in the tank to overcome generally sloppy offensive play thanks largely to Ezekiel Elliott's record-setting day and a defensive stand on the game's final possession in a lackluster 34-27 win. 
The squad's fourth-straight underwhelming performance leaves much for the players and staff to focus on but as Urban Meyer always reminds us, the best thing about being 5-0 is a chance to go 6-0. 
With lowly Maryland coming to the Shoe next weekend for a noon tilt, staying undefeated shouldn't be much of a chore but before we move on to talking Terps here are Five Things from yesterday's defeat of the Hoosiers. 
B1g SHOULDERS
In a game where the Buckeye offense struggled to get out of its own way with three turnovers, costly penalties and continued red zone struggles it did what it always does when things get tough: Feed Zeke. 
After just 31 yards on 10 carries in the opening half Ezekiel Elliott went off like the mob in the 2nd half tallying 13 carries for 243 yards and three long scores in leading the Buckeyes to the winner's circle. 
Down 10-6 midway through the 3rd quarter, Zeke got the big play express started with a 55-yard jaunt on 3rd and 2 giving OSU a 13-10 lead. A few possessions later with just over a minute left in the quarter Zeke went 65 yards up the gut on 4th and 1 to put the good guys back in front, 20-17. Finally, nursing a 27-20 lead after the Hoosiers had just kicked a field goal, Elliott raced 75 yards providing a 34-20 cushion with 10:24 left in regulation. 
The three long runs were even more impressive when you consider Elliott was taking some serious shots in between as the Hoosiers stacked the box sensing Meyer had lost much of his confidence in the passing game. 
The team's security blanket since the latter part of last season, Elliott scorched the record books on a day when the Buckeyes needed every yard he could muster. Zeke's 11.9 yards per carry set the school's single game record and his 274 rushing yards tied the great Keith Byars for the second-best single game effort in school history. 
This year, Elliott is averaging 36 yards per carry on his eight touchdowns and during his streak of 10 straight 100+ yard rushing games, he has amassed over 1,600 yards with 19 touchdowns. And none of this even mentions Elliott is the best blocker on the team that's also a legit threat in the passing game now that his wrist is healthy. 
OUT OF TOUCH
Ohio State turned it over three times yesterday with two of those coming via fumbles from Jalin Marshall. 
Before I get too far into this, know that I'm a Marshall fan. That said, I'm confused on what decides who gets touches outside of Zeke and Mike Thomas in this offense. 
Week in and week out Meyer talks about getting more touches for Braxton Miller and speaks highly of Curtis Samuel yet the inconsistency in opportunities for the pair is again front and center.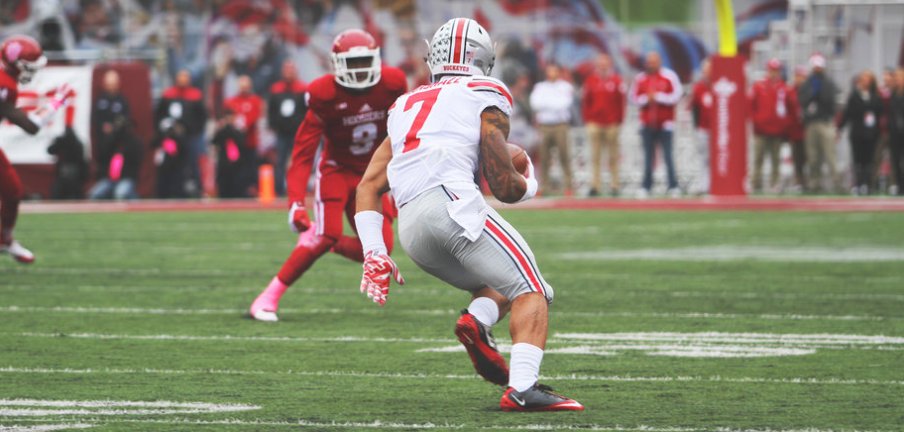 Yesterday, Marshall racked up six touches for an impressive 110 yards but he turned the ball over on 33% of those touches rendering his production largely useless. Meanwhile Samuel – coming off a four touch 104 yard performance last week featuring a 40-yard touchdown run and a 40-yard reception as he got behind his man on a deep route – had one touch against the Hoosiers. Miller was just as ghostly with two touches as the Buckeyes rightfully shelved the wildcat but then decided there must not be any other plays with which Miller could excel. 
I understand dividing opportunities will be a tough task every week based on the number of weapons playing the same position and/or capable of executing the same plays but for a coach who talks tough about turnovers, yesterday seemed like a prime opportunity, if nothing else, to try some of those jet sweeps with Samuel instead of Marshall. I would also understand it more if fumbling was a new issue with Marshall but he's carried the ball loose for quite some time now, mostly when he's trying to make too much happen (running backward, spinning back toward traffic etc). 
Again, I don't advocate stapling great players like Marshall to the bench but the most sacred thing to any player is playing time and if that gets compromised a bit as a result of loose handles then maybe placing more value on hanging on to the football will be the result not to mention the opportunity it could provide other talented players to make the team even stronger. 
dread zone
After a disastrous day in which the Buckeyes officially made three trips to the red zone (I counted four) resulting in zero touchdowns, two made field goals, a missed field goal and an interception, Ohio State is now ranked 108th in the land in red zone offense. 
Officially, in 16 trips to the red zone this season, the Buckeye offense has tallied 12 scores (75%) while scoring touchdowns on just six occasions (38%). Ohio State quarterbacks have yet to complete a touchdown pass in the red zone. 
While this year's struggles are certainly troubling this isn't a new concern as the Buckeye offense ranked just 48th last year with an 85% scoring rate. 
Ohio State's first trip to the red zone yesterday (1st and 10 at the IU 12) saw the Buckeyes try to go up tempo on a 2nd and 3 snap only to confuse themselves up front resulting in no gain for Elliott. On the ensuing snap, OSU went five wide and Jones tried to force a bullet to Nick Vannett on a slant but the throw was low and away which was actually favorable as it was into crowded coverage. A field goal followed cutting Indiana's lead to 10-3. 
The next trip came after Indiana's crazy failed fake punt attempt giving the Buckeyes 1st and 10 at the Hoosier 13. After Zeke hurdled for five yards to set up 2nd and 5, Jones rolled left and looked to have Mike Thomas open for an easy touchdown near the left pylon but he threw too hard on a throw that required a little more touch for an easy score. Now facing 3rd and 8, Jones had Marshall open on a slant but again the throw was too hard and too far in front of Jalin leading to another field goal trimming Indiana's lead to 10-6. 
Late in the half and again looking at 1st and 10 from the Hoosier 13, the offense had maybe its worst series of the day. The first play saw Miller flagged for a block below the waist (it was close) negating an Elliott touchdown off a swing pass from Jones putting the Buckeyes into a 1st and 25 hole at the IU 28. On the next snap, Jones had all day to throw but eventually took a sack. Two plays later on 3rd and 19, Jones and Jacoby Boren couldn't connect on a shotgun snap in which the timing was clearly off resulting in another negative play. The Buckeyes were also flagged for illegal motion but the Hoosiers rightly declined setting up 4th down and a missed 43-yard field goal try. I believe the term coach uses for this one is "clown show."
Finally, leading 13-10 and setting up shop at the Hoosier 19, a confusing 2nd and 7 run from Jones lost five yards and on 3rd and 12, Jones stared down his covered receiver leading to an easy interception. Indiana scored five plays later to take a 17-13 lead late in the 3rd quarter. 
TFL - TYQUAN (FRANK?) LEWIS
On a defense full of returning starters and big names, it's easy to get lost in the shuffle. As one of four first-year starters for the Bullets, defensive end Tyquan Lewis is having a heck of a season and was especially solid yesterday with seven tackles, a career-high 3.5 TFL and a sack. 
Fellow defensive linemates Joey Bosa and Adolphus Washington deservedly generate the most hype but the ease with which Lewis slid into the starting lineup and produced should not be undervalued. He plays with a relentless motor and while I'm no scout, I'd say his backside pursuit is at least equal to if not better than that of any other OSU defensive lineman. Yesterday, it seemed Lewis spent half the snaps in the Hoosier backfield as Ohio State held Indiana to 3.2 yards per carry.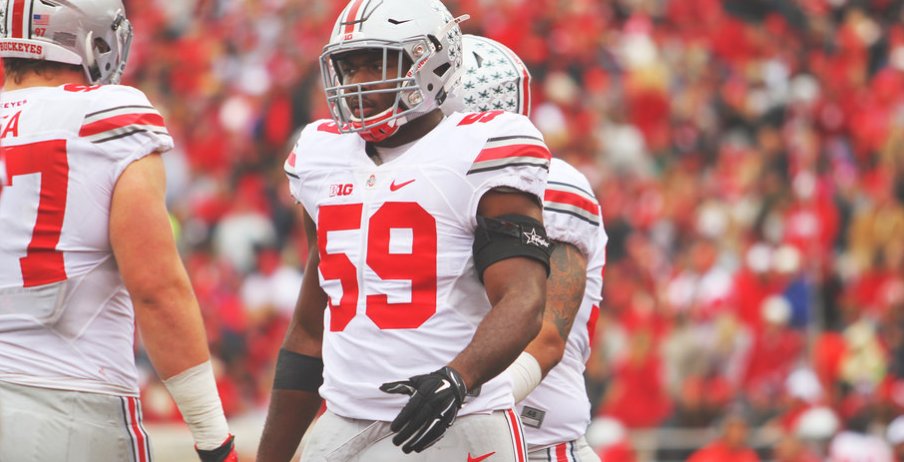 Gareon Conley is probably having the best season of the four first-year defensive starters but I think you'd be hard pressed to say Lewis isn't in the two hole ahead of Raekwon McMillan and then Tommy Schutt. 
Shout out to Lewis, a third-year sophomore, for consistently giving Ohio State what they need at the end spot opposite Bosa in his first year as a starter after providing serviceable production as a reserve last season. 
PLAYING WITH FIRE
With three turnovers yesterday, Ohio State now has 19 such events in the last seven games, dating back to the Sugar Bowl win versus Alabama. This season, the Buckeyes have 13 turnovers in five games, good for a national ranking of 117th in turnovers lost.
Averaging 2.6 turnovers per game, Ohio State has turned it over at least twice in four of their five games with Hawai'i serving as the only afternoon in which the Buckeyes were perfect in the category. 
Miraculously, the Buckeyes didn't pay for the miscues last season and so far this year the -4 turnover margin has yet to prove fatal. 
Yesterday's three turnovers led to 10 points for the Hoosiers and Meyer seemed more frustrated by those miscues than anything else ailing his team. He knows at same point such sloppy play will cost his team a game. 
While not drawing as much as much chatter, it's not just turnovers plaguing the Buckeyes. Against Indiana, the squad also committed eight penalties totaling 109 yards including three facemask infractions, two illegal blocks, two pass interference calls and one unsportsmanlike conduct. 
The eight penalties were right on Ohio State's average per game ranking them 104th in the country. Last year, the Buckeyes ranked 50th in the land with 5.6 penalties per game. 
The continued struggles in these two areas have yet to cost the Buckeyes but you have to wonder at what point does their luck run out if they don't clean it up?