There are a multitude of problems with Ohio State's offensive production. Urban Meyer knows that.
"We don't do this anyways, it's not the quarterback, it's not the O-line, it's a variety of things that we have to play better," Meyer said Monday. "If you look historically what an Ohio State offense is for us, it's control the line of scrimmage, best perimeter blocking in America, which we had last year, and a very good, solid playaction passing attack. That's not what's going on. So we're going to get that fixed."
That's a bunch of things that need fixed on a unit expected to rival some of the best offenses ever heading into the 2015 season, mainly due to an embarrassment of riches at quarterback, a stud running back and too many talented wide receivers to count.
"It's not working. So we're going to take a more aggressive approach to how we go about our business."– Urban Meyer on playing defense on offense
One thing that's supremely different from the last year to this year, however, is Tom Herman is no longer calling plays in the press box during Ohio State games. He's roaming the sidelines as the head coach of the Houston Cougars.
Instead, it's offensive line coach Ed Warinner calling the plays for the Buckeyes, doing so from the sideline instead of up top like Herman did for three years in Columbus. Tim Beck is in Herman's place during games, filling in as quarterbacks coach. Warinner has his own duties with the offensive linemen, too, but with a less than impressive offensive output the last two weeks against Hawai'i and Northern Illinois, Meyer said the Buckeyes are considering possibly switching where plays are called from during games.
"We're looking into some of that. Ed Warinner's — it's not like it's a demotion or something like that," Meyer said. "And Tim's been here long enough. The way it would work I would say Tim or Dan Mullen or Tom Herman, run this, run this, and it's boom, and we're on the same page and we're going.
"We're not quite there yet."
Mullen worked with Meyer at Florida in the same capacity Herman did for three seasons and Warinner is now, putting together some of the most exciting and electric offenses on Saturday afternoons in Gainesville, Fla.
It carried over to Ohio State with Herman, but ever since he and running backs Stan Drayton left and through three games the season, Meyer isn't pleased with the offense. He's irritated things aren't going the way they should be, and it doesn't just fall on who is playing quarterback.
"We're playing defense on offense right now, and you don't do that," Meyer said. "Some people do, but our history is we want to score a lot of points."
Ohio State tallied 42 points in its season opener at Virginia Tech, then 38 against Hawai'i on a short week and just 20 Saturday against Northern Illinois. Things are "discombobulated," to use Meyer's words, and he doesn't like it. Not one bit.
"It's not working," Meyer said of playing guarded on offense. "So we're going to take a more aggressive approach to how we go about our business."
The head coach said he usually wakes up Saturday mornings and looks at his roster to determine who gets the ball that day, leaning toward guys who provide the explosiveness his team thrives on to score points.
They haven't been there the last two weeks — the longest play from scrimmage is a 25-yard catch and run by Michael Thomas — and turnovers have replaced them. The Buckeyes gave the ball away five times Saturday against the Huskies.
Which begs the question of whether or not the play calls are resulting in the ball getting in the hands of the best playmakers consistently.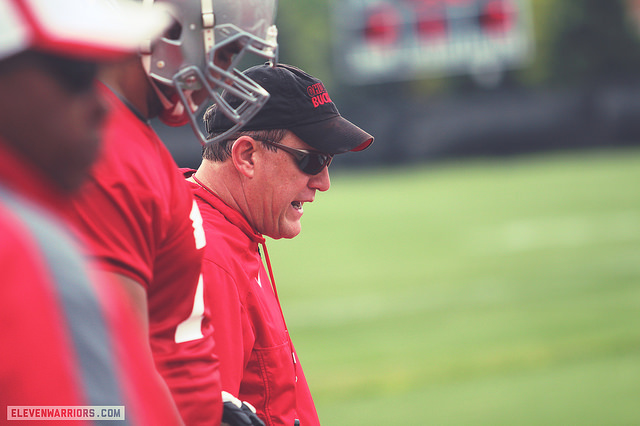 "No. And then a couple times we did and it didn't get to them, so we'll get better," Meyer said.
The Buckeye boss allegedly promised his defense after the win Saturday that the offense is going to improve — "I know he's going to do anything in his power to help the offense and get them back up to speed," Eli Apple said — but also said multiple times Monday the need for corrections isn't in just one area.
And an evaluation of play calling falls right in line with that, starting with a way the offensive minds of Meyer, Beck and Warinner think, who they try to get the ball to and perhaps even how and who ultimately calls the plays.
"If we go jet tempo, that's got to be from upstairs, because you can't see anything from down there," Meyer said. "So those are all things we're going to get cleaned up."