On the surface, Ohio State's 38-0 shutout win over Hawai'i yesterday afternoon in the Shoe left much to be desired. 
Considering the wider perspective however, things aren't so bad as a host of big time programs (tbf, some are more like alleged big time programs) including Arizona State, Auburn and Missouri had major scares against lesser foes while Bert Bielema's SEC powerhouse lost to a MAC school a few days after taking shots at Ohio State's schedule. (Seems ironic Bert is from a place called Prophetstown, Illinois.)
Sitting at 2-0 and atop the college football landscape, the Buckeyes can now resume a more familiar every-Saturday game cadence starting with a visit from a very solid Northern Illinois squad set to invade Ohio Stadium six days from now. 
Before you turn your full attention to the Huskies, here's a look back at Five Things from Ohio State's victory over the Rainbow Warriors. 
LOCKED AND LOADED
On a day when the offense and special teams were decidedly meh, the Silver Bullets were firing early and often en route to their second shutout in the last five outings. 
They were dominant in just about every way holding Hawai'i to 165 total yards – 29 of which came on their first play from scrimmage – on 61 plays, good for an impressive 2.7 yards per play. 
The Bullets swarmed quarterback Max Wittek and the USC transfer mustered just seven completions in 24 attempts (29%) for a meager 67 yards with two interceptions. 
Vonn Bell was the star of the show with three pass breakups, an interception and a fumble recovery for a touchdown a week after he seemed just a bit off in the win at Virginia Tech. Darron Lee was also a beast with a pair of sacks, a forced fumble and a pass breakup and a quarterback hurry. 
Up front, the Bullets welcomed back Joey Bosa but Adolphus Washington again came up big with six stops. In fact, I'd say Washington – especially when you consider the state of the rest of the interior defensive line – is the most indispensable member of the front four. 
GAREON MY WAYWARD SON
For the second week in a row, I'm calling myself out for having questions about whether or not Gareon Conley was worthy of a starting cornerback spot opposite Eli Apple. My thought in preseason was that Damon Webb would likely supplant Conley at some point and while Webb has played well at the nickel, Conley has been the best defensive back on the team through two games.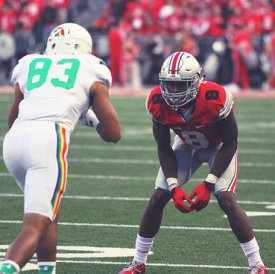 Against the Hokies, Conley showed his prowess in run support as a sure tackler posting eight stops including a half-sack. This week, he showcased his coverage skills on no less than four separate occasions. 
On the first play of Hawai'i's second possession, Conley shadowed Vasquez Haynes down the left sideline forcing an incompletion. Three possessions later, on a 3rd down snap, he was again the shorts of his receiver (phrasing?!) on an intermediate dig route and made a hell of a play on the ball to record an interception which Ohio State promptly turned into a 14-0 lead. 
During Hawai'i's next possession, Conley went back to work breaking up a 2nd and 8 toss thanks to tight coverage. Finally, two plays later, Conley used a text book left arm reach on a crossing route that would make Aaron Craft blush to tip a pass that Vonn Bell would then intercept. 
So far this year, Conley is easily my breakout player though much of that could be because I so shamefully didn't buy what Kerry Coombs and Urban Meyer were selling throughout spring and fall camp. Hats off to Conley for the fast start. 
scheduling 101
Though both scenarios came with some heartburn and made little sense at the time, Ohio State's early season scheduling the last two years has proved to ultimately be a good thing for the team. 
Last year, it seemed a bit ridiculous that Ohio State scheduled Navy (at a neutral/road site taboot) to open the season considering their crazy offense gave the Buckeyes little time during fall camp to prepare for the intricacies of Bud Foster's bear defense and the result was an unprepared team looking horrible in a 35-21 home loss to the Hokies. As it turned out, that dose of adversity brought the team together and served as a springboard to what ultimately became a national championship team. 
This year, the Buckeyes opened on a Monday night with a physical and emotional road game in Blacksburg and backed it up with a routine-altering Saturday afternoon tilt against a team they knew would be a huge underdog. 
The scenario set up perfectly for a letdown and while the defense didn't get that memo, the offense and special teams sure did. Now, those two units can devote their full attention to cleaning up mistakes and understanding the need to bring their best effort each week knowing opponents will be more geared up to play the Buckeyes than any other team on their slate. 
This is not to say the early season scheduling the last two years was purposeful to this degree by any stretch. Instead, the message is for players and coaches to worry about what they can control and stay focused on the prize instead of crying about schedule adversity and, I dunno, end up losing to a team like Toledo – at home – because of self-inflicted distraction. 
SLOBS LOOK SLOPPY
I love Ohio State's slobs. I consider them to be the best starting unit on the team when clicking and also view them as the most important factor in whether or not the Buckeyes can repeat. That said, through two games, they've committed far too many mistakes for a veteran group with most of the issues coming right in the middle from center Jacoby Boren and left guard Billy Price.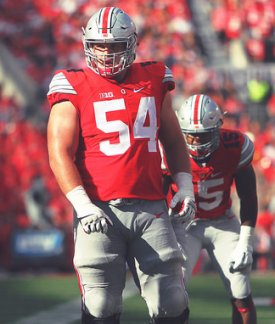 Yesterday, the group had three penalties with Taylor Decker and Price whistled for false starts and Boren flagged for a snap infraction. Speaking of snaps, Boren also had a handful of bad shotgun snaps versus Hawai'i – typically low and wide right – which was also a problem last week against the Hokies in addition to a personal foul call. 
Price, who last week had a holding penalty negate a touchdown and missed some one-on-one blocks, struggled to pick up a few blitzes against Hawai'i, most specifically on a 2nd and 13 play on OSU's fourth possession in which the blitzer ran right by him leading to an 11-yard loss and eventual punt. 
On the day, the line helped the rushing attack produce just 182 yards on a paltry 3.7 yards per carry while the pass pro gave up two sacks and three hurries. Hawai'i even recorded six tackles for loss. 
I have to believe the short week hurt the offensive line the most after such a physical game against Virginia Tech and Hawai'i's 3-4 scheme likely didn't help with some missed assignments but I'm looking forward to seeing this group get back to their ceiling which is to be the best offensive line in college football. 
KICKS JUST KEEP GETTING HARDER TO FIND
Through two games, Ohio State's placekicking and kickoff efforts have been less than stellar. 
Jack Willoughby, a transfer from Duke, came in and wrestled the starting placekicker job away from sophomore Sean Nuernberger while laying claim to the kickoff gig. So far, Willoughby has registered three kickoffs out of bounds, made a 20-yard chip shot field goal and missed a 43-yard try in Blacksburg. 
Urban will tell you the kickoffs out of bounds are a product of strategy and he's willing to live with a few but three in two games feels like more than a few. As for field goals, I was fine sticking with Nuernberger mostly because of his high school credentials and the fact he was just a true freshman during last year's 13/20 campaign meaning he would likely improve as opposed to turning the job over to a guy who won't be here beyond 2015. Of course, Meyer has forgot more about football than I will ever know so I'm content to hope Willoughby can clean things up.
While he's doing that, the field goal unit can also address yesterday's bad snap/hold that kept the Buckeyes from being able to attempt a 46-yard try on their opening possession.