Back on March 13, 1973, in the county seat of Montgomery County, people probably gathered around the water cooler and talked about the previous night's final episode of Laugh-In on NBC. They might have discussed the recent discovery of the comet Kohoutek or chatted about a new album by Pink Floyd called Dark Side of the Moon.
These people were clueless to the biggest (pun intended) story in the Gem City that day—future Buckeye Dan Wilkinson was born.
"Big Daddy," as he would become known while he haunted Stivers Intermediate School, got his nickname from his coach, Albert Powell, who compared him to then-Cleveland Browns defensive lineman Carl Hairston. Powell had to convince Wilkinson he'd be more helpful to the club on the line than at fullback. And you just shuddered at the thought of trying to tackle Dan Wilkinson. At any age.
Wilkinson attended Dayton's Dunbar High School, where he was a member of the unfortunately nicknamed Wolverines. Just before Wilkinson's arrival at Ohio State, Dunbar had given the Buckeye basketball team a point guard named Mark Baker. It would later give us Daequan Cook, but only for one season. I digress.
At Dunbar, Wilkinson was huge. He put nearly 350 pounds on his 6-foot-4 frame, yet maintained the type of explosiveness that college coaches salivate over. Unfortunately for Big Daddy, his grades kept some of those coaches away. He finally got his qualifying score and committed to John Cooper's Buckeyes in July of 1991, just a month or so away from fall camp.
Cooper's staff redshirted Wilkinson, who was penciled in at offensive tackle, which made total sense at his size. But the Dayton product impressed with his athleticism and his work ethic during his redshirt year and petitioned Cooper to let him switch to defense. How could Coop say no?
REDSHIRT FRESHMAN YEAR
Wilkinson stepped in as a starter on Ohio State's defensive line and immediately had an impact. He finished his first season with 46 tackles (26 solo), 10.5 tackles for loss (for an impressive minus-83 yards) and 6.5 sacks. Big Daddy helped the Buckeyes improve by half a game over the previous season, with an 8-3-1 record (5-2-1 in the Big Ten). But in reality, 1992 was only a few points from being a very special season.
Ohio State lost at Wisconsin by four, dropped a two-point home game to Illinois, and tied conference champion Michigan, 13-13. Seven more points would have realistically put Ohio State in position to win a national championship. Instead, the Kirk Herbstreit-led Scarlet & Gray went to the Citrus Bowl in Orlando, where they fell to Georgia in yet another close game, 21-14. [Obligatory "S-E-C" chant goes here.]
In just his first season of college football, Wilkinson was named to the All-Big Ten team.
REDSHIRT SOPHOMORE YEAR
In 1993, expectations were high for the Buckeyes. But like so many of the teams from that era, the potential wasn't fully realized. Wilkinson had another solid season, finishing with 44 tackles (27 solos), 13 TFLs and two sacks. Opposing teams were regularly double-teaming the explosive lineman, yet he still managed to make plays.
Big Daddy helped Ohio State win a share of the Big Ten championship with a 6-1-1 conference mark and a 10-1-1 overall record. But those hiccups along the way were costly. A 14-14 tie at Wisconsin was preserved only by a Marlon Kerner blocked field goal, and in the final game of the regular season, the "Cooper curse" reared its ugly head and the Buckeyes fell 28-0 in Ann Arbor to a fairly mediocre Michigan team that finished 8-4 that year.
It turned out to be Big Daddy's last shot at beating Michigan.
"That bitter taste never goes away. Michigan guys in the NFL reminded me of that game for ten years," Wilkinson told our Ramzy Nasrallah just a couple of years ago. "I left Ohio State with that team up north having bragging rights on me for [shouting] THE REST OF MY LIFE."
The Badgers went to the Rose Bowl after the 1993 season, due to the least-recent-visit tiebreaker.
Ohio State again had a shot a national title season with Big Daddy in the fold, but it didn't quite materialize. Instead, the Buckeyes went to the Holiday Bowl in San Diego, where Wilkinson helped defeat BYU, 28-21. It was probably little consolation that Big Daddy was heaped with individual awards at season's end.
LEGACY
Wilkinson finished his career at Ohio State early, leaving as a two-time all-conference selection in 1992 and 1993. In 1993 he was an All-American and won the Bill Willis Award, given annually to the top collegiate defensive lineman.
Big Daddy left Ohio State with a record of 18-4-2 (11-3-2) and a Big Ten co-championship. He made 90 tackles (53) solo, with 23.5 TFLs, eight sacks and three passes broken up. He went 1-1 in bowl games, but he didn't beat Michigan, which obviously still doesn't sit well with him (or any of us, really).
THE LEAGUE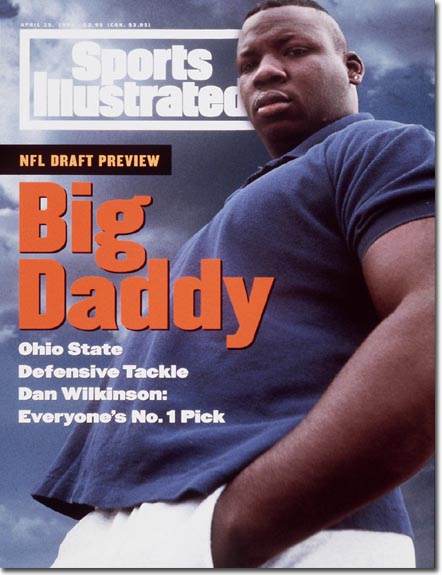 The Cincinnati Bengals made Wilkinson the first overall selection in the 1994 NFL Draft, just ahead of such players as Marshall Faulk, Heath Shuler, Willie McGinest, Trev Alberts and Trent Dilfer. Big Daddy signed a $14.4 million six-year deal to become the highest paid player in Bengals history at that time.
He played four seasons with the Bengals, He led Cincinnati in quarterback hurries his rookie season (19), starting 14 of the team's 16 games. In a classy move, Wilkinson stepped aside to let Tim Krumrie start in his final home game. In 1995, Big Daddy led all NFL interior linemen with eight sacks.
In December of 1997, Wilkinson had a falling out with the Bengals, due in part to his dissatisfaction of having the team put the binding "franchise" tag on him and he famously called Cincinnati a "racist city" (something for which he apologized in 2005). The Bengals, without a hint of irony, traded Big Daddy to the Washington Redskins on Feb. 28, 1998.
Wilkinson spent five seasons with the Redskins. In his first, he posted 7.5 sacks and 50 (!) quarterback hurries. He would add 15.5 more sacks over the next four years in Washington. None of those sacks came in his final season with the team, 2002, which is why Washington cut him when negotiations over a pay cut broke down. Big Daddy landed in Detroit, where he played 48 games over the next three seasons, recording 54 tackles, 6.5 sacks and a safety.
He closed his NFL career with a very quiet 10 games as a reserve for the Miami Dolphins in 2006, finishing with nine tackles before being forced out of action with nagging injuries to his knee and hamstring.
Over the course of his 13 years in the NLF, Big Daddy totaled 195 games (182 starts), recording 298 tackles, 54.5 sacks, six forced fumbles, four fumble recoveries, and five interceptions (one for a touchdown).
---
Despite playing only two seasons in Scarlet & Gray, Big Daddy Wilkinson will long be remembered for being able to move preternaturally fast for a large human being. He'll be remembered for being impossible to block one-on-one. And he'll be remembered for his nickname. But, most of all, he'll be remembered for the way he played the game on those fall Saturdays.