There have been two this century.
Sure, you could cobble together a top 10 or even 20 list, padding it with Ted Ginn punt returns, devastating rushes against Michigan by [several Ohio State running backs] in [literally any year] or pick-sixes served up by Penn State QB [all of them] to [several Buckeye defenders] from the [lots of them] season.  
Of course there have been dozens of memorable plays - it's been a hell of a century thus far. However, once you account for variables like timing, gravitas, execution, euphoria, consequences and overall memorability you're left with two plays that rise above all the rest.
There are some worthy bridesmaids to this exercise: The 4th down streak by Jonathan Wells at Michigan in 2001 is one, as is The Catch from 2005 - you could make Michigan Plays its own, healthy sub-category here.
The entire 2003 Fiesta Bowl against Miami is another. Solomon Thomas' game-and-SEC-streak ender justifies a mention. The most recent B1G Championship Game included the best half of Ohio State football in nearly half a century.
ONE PLAY BECAME A T-SHIRT WE CAN'T SEEM TO KEEP IN STOCK.
But two plays are without peer where all those variables are concerned, especially the consequences part. They've been watched and re-watched so many times that if you ran into any of the fans indiscriminately captured by TV cameras in their aftermath, you might stop them. Heyyyy, I know your face.
There are no surprises at the altar here: Holy Buckeye is one of the immortal plays in Ohio State football history. The other play recently became a t-shirt we can't seem to keep in stock.
It was such a great memory that literally thousands of you want to wear it.
---
Holy Buckeye | Nov 9, 2002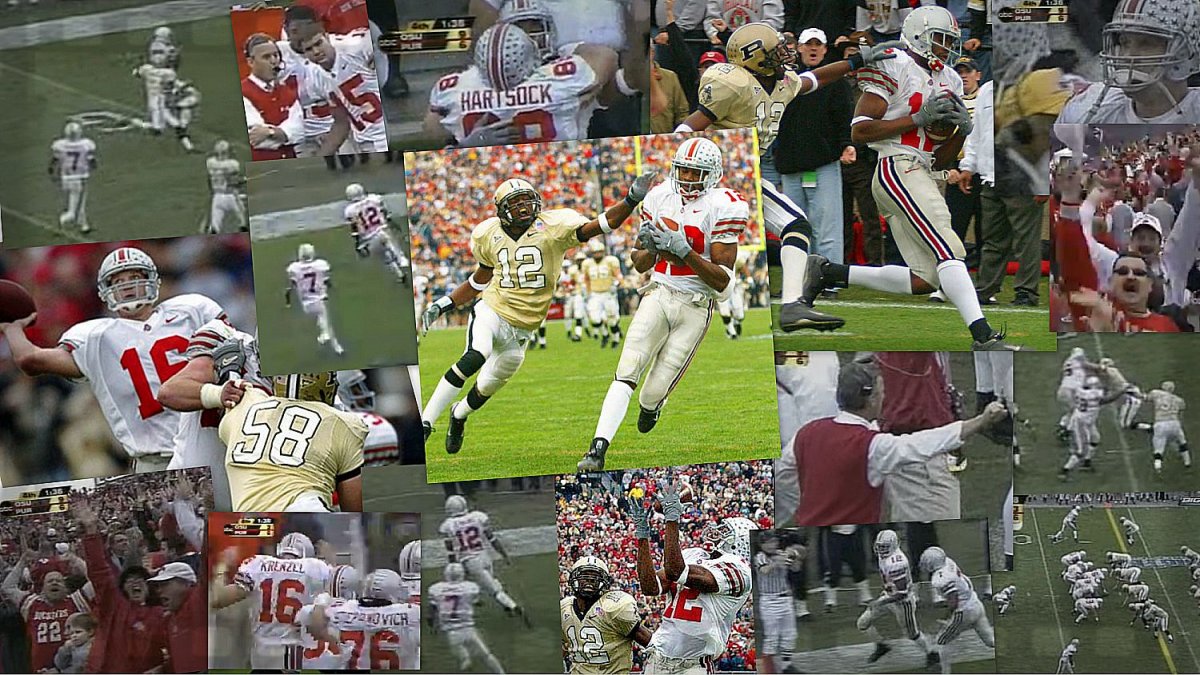 SCENARIO
The Buckeyes were 10-0 heading into West Lafayette, winning four of those games by uncomfortable slim margins. Two of those opponents - Cincinnati and Northwestern - didn't finish 2002 with winning records. Two weeks earlier Ohio State beat Penn State without scoring an offensive touchdown (the winning TD scored by the defense is another one of those worthy bridesmaid plays).
Purdue was the confluence of both variables: The Buckeye offense had not found the end zone for the first 58 minutes of the game, and Purdue entered that Saturday with a 4-5 record. Offensive futility, and against a lousy team. Defense was saving them. Tresselball!
PRELUDE
The Buckeyes were losing 6-3 with under two minutes remaining. Two seasons earlier in their previous trip to West Lafayette they lost on a 64-yard Drew Brees bomb to Seth Morales with 1:55 remaining, simultaneously eliminating them from title contention while clinching the Rose Bowl trip for the Boilermakers.
This game was right around the same point the Buckeyes let the 2000 one slip away, and they were doing so while demonstrating the importance of Maurice Clarett to the offense: They could not move the ball without him. He exited the game after aggravating a shoulder injury he suffered against Wisconsin two weeks earlier.
Craig Krenzel started off the drive with a 4-yard sack before throwing an incompletion prior to Ben Hartsock's second reception of the day on 3rd down. It gave the Buckeyes 4th and a long yard to go. The only choice - with 1:46 left on the clock - was to go for it. There was no Brees or Morales to bail out Purdue this time.
Hartsock's 13-yard reception had been Ohio State's third-longest play from scrimmage at that point of the game. The crowd (Purdue used to have them - at football games, even) began to roar in anticipation of what could be the final play of the game for the OSU offense, as well as the end of its undefeated season.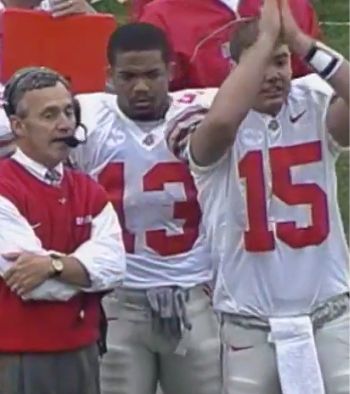 THE CALL
Now you're so close you've gotta go said Brent Musberger, and you can run for it if you want to.
Pre-SEC shill edition Gary Danielson added, "the problem is you don't have your running back who can make these kinds of plays," in reference to Clarett standing behind Jim Tressel on the sideline as backup quarterback Scott McMullen motioned in the play.
Krenzel is a very good runner in this situation - if they roll him I have seen him come out for a huge first down up in Madison, Wisconsin countered Musberger. He was referring to a 3rd and 2 play early in the 4th quarter with the Badgers leading 14-13. Krenzel rolled out, found no one open and released for a 16-yard gain to the Wisconsin 15. That drive ended with Hartsock catching the game-winning touchdown.
They're going to put him up underneath center though said Musberger in anticipation as the players lined up. They're going to show the I-back behind the fullback here on 4th down…
THE PLAY
McMullen had motioned in King Right 64 Y Shallow Swap, which like the previous play was intended to result in Hartsock being open near the Ohio State sideline beyond the 1st down marker. He was a junior who had earned Tressel's trust, both as locker room glue as well as a pass-catcher. Additionally, Tressel the play-caller had a penchant for repeating plays in succession until the defense was able to stop what they knew was coming. Why not try it again?
As it turned out, Purdue sniffed out Hartsock hooking toward the sideline. Krenzel's pocket was quickly squeezed by seven rushing Boilermakers so he stepped through it and launched the ball downfield toward his second option.
HEROES
Krenzel made a perfect throw under duress while Michael Jenkins gained separation from Middletown native Antwaun Rogers at the last possible moment to complete the arc. 
The south end zone at Ross-Ade Stadium was the visitors' section in 2002. This gave the Buckeye fans in sections 133 and 134 a prescient view of the touchdown as it happened. Once Krenzel stepped up in the collapsing pocket and released the ball they got to watch the 37-yard score materialize on 4th and 1. 
They knew it was a touchdown before it happened.
UNSUNG HEROES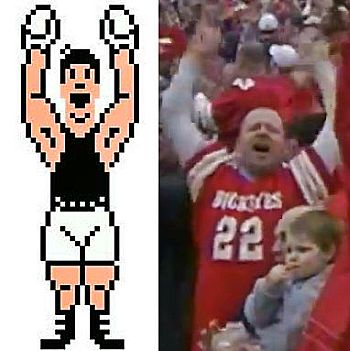 Pajama Guy: TV cameras caught him celebrating indiscreetly; he had just rolled out of bed in his Les Horvath jammies that morning and went straight to West Lafayette. His flawless execution of the Little Mac KO celebration dance from Mike Tyson's Punch Out was a masterstroke on a play that would live forever.
Visor Mom: She (collage above; next to Pajama Guy) had spent the previous 58 minutes indiscriminately shouting get him get him get him get him get him get him get him get him get him get him during every single play and possibly during halftime - as Visor Moms are all required by law to say throughout football games - but broke form to celebrate by doing what was at the time the hottest new dance craze, raise the roof.
Tresselball: The vest's reaction to the ballsiest play of his tenure was to calmly signal for a PAT, because leading a mediocre Purdue team by only three points with a minute and a half remaining was all part of a plan to win.
UNFATHOMABLE TEARS OF SADNESS
Rogers: He immediately realized his career highlight was going to be the Purdue Guy on the Holy Buckeye poster.
Sad Purdue Marching Band Guy: He can't believe it. Neither could we, but in a totally different way.
Purdue fans [not pictured]: Doing the classic two-armed Downward Wave of Disgust in unison, as is required by Indiana law whenever a referee calls a foul or travel against a Purdue player during a basketball game.
AFTERMATH
They almost gave it away: Donnie Nickey got lost in space on a Kyle Orton bomb that would have matched the Brees-Morales touchdown in Purdue football lore had it worked. He was bailed out by Gamble, who read the play and abandoned his man to preserve the win.
A few clock-killers later the game was over, the Buckeyes were 11-0 and three games later Holy Buckeye - as coined by Musberger as it happened - was elevated in historical importance to the play of the 14-0 championship season. 
---
85 Yards Through The Heart of the South | Jan 1, 2015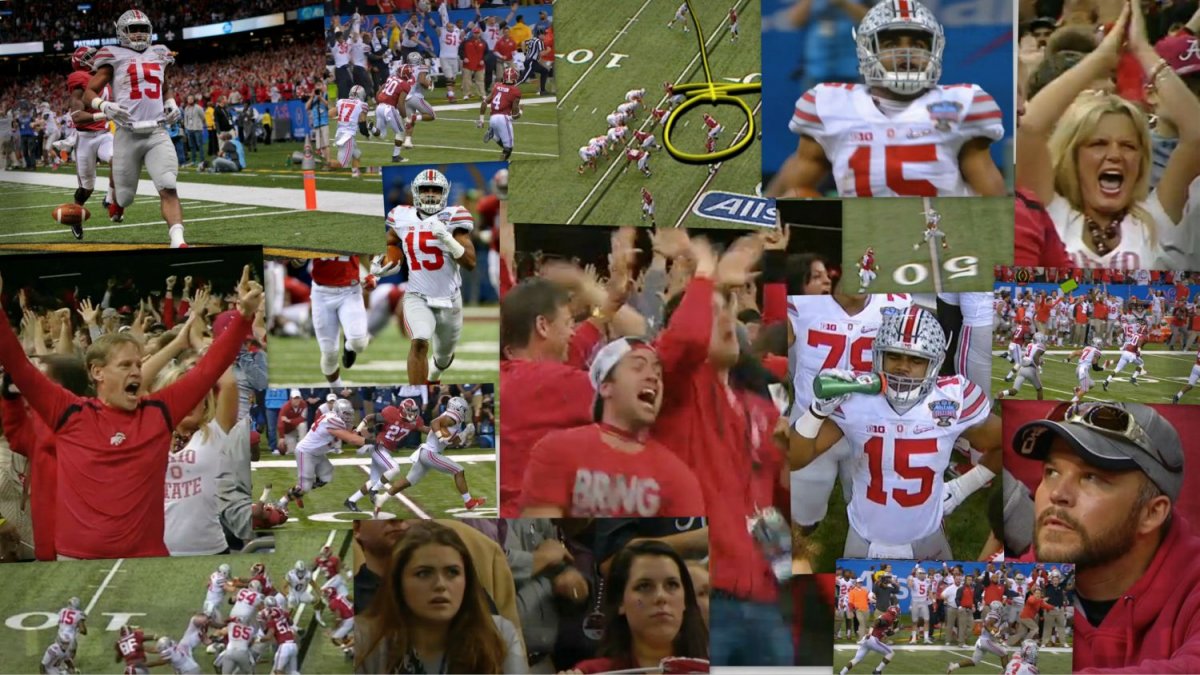 SCENARIO
The Buckeyes needed every single win along with a previously unimaginable cache of style points in the B1G Championship Game to steal the final spot in the inaugural College Football Playoff. Their semifinal was the SEC's backyard postseason jewel, the Sugar Bowl. Their opponent was the flagship football program from God's Conference™.
Ohio State had ripped off 348 1st half yards and went on a 28-0 scoring run after falling behind 21-6 early in the game. Its early mastery of 3rd down had fallen apart as the game wound down; Alabama punting sniper JK Scott was consistently pinning the Buckeyes against their own goal line and they found themselves backed up for much of the second half.
An SEC team from Alabama had not lost to the Big Ten in a bowl game in...nearly 8 hours.
Their 3rd down drought ended on a run by Cardale Jones where he barely made the line to gain, moving the chains. Ohio State now had a 1st down with 3:43 remaining, and suddenly the game shifted into clock-killing mode.
PRELUDE
The Buckeyes had been hammering the Crimson Tide and wearing them down physically in what Urban Meyer later called "a sledgehammer game." Bama SS Landon Collins was injured (again) trying to bring down Jones on that 3rd down conversion, and once he left the field the game clock began running again.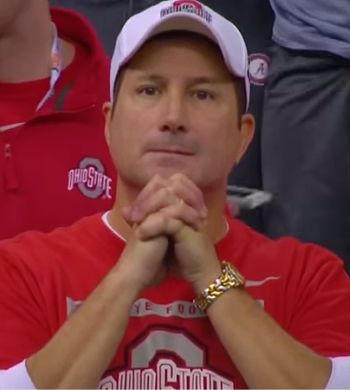 No one appeared to be in a hurry to get the 1st down play off with the chains re-set and the remaining seconds peeling away so the offense casually lingered near scrimmage before settling into formation. 
THE CALL
"They can run about 20 seconds off the clock here," said Todd Blackledge, right before the Buckeyes unexpectedly snapped the ball with 15 seconds remaining on the play clock. Ohio State had just converted a 3rd down for the first time since early in the 2nd half, but instead of letting the clock wind down they surprised Blackledge and everyone else by ceding 15 seconds they could have burned off.
Were it not for Collins' injury, Ohio State likely would have gone with tempo to put the Tide back on their heels. As it turned out, they didn't provide the time for anyone to second-guess the strategy.
THE PLAY
A toss-crack concept with pin and pull blocking (unlike King Right 64 Y Shallow Swap, the formal name of this play won't be disclosed here for what I'll call Urban Meyer reasons).
Once the hole materialized Elliott shot through it and a football play became a track meet. Unfortunately for the Alabama secondary, the 2013 Missouri State Champion in the 100m, 200m, 110m hurdles and 300m hurdles now had the football and a running head start. Goodbye.
Zeke - now clear of any tacklers - had 79 yards remaining between him and then end zone. The audible joy of inevitability then swallowed the Superdome as Ohio State shattered three SEC football pillars - speed, strength and superiority - on one single play.
All that could be heard as he took off was riotous joy. It was the sound of Alabama getting its heart ripped out.
HEROES
Ohio State's MVP Evan Spencer destroyed Alabama linebacker Shaun Dion Hamilton in removing the final obstacle from the play. Billy Price and Taylor Decker created the entrance and Elliott patiently waited until the right time to slide into it and disappear.
The south end zone in the Superdome was the visitors' section for the Sugar Bowl. This gave those Buckeye fans - as well as Brutus and the cheerleaders - a prescient view of the touchdown as it happened. Once Elliott stepped into the hole and accelerated through the scrum they got to watch the 85-yard score materialize on 1st and 10.
They knew it was a touchdown before it happened.
UNSUNG HEROES
In Academy Award acceptance speech fashion there are almost too many to name - but damn it, they're legends and they've earned it.
Prayer Guy: Camera captures him nervously praying for what we're assuming was an 85-yard touchdown run. Seconds later it happens. He's the real MVP here.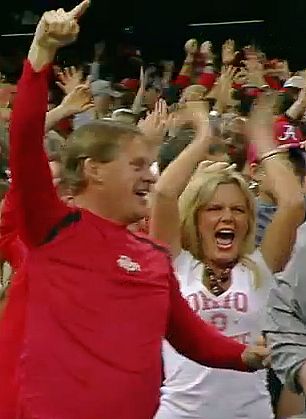 Wall of Stoked Bros: (collage above, center) Just a complete and utter brogasm, captured in HD. Pajama Guy's legacy done proud.
Gary Busey-looking guy: The actor hadn't been this visibly excited about Ohio State football since Angelo Pappas and Johnny Utah were hot on the trail of the Ex-Presidents.
Gary Busey's Sister: She cannot hide her excitement and no one can blame her. 
Guy Who Didn't Leave Gary Busey Hanging on National TV: When your buddy needs a high five, damn it, you give it to him.
Urbanball: Urban casually walking along the sideline past a hysterical, sprinting Ed Warinner, because tearing off an 85-yard run in the 4th quarter against a team that hadn't allowed a 100-yard rusher all year with three minutes remaining was all part of a plan to win.
UNFATHOMABLE TEARS OF SADNESS
The notable three - the two sad ladies and the dude with the upside-down sunglasses on his hat - are in the collage. You'll always know their faces and they've suffered enough. Nothing else needs to be said.
Remember, they were watching their beloved team lose to Ohio State. It's a tragic rarity where suffering is concerned: At that point in the evening an SEC football team from Alabama had not lost to a Big Ten team in a bowl game for about eight hours.
AFTERMATH
They almost gave it away: Alabama cut the lead to one touchdown and Ohio State gambled on a pass which fell incomplete, stopping the clock. The game - like the one that followed it for the national championship - ended on an interception by the Buckeyes to seal the win.
Ohio State notched its 13th win, advanced to the first-ever College Football National Championship Game and Zeke's 85-yard touchdown was elevated in historical importance to the play of Ohio State's improbable three-game title run.
It joined Holy Buckeye in the annals of Ohio State football history for transcendent plays containing just the right timing, gravitas, execution, euphoria, consequences and overall memorability. There have been two this century.