For four seasons, Ohio State has had a dependable deep threat at wide receiver in the person of Devin Smith. The departing senior from Massillon had an uncanny knack for finding space deep down the field for explosive plays.
Smith left Columbus with the second most receiving touchdowns in Ohio State history. Only David Boston caught more passes for scores than Smith.
Smith finished his Buckeye career with 121 receptions for 2,503 yards (20.7 yards per catch). Only Cedric Anderson, Doug Donley and Terry Glenn finished their OSU careers with a higher average. Smith set a single season mark with an absurd 28.2 yards per catch, and 12 of his 30 career touchdowns were during his senior year.
Where do the Buckeyes turn to replace Smith's incredible production and, more importantly, his big-play capability?
Michael Thomas will likely reprise his 2014 role next year, playing underneath the deep threat, running slants and other short routes, opposite the deep man. This leaves a few candidates to try to fill Smith's shoes as the home run threat.
Here are some of the possibilities:
Jalin Marshall
Although he's unlikely to stray from his incredibly successful hybrid role, Marshall can run and has gotten open deep before for the Buckeyes. The Middletown product caught 38 passes for 499 yards and six touchdowns as a redshirt freshman in 2014.
Marshall also rushed for 145 yards and one score on just 25 attempts, for a 5.8 yards-per-carry average. He's probably too valuable a threat in his dual role as a runner and a receiver to become the man to replace Smith. This may also be true of…
Dontre Wilson
Wilson shared time at the H-back spot with Marshall before he was injured midway through the season. He caught 21 passes for 300 yards and three touchdowns in 2014, and rushed for 100 yards on 18 attempts. Although he seemed less decisive in the run game than Marshall, Wilson still averaged 5.6 yards per carry.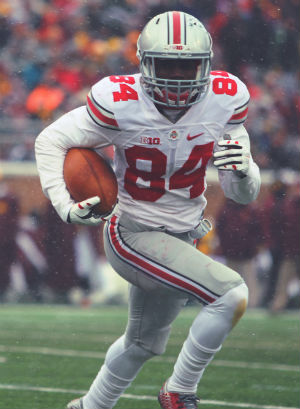 The DeSoto, Texas native has great speed and could swap positions in order to keep Marshall as the full-time H-back. Wilson has shown some ability as a deep-threat receiver his sophomore season—most notably a slick catch off the back of a defender against Virginia Tech. With another season of experience under his belt, Wilson could be given a shot at this spot, as he's unlikely to unseat Marshall as the starting H.
Corey Smith
Junior college transfer Corey Smith could make it a straight Smith-for-Smith swap as the team's deep threat. He runs well, has become a punishing blocker, and developed into a much more consistent and confident player down the stretch last season, after having a case of the dropsies earlier in the year.
The Akron Buchtel product caught 20 passes in 2014 for 255 yards but did not find the end zone. He'll be counted on more in 2015, regardless of which role he occupies, but I'm calling Smith the odds-on favorite to inherit the home run threat left behind by his namesake.
Other contenders
Maybe the new deep threat will be someone entirely different. If Marshall and Wilson both stay at H-back and Corey Smith continues as a backup, there are a few other candidates to replace Devin Smith, but none of them are as experienced as those discussed above.
These "other guys" include Noah Brown, Johnnie Dixon, Parris Campbell, and Terry McLaurin. Brown and Dixon have already earned their way onto the field, making them the best bets in this bunch.
Brown is a big-bodied sophomore-to-be, who saw limited action in 2014. He looks to be the heir to Evan Spencer's blocking receiver role, but has more upside as a pass catcher than Spencer. The New Jersey native caught only one pass last season for nine yards, but has shown he can do the little things, which is why he saw the field at all in 2014. An expanded role could include some deep routes.
Dixon got on the field early, but injuries plagued him and forced him out for the bulk of the year. The West Palm Beach product did not catch a pass as a freshman, but he carried the ball four times for 20 yards. Dixon was known in high school for his big play ability.
In a five-game run to the state title as a high school senior, Dixon caught 17 passes for 366 yards (21.5-yard average) and six touchdowns. It'll be interesting to see if he can translate that kind of play to college ball.
Campbell, a converted running back, is incredibly athletic. He rushed for 1,584 yards and 22 touchdowns as a high school senior at Akron's St. Vincent-St. Mary's in 2013, helping lead his team to a state championship. Campbell might be better at running after the catch than route running or catching the ball at this point in his development.
McLaurin is an intriguing option. The former Indiana Mr. Football finished his senior season with 58 receptions for 953 yards and eight touchdowns, and rushed for another 744 yards six scores. McLaurin has great speed and that alone could sneak him into the mix.
---
These are your returning contenders to replace Devin Smith, and they'll have the inside track over any incoming true freshmen like Alex Stump or K.J. Hill. I like Corey Smith for the position. Who ya got?