No Buckeye has ever worked harder than John Simon.
Everyone who closely monitored Ohio State football prior to 2012 already knew that. Simon's motor was permanently stuck on the high setting you wish all Buckeye players had.
Urban Meyer probably didn't know that. He still had some discovering to do.
When Meyer took over at Ohio State he promptly learned he had inherited a program deficient in an alarming number of required football elements: Offensive tackles, for starters. His roster literally had none.
Even worse, there was little sign of an offensive identity or purpose. Two scholarship quarterbacks were available but they had just wasted a grisly 6-7 season being babysat by a video coordinator who then abruptly left the profession entirely. 
His team had a baseline of requisite talent but its culture of winning had evaporated quickly: Half of the classes that had experienced BCS victories and B1G titles were gone by the time Urban took over. 
What the team did retain was a lot of scars, broken pride and an unfulfilled promise as to what was expected in Columbus. Meyer wasn't going to have to manufacture any adversity. There was plenty to go around.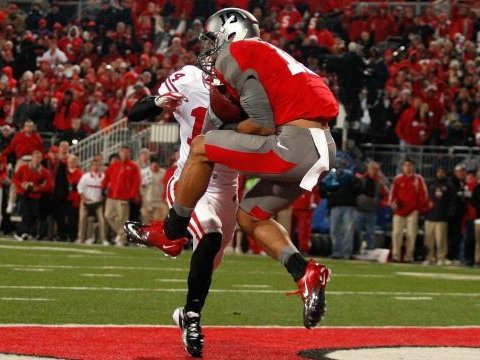 Every single asset within his football program was cloaked in the trauma of having endured a full year of unprecedented media scrutiny, two NCAA investigations, being sued by ESPN, having a 30-year old camp raffle exposé showcased by Sports Illustrated, seeing its reputation annihilated, its coach dismissed and losing scholarships, star players, postseason eligibility and worst of all - games.
There was an enormous amount to fix with Meyer ending his well-publicized break from coaching, so he promptly entered the WHAC and exerted his authority over the new era of Buckeye football...by making sure gym rats like Simon were working out.
He actually hounded him about it. You'll have to forgive Urbs; he was still figuring out what exactly he had walked into.
The team's physical condition and overall nutrition were appalling to the new staff, and understandably the head man applied his authority evenly throughout the roster without discrimination. It was a learning experience all around, but especially for him.
Meyer quickly learned he didn't need to provoke Simon in the same manner he had to motivate someone like Cardale Jones, who by his own admission has needed every single kick in the ass that he has ever received. There was no need to manufacture any urgency for his returning senior captain.
Simon didn't need to be told to lift, work hard or eat right - that's like asking Ted Ginn to be fast. There was too much to repair at Ohio State to waste precious time on a foregone conclusion so he left Simon alone, who rewarded his coach by being the Big Ten's best defensive player and the heart and soul of an undefeated team.
Simon is emblematic of how Meyer discovered he did not have to manufacture adversity at Ohio State. Three full seasons after that revelation - and on the precipice of a national title - he still hasn't had to do it.
Prosperity tries the fortunate; adversity the great.– Rose Kennedy
His tenure has been defined by overcoming hardships ranging from unfortunate accidents to outright tragedies.
In 2012 the Buckeyes completed a perfect slate with the knowledge there would be no postseason waiting for them. In 2013 they won another dozen games - part of a 24-game streak - yet only either held their ranking or dropped following each win. Validating the pollsters' collective doubt by losing their final two games only thickened the fog that never quite burned off after 2011.
Then came this season, in which Ohio State has lost eight different guys off the top of its depth chart including - you may have heard this already - two Heisman-candidate quarterbacks playing behind a green offensive line that replaced a bunch of guys starting in NFL playoff games this weekend as rookies.
It has sustained season-ending injuries, career-ending injuries, one atrocious early-season home loss on the biggest recruiting night of Meyer's tenure in Columbus - and then the shocking death of Kosta Karageorge during Michigan week.
Winning has been both the outlet and the antidote for everything that has plagued Ohio State since 2011 ended; sanctions, misfortunes or worse. It's part of the reason why there wasn't the slightest hint of panic when the Buckeyes fell behind the Crimson Tide 21-6 early in the Sugar Bowl: This is nothing.
Every player on the roster has experienced what it feels like to be bad at football, disqualified from competing or cavalierly dismissed from consideration. Ohio State hasn't fallen behind often since Meyer arrived but when it has the team has fought back, even in rare defeat (how many teams ripped off 24 consecutive points against Sparty last year?) There is no quit in these Buckeyes; not on any play and not in any game.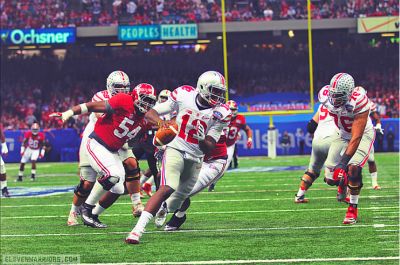 The freshmen who arrived in 2011 to play for a juggernaut unexpectedly lost more games than they won. Now they are seniors playing for a 14th win and a national title. The same thing happened 16 seasons ago with a different group of freshmen: A losing season, a coaching change and some terrible football later they were legends.
That hardened 2002 edition ripped away any lingering belief Ohio State was incapable of beating Michigan; a ghastly holdover from the 1990s that continued to hover over the program. The team playing for the championship on Monday solved the SEC puzzle last week and has begun to fill in the unmatched emptiness that accompanied a title-free, 24-game winning streak. 
It still feels like something isn't quite right: Beating Oregon would finally pile and layer enough dirt upon the darkest chapter in program history for it to be comprehensively buried.
A national title would also coincide with the NCAA sanctions expiring, as the roster gets all 85 of its scholarships back this fall. Ohio State would emerge from its probationary period in the most triumphant manner imaginable, and no one needs to enlighten the team as to how astonishing or important that would be.
That would be like telling John Simon to go work out.