Nick Saban cut his teeth as a defensive coordinator under Bill Belichick. So it is no surprise that defense has been the backbone of Saban's Alabama national championship teams.
Saban and his longtime defensive coordinator Kirby Smart have another stout defense this season -- particularly at the goal line. But the Tide's defense does have cracks on the edge -- both laterally and over the top – fissures Ohio State will surely seek to exploit.
A Flexible Spread Framework
Although Saban and Smart's base defense is a 3-4, against shotgun spread offenses Alabama generally operates from a 4-2-5, one gap front.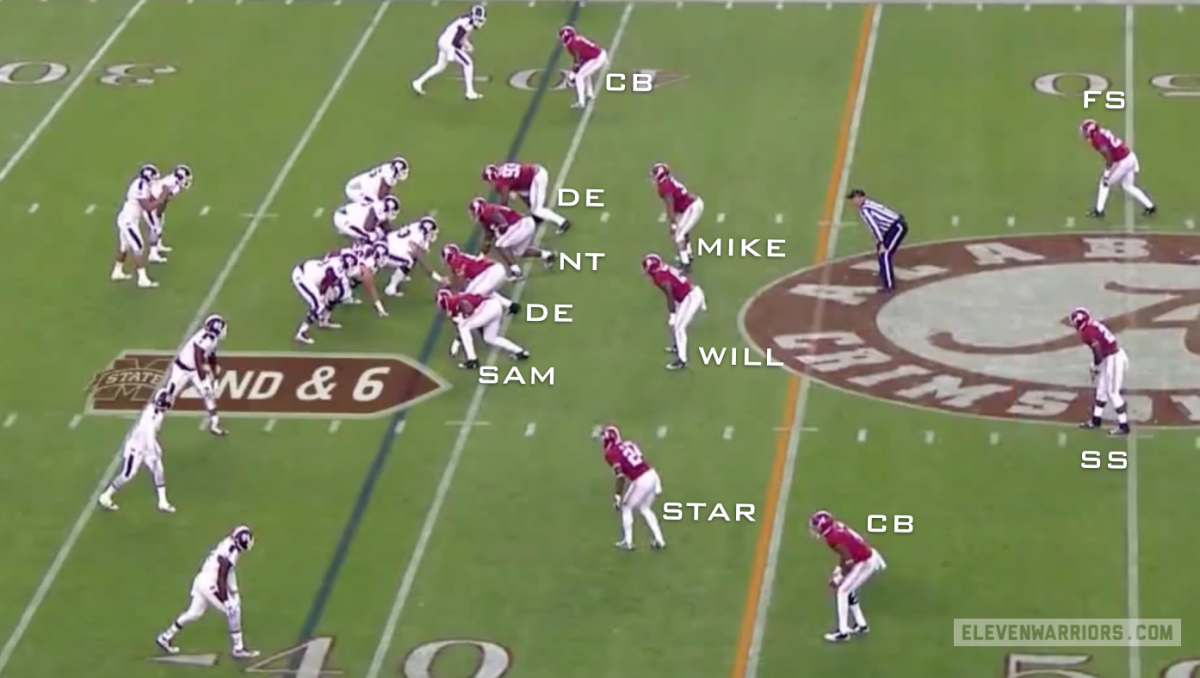 The first goal of this alignment is stopping the inside run game. More than perhaps any other college team, Saban and Smart prioritize big defensive linemen and inside linebackers that can plug gaps and control the line of scrimmage. The Alabama coaching staff often sacrifices a pure pass rushing end for defensive linemen who can stop the run.
Reflecting Saban's background as a defensive back coach, the Crimson Tide mix and match more coverages -- and do so seamlessly -- than perhaps any other college football team.
But if any coverage defines Saban, it is pattern-matching cover 3 -- referred to as Rip/Liz match. To operate the coverage, the Tide align in a two-high shell. But at the snap one safety comes down to the curl to flat zone to establish the traditional three deep, four under zone coverage.
The difference is that – by pattern matching – the Tide defenders play man coverage within their zones, akin to a basketball matchup zone. Most importantly, a designated underneath curl to flat zone defender will carry the number two receiver down the seam to prevent an offense running four vertical routes against three deep defenders.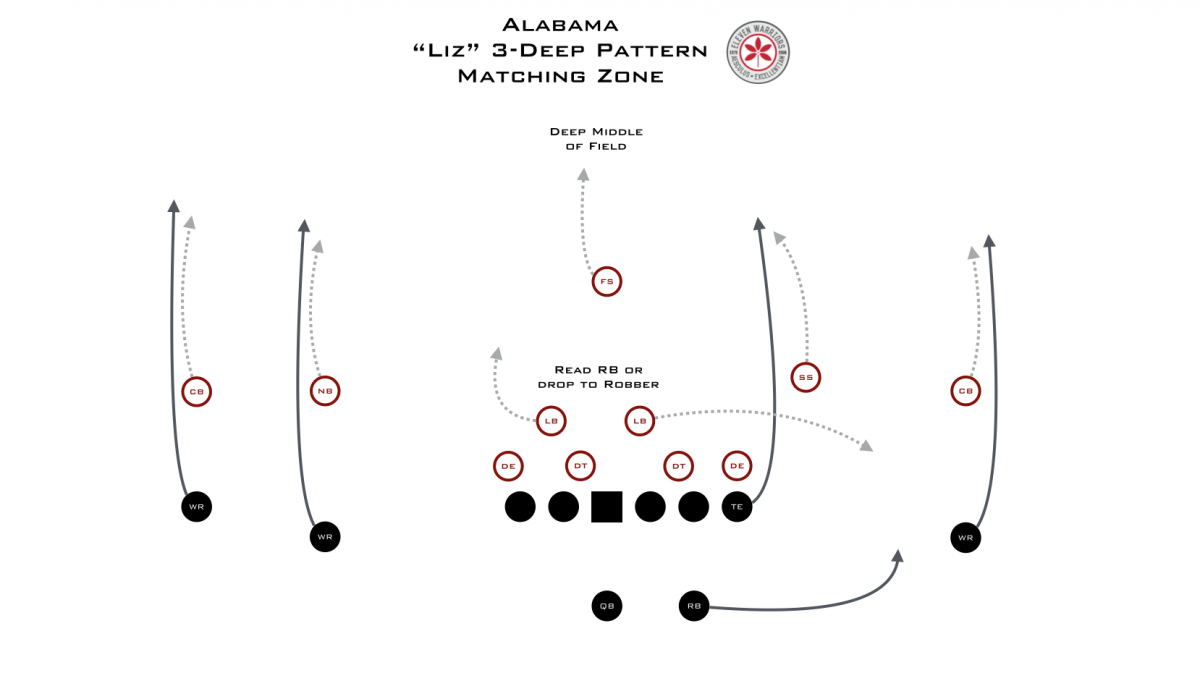 But Rip/Liz is not Alabama's only zone look. Saban and Smart also deploy multiple split safety coverages. Smart frequently calls cover 4 and quarter-quarter-half (under Saban's terminology, cover 7 and cover 8) against spread sets.
For instance, below Alabama utilizes Saban's cover 4 meg call against Mississippi State's quad set, putting the backside corner in man coverage and allowing the backside safety to provide front side seam support.
Although the Crimson Tide often play zone, Saban and Smart frequently dialed up cover 1 early against the Bulldogs to aggressively apply a safety and edge defender against the run. 
The Tide are not a blitz heavy team. But when spread teams begin having success running the football Smart will bring edge blitzes.
And on passing downs, Smart mixes an occasional man or zone blitz with a steady diet of cover 2 and cover 7. Philosophically, Saban and Smart are not as concerned with trying to create pressure so much as control throwing lanes and eliminate explosive plays.
Up the Gut
As noted, the strength of the Crimson Tide defense is in the middle. This begins with the run-focused defensive line, led by nose tackle A'Shawn Robinson and defensive tackle Jarran Reed. Saban and Smart will play up to 10 defensive linemen.
Linebackers Trey DePriest and Reggie Ragland are very solid as downhill run pluggers. And safety Landon Collins is the star of the defense. Collins is frequently called upon to clean up run and edge plays from a variety of spots.
Alabama's inside strength becomes most prominent in goal line and short yardage situations. The Tide have one of the best red zone defenses in football. For instance, Alabama held Auburn to four field goals inside the ten yard line in the first half -- critical in enabling the Tide's comeback.
Saban and Smart defend such situations by forcing teams to play outside the hashes. The defensive line will often align in a 4-3 pinch -- where the down linemen cover up the offensive guards and tackles.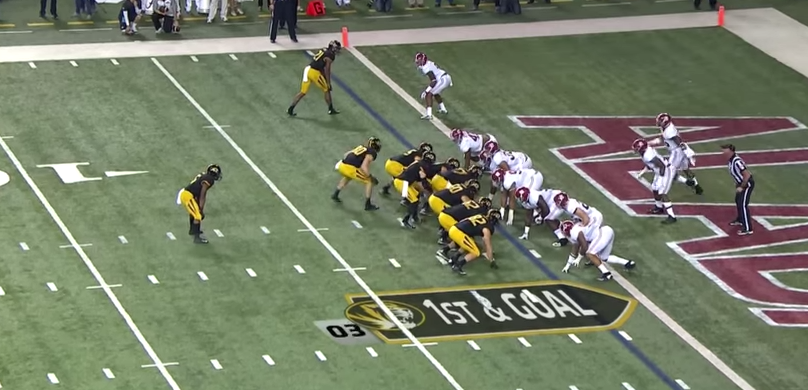 Or the Crimson Tide will use a tight 3-4 front with 4i defensive ends. Collins frequently comes into the box to serve as an additional linebacker.
Unable or unwilling to run against the tight Alabama fronts, opponents often feel forced to throw the football -- with mixed success.
Fill the Gaps
But despite (or perhaps because) of their inside strength, Alabama's defensive is vulnerable on the edges. The Crimson Tide linebackers are weaker moving laterally in space. As a result, teams have had success with plays threatening the edge, specifically inverted veer/power read.  
Likewise, opponents have found rushing lanes bouncing gap power plays and other runs outside. This is because DePriest frequently fills the hole, only to get beat outside.
And Mississippi State consistently gained yards in the second half hitting the running back in the flat underneath Alabama's zone coverages.
Picking
Alabama's corners have also been vulnerable outside the hashes -- particularly sophomore corner Eddie Jackson. To protect themselves, Alabama's corners often use bail techniques. This leaves the Tide susceptible to double slants in front of the dropping corners.
Perhaps more importantly, teams have been able to get behind the Tide corners vertically. Auburn repeatedly beat Alabama's cover 4 corners before the safety could come over in support.
Much of Missouri's offense likewise came from getting behind the Crimson Tide secondary to the sideline.
Punch – Counterpunch
The key to the Ohio State offense is the tight zone run game. And the Buckeyes can and should attempt to establish their inside run offense -- even if it is against the Crimson Tide's defensive strength.
Although they struggled early in the season with pass protection, the Ohio State offensive line has been consistently strong run blocking. The Buckeye offense line played very well in the season's second half, and it is critical that they have one of their better games against Alabama-- particularly the inside trio of center Jacoby Boren and guards Pat Eiflein and Billy Price.
But Urban Meyer and Tom Herman must pair the tight zone run game with edge plays. Although the Buckeyes did not need to rely upon jet sweeps against Wisconsin, H-receiver Jalin Marshall (and Dontre Wilson, if healthy) will play a critical role. For instance, given Cardale Jones' limitations running laterally, the tight zone run game can be paired with jet sweep action.
And -- as against Michigan State -- look for Herman to utilize gap plays such as wrap that allow Ezekiel Elliott to bounce outside, as well as plays such as buck sweep.
Inverted veer – if Jones can adequately read the play – could be critical, either with Elliott carrying or to Marshall off motion into the backfield with Elliott leading. Jones is most effective running north-south and the play provides Ohio State the opportunity to influence the Alabama linebackers and get the football to the edge.
In the passing game, Meyer and Herman will likely continue with what has been most effective for Ohio State this season -- namely hitting hitch and slant routes to Mike Thomas and Devin Smith and swing screen routes to Elliott against defenses overly focused upon the run -- and then seek to hit Smith over the top.
As he has all season, Smith inhibits a critical role. The Buckeye offense becomes difficult to defend if the Buckeyes are able to create explosive plays downfield. So Smith must win against the Alabama cornerbacks.
As with Michigan State and Wisconsin, look for Meyer and Herman to come out throwing early to create space for the run game. Saban and Smart will likely try and rotate coverages to confuse Jones. Penn State had some success with a similar formula against JT Barrett. 
So look for Ohio State to package coverage beaters to each side. But the short-long dichotomy of hitches and vertical routes reduces the need to read coverages for an inexperienced quarterback. 
But perhaps most critical for Ohio State is converting in the red zone. To do so the Buckeyes must look to create edge opportunities outside the base run game. In particular, look for the overload touch pass to Marshall and flat throws to the tight end off play-action.
And Jones must provide plays with his legs. Although not as natural a runner as Barrett, Jones must convert first downs with plays such as power and draw from empty formations where he can run downhill. This in turn sets up throws off the QB run action. 
The Ohio State offense has gradually expanded this season -- with jet sweeps, tailback swing screens, the quick passing game, and vertical throws -- that exploit defenses overly focused on the inside run. In doing so it has become a much more dynamic unit.
For the Buckeyes to be successful Thursday, all three assets -- the inside run game, edge threats, and vertical passing game -- must work in coordination.