We need to stop referring to Cardale Jones as a third-string quarterback.
He's not an internet meme or a Twitter punchline either; those are outdated descriptors. Everything we once knew about Cardale is solidly past-tense these days, as Ohio State doesn't even have the luxury of an active third-string quarterback anymore.
Even the identity of a second-string QB is somewhat shrouded in mystery. Yeah, sure, it's Jalin Marshall – who currently starts at another position. It's like Jim Bollman's offensive line "depth charts" where starting guards were also backup tackles, but that was inexplicably intentional. Nobody asked for this.
Ohio State doesn't even have the luxury of a backup QB encased in a brittle glass container with ONLY IN CASE OF EMERGENCY printed on it because Marshall has been actively covering for Dontre Wilson at H-back.
Ohio State in 2014 is BACKUP U, but it's hard to remember that when it's winning title games 59-0.
If the Buckeyes' third starting quarterback of 2014 is able to lead the team beyond New Orleans, he'll become the only one on the roster who was able to win in his second career start: Braxton Miller was yanked from his encore against Michigan State in 2011, and you only stopped incessantly hearing about J.T. Barrett's second start last week once the playoff committee made its previously catastrophic outcome suddenly irrelevant.
In case you're wondering, the most recent OSU QB to win his second start was Kenny Guiton - and prior to him, joltin' Joe Bauserman pulled it off too. In both cases, their second wins as starters were also their final wins as starters.
Cardale is playing a starring role in the College Football Playoff two weeks from tomorrow. Below is the entirety of his preseason buzz ahead of what was originally scheduled to be the Year of Braxton's Triumphant Heisman Campaign:
Cardale Jones also experienced the big, fast and scary slide. pic.twitter.com/4vX2EFfpDH

— Jerry Emig (@BuckeyeNotes) July 17, 2014
But as with the outdated memes and punchlines, we can't call Cardale a statistic either. Above all else, he's the most visible representative of the remarkable transformation that's taken place from the middle to the bottom of the Ohio State football roster. And he's far from the only one.
As was the case with Braxton, in August the Buckeyes were planning on having Noah Spence collecting his share of postseason awards. His indefinite suspension resulted in Ohio State playing 2014 without its first-team All-Conference rush end and the Big Ten's second-leading sacker. 
Spence's absence freed "double-teaming Michael Bennett, Joey Bosa or Adolphus Washington" from all opposing teams' brittle IN CASE OF EMERGENCY play-calling containers and allowed it to be part of the game plan. The entire line was rendered less disruptive with him gone.
Meyer and his staff are successfully blurring the roster hierarchy.
Spence occupied what's uniquely referred to as the Viper position at Ohio State (which got its name because it sounds cool). He was backed up last season by Steve Miller and Rashad Frazier, who have stepped in and collectively contributed statistics that don't even begin to approach what Spence would have delivered.
However, both of them have contributed just enough to keep teams honest with Bennett, Bosa and Washington. Add in Tyquan Lewis and Jalyn Holmes and you've got something resembling Spence's hypothetical production. Oh - and they're all coached by the Defensive Line Whisperer who was quickly brought in following Mike Vrabel's departure in January. 
Ohio State in 2014 is Backup U, but it's hard to remember that when it's winning conference title games 59-0.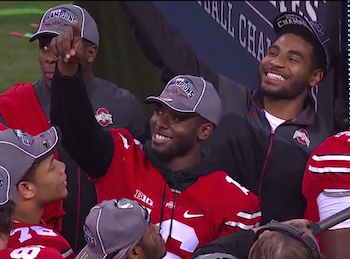 The Buckeyes have missed their best kick coverage gunner in Devan Bogard since the Rutgers game, which has resulted in unexpected guys like Bri'onte Dunn routinely blowing up returners. Dunn was originally supposed to be a top challenger to Rod Smith's Eddie George-Type Senior Year™, but ultimately Smith's nemesis ended up being Smith himself. 
He delivered Urban Meyer's all-time favorite block in the season opener, found the end zone in four straight games and was #2 on the depth chart in a crowded backfield before getting his eighth (ninth?) strike and losing his Buckeye football privileges permanently. 
Add in losing Wilson at H-Back, Armani Reeves at starting nickel and Johnnie Dixon at #2 Z-receiver and Ohio State played much and in some cases all of the season without its top two quarterbacks, Viper, gunner, #2 running back and a #2 receiver.
That's eight guys from the top of the depth chart. This team still made the playoffs, which shows how Meyer and his staff are close to successfully blurring the entire roster hierarchy. 
It's not condescending or a backhanded compliment; someone has to be average. There's a best and worst player on every roster at every level. Cardale was Ohio State's third-best quarterbacking option as recently as August. Now he's its only option under center unless the Buckeyes are forced into emergency scenarios no one wants to think about.
Ohio State has 7 players on ESPN's B1G Freshman team. The entire West Division has eight.
Recruiting in the Meyer Era has been publicly defined and celebrated through successful and sometimes brazen proselytizing for Ohio State without regard to traditional barriers or state borders. What's happened more quietly is the player development upon getting those guys on campus.
Despite the injuries and suspensions, Ohio State's roster is the closest it has been in a very long time to being a homogenous, competent blob that does not downshift for inexperienced or new personnel. This isn't the reloading, not rebuilding cliché; that happens between seasons. What the Buckeyes have done this year has occurred between weeks.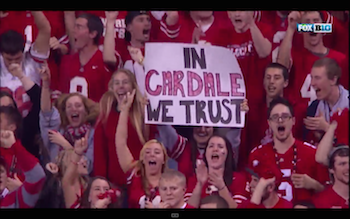 Ohio State has almost as many freshmen (7) on ESPN's Big Ten All-Freshman team as the entire B1G West Division (8). Championship teams require the delta between starter and backup to be almost negligible, both so that the competition for playing never wanes and performance doesn't drop off.
This is equal parts recruiting and coaching, and it means the Buckeyes are not going away no matter what happens in New Orleans.
In the meantime, Cardale is trying to become the first backup quarterback to get three wins in a season since Terrelle Pryor did it six years ago after taking the position from Todd Boeckman and then never giving it up. Unlike Pryor, all three of Cardale's first starts - should the Buckeyes advance to Jerryworld - would come under championship circumstances. 
He'd then enter next season having to battle two MVPs for a shot at retaining the privilege. This is far more exciting than how depth charts traditionally are supposed to flesh out, and it only happens when coaches successfully blur the roster hierarchy.
And it's why we need to stop referring to Cardale Jones as a third-string quarterback. That used to mean something else. Now it's an outdated descriptor.