Wow, last weekend was fun huh? Urban Meyer finally picked up the signature win he's been craving, and the Scarlet and Gray worked themselves back into the playoff picture. It was a great week to be a Buckeye, but now it's time to hunker down and notch these last three wins en route to a B1G Championship. To break it all down we've got Chris, Kyle and Ross. Take it away good sirs.
Beyond JT Barrett, what impressed you most about the Buckeyes on Saturday? 
Chris: I was most impressed with how Ohio State closed the 1st half – on the road no less - after committing a slew of mistakes early ranging from a missed field goal, Gareon Conley getting burnt twice and missing tackles, the punt return that went awry after Jalin Marshall didn't successfully direct his teammates away from the ball, and a handful of costly penalties before Dontre Wilson coughed up a kickoff to give Sparty the ball at the OSU 18 with the Buckeyes already down 21-14 with four minutes left.
On the brink of giving up a touchdown that would've created a 28-14 hole, the Buckeye defense held (aided by a MSU penalty and missed field goal), Barrett found Michael Thomas for a 79-yard touchdown on the first play of a drive, and the defense held once more before Barrett connected with Devin Smith on a 44-yard touchdown to give Ohio State a 28-21 lead at the break. It was like seeing the team grow up right before our eyes.
Kyle: Devin Smith and Doran Grant played their tails off. Both guys seemed determined to make statements and right the wrongs of last year's B1G title game. Smith, specifically, did an excellent job of route running, making the first 5 yards of every route look exactly the same, whether they were a 6-yard hitch or a 30-yard go route. Grant really stepped up and shut down Tony Lippett, who has been the go-to guy for Sparty all year. Good to see two seniors rise to the occasion.
Ross: The offensive line play. The use of play action gap pass protection made their job easier. But the interior of the line controlled the line of scrimmage and converted every short yardage and goal line situation.
What happened to Joey Bosa against the Spartans?
Kyle: MSU seemed to double-team or move the pocket away from him all night. By the end of the third quarter, he just looked worn down from fighting through all that, especially since OSU didn't have a quality backup to spell him. The DL depth has been an issue this year, and with Steve Miller's injury, it got even thinner. I expect him to bounce back against the Gophers.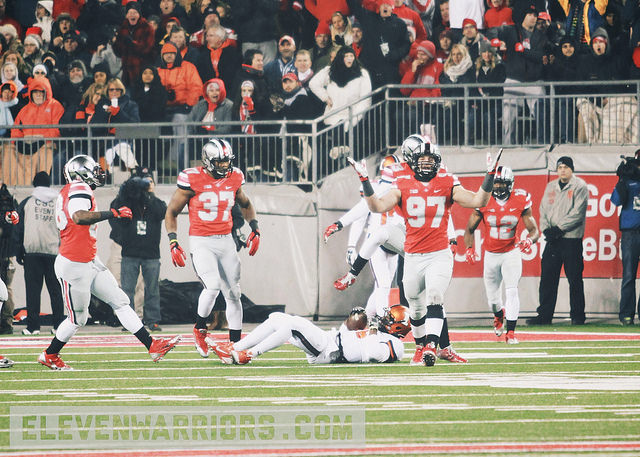 Ross: Although he didn't have gaudy numbers he did his job well. He didn't get to to the quarterback because he was double teamed and/or chipped by a back on most plays. 
At the end of the game the lack of defensive line pass rush depth hurt. He and guys like Michael Bennett were gassed, but they didn't have any capable back-ups to put in. So that hurt the pass rush more generally. 
Chris: I defer to Ross and Kyle as the technical experts to best answer this question. From what I saw, it looked like Mark Dantonio was hell bent on making someone else on Ohio State's defensive line beat him and that's exactly what Michael Bennett and Adolphus Washington did as the duo combined to contribute 10 stops, three TFL, two forced fumbles, a hurry, a sack and a pass break up.
How do you feel about the No. 8 ranking? 
Ross: Whenever you listen to Jeff Long, one thing becomes clear -- they are primarily focused on how many top 25 wins you have. OSU added a really good one Saturday -- but that's their only one. They have the opportunity for another one against Minnesota, and then the Big Ten championship game. Get to that point and I feel that OSU has a pretty good chance to be in the tournament.
Chris: I was hoping for a ranking as high as 6th, in front of Arizona State and Baylor but the Virginia Tech loss is the gift that keeps on giving and when you throw in the rest of Ohio State's schedule, I'm not surprised they landed in the 8th slot. I'm not sure if it's fair or unfair, I would only say that I am a little frustrated by the fact Arizona State seems to get a pass for getting completely blown out by UCLA while the Buckeyes get no leeway for losing to the Hokies despite it being the 2nd game for J.T. Barrett and a rebuilt offensive line. That said, I think the committee wants to see more from Ohio State because it is a team trending upward. If the Buckeyes can win their last four games in convincing fashion, knowing there are still plenty of losses lurking for the teams currently ranked 1-7, they will likely find themselves in the playoff.
Kyle: You could make an argument about being behind Baylor, but the Va Tech loss continues to look worse each week. Yes, Oregon's loss was bad, but they have a lot more quality wins than the Buckeyes surrounding that loss. Hard to make much of a case to be higher (for now).
Do the Buckeyes still have a shot at the playoff? 
Chris: I think it's way too early to try and play out every scenario, I just believe that if Alabama loses at home this weekend they fall behind Ohio State, Arizona State is still likely to stumble against either Arizona or Oregon, and Baylor is ripe to be passed maybe even on their bye week if OSU destroys Minnesota. That still leaves TCU to maybe slip up at Texas on Thanksgiving Day or Mississippi State could still easily lose to both Alabama and Ole Miss. This thing is so far from over that I think it's silly to spend a lot of time prognosticating at this point.
Kyle: Miss State beats Bama and Oregon beats ASU in Pac 12 title game, along with one of FSU or TCU losing. Everyone seems to be looking for reasons to dump the Noles, and TCU already has a loss. With a win over a good Nebraska team in the B1G title game, OSU would likely vault Baylor as well.
Ross: See above. I've long been of the opinion they are going to put four conference champions in. So I don't think there is going to be a second SEC team. And they are not putting both Baylor and TCU in. Now, if everyone wins out the Big Ten could be the conference champ on the outside looking in -- although it will be an interesting debate between the Big 12 champ and an OSU team that played an additional team and beat a top 15 team in the Big 10 championship.
But the odds are very much in their favor that one of the conferences will have a 2-loss champion. OSU's primary focus needs to be on winning their remaining games.  
How much will the loss of Dontre Wilson hurt this team? 
Kyle: Not as much as we probably think. Jalin Marshall has stolen a lot of playing time from him over the past month, proving to be more capable or being a pure receiver, without giving up anything in the running or return game.
Ross: I do not want to belittle Wilson's contributions, which have been substantial. But if OSU had a position where they could afford an injury, its at the H slot receiver, simply because they have another player, Jalin Marshall, who plays as much if not more. So it hurts. But between playing Marshall and then using more 12 personnel with Nick Vannett and Evan Spencer, they can fill the gap. 
Chris: I'm not one of the Dontre haters that chirps every time he's tripped up by a shoestring tackle, drops a pass or puts the ball on the turf but the reality is that despite Wilson leading the team in all-purpose yards and ranking 3rd in receiving, his loss only hurts the team if Jalin Marshall gets hurt in the interim. Marshall can do anything Wilson can do plus he's proven effective in the wildcat so as long as he stays upright, Ohio State doesn't lose anything but a bit of depth. 
What Gopher unit scares you most this Saturday? 
Ross: The Minnesota run game. OSU just doesn't see a lot of downhill run teams anymore. And MSU showed that OSU a) does not have a true run plugger in the middle and b) still have inconsistent inside linebacker play. That being said, I expect a better performance from the OSU run defense. My second choice would be how OSU responds to aggressive man coverage looks from Minnesota's defense. 
Chris: I'm not remotely scared of any Gopher unit as I think only an emotional letdown or crappy weather keeps this game close but to play along, I'll say Minnesota's secondary. In league action, they are giving up just 154 passing yards per game which ranks 3rd behind Iowa and Wisconsin. Knowing the weather could be sketchy, if Minnesota's pass defense is also aided by weather not conducive to throwing the football that could conceivably make Ohio State's offense one-dimensional and thus potentially easier to slow down.
Kyle: The tight ends. They won't do much through the air, but they're enormous and will be a handful for the OSU linebackers. The Gophers basically have six or seven linemen on the field with those guys, so the Buckeye front 7 will need to be prepared to be physical for an entire afternoon.
Will the Buckeyes fall victim to the almighty trap game? 
Chris: No. This team is hungry and they realize convincing wins are their only shot at a playoff bid. I think it also continues to work in their favor that so many of the starters and backups are underclassmen. They know they have to be ready to play or the guys they're battling against will steal their snaps.
Kyle: I don't see it. The trap game already happened in early September, and this team has improved week in and week out, I'd be shocked to see them lose focus.
Ross: I could see the Buckeyes having a slow start. But I ultimately do not see a trap, because I think Minnesota is too one-dimensional on both offense and defense.
And I think that, psychologically, Minnesota being ranked by the Committee is big. OSU can know they have the chance for another statement against a top-25 team (one that TCU played earlier this fall). 
What must the Buckeyes do to win this Saturday?
Kyle: Attack early and get a lead. Minnesota isn't built to come back, and would rather fight through a slow, low-scoring game. Get points on the board quickly and it will be over by halftime.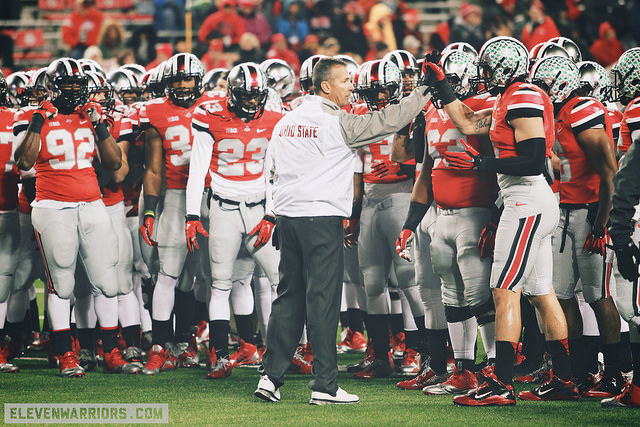 Ross: I expect Chris Ash to use a lot of cover-1 to get a safety into the box. If OSU limits the Minnesota run game the Golden Gophers will struggle to move the football. On offense, if OSU can run the football and hit some plays over the top (sound familiar?) they should be in a good position to win.  
Chris: Be emotionally ready to play and not turn the ball over. If they do those two things, they'll be fine.
Whats your final score prediction?
Ross: OSU 35-20.  
Chris: Ohio State 35, Minnesota 17
Kyle: OSU wins 38-17
Three weeks in, do you prefer the College Football Selection Committee to the BCS? 
Chris: I prefer the new system. It's not without its own set of concerns but the BCS always drove me crazy because a component of it included the Coaches Poll knowing full well the coaches were not only biased but couldn't possibly have time to effectively evaluate all those other schools which sometimes led to some lackey filling out the ballot on behalf of a coach. 
Kyle: I think it has led to even more ridiculous conversation, simply because its all human judgment now. But, I think we'll be much more satisfied in early January, if for no other reason than we get to watch three really meaningful games with good teams instead of just one.
Ross: I do, simply because I think the Committee is using a consistent formula for how they rank their teams, and they seem less susceptible to recency bias than polls. But mostly, I think four teams is far better than two.