In a game that will never be mistaken as a beauty contest winner on multiple fronts, J.T. Barrett put lipstick on the pig with two touchdowns in the overtime sessions and Joey Bosa sacked Penn State quarterback Christian Hackenberg on the game's final play to help Ohio State emerge victorious, 31-24, last night in State College. 
The victory marked the 19th-straight win for the Buckeyes in regular-season league action, one short of the B1G record set by Ohio State from 2005-07 and improved Urban Meyer to 7-0 in career overtime games. The road victory was also Ohio State's 11th straight, good for the longest active streak in the nation. 
Ohio State now sits at 6-1 overall and 3-0 in league play and kept its playoff chances alive despite highlighting issues that could cost them down the road including shaky offensive line play and a slew of other mistakes, many mental, in the overtime thriller. 
With that backdrop, and before we turn our focus to next week's primetime tilt against Illinois, we take a look at Five Things from last night's victory in Happy Valley. 
SLOPPY PLAY ALMOST PROVES FATAL
There's an old saying in football that goes "it's not the X's and O's, it's the Jimmy's and the Joe's". In reality, it's not quite that simple as the coaching and player personnel must mesh in order to produce a winning product against elite opponents. Last night, both the coaches and the players had their share of missteps. 
In a hostile environment, both Ezekiel Elliott and Mike Thomas has crucial false start penalties inside the red zone that might have cost Ohio State a touchdown and nearly cost it a field goal that eventually put OSU in front 10-0. Elliott's turned a 2nd and 10 into 2nd and 15 and Mike's put the Buckeyes in a 3rd and 16 hole.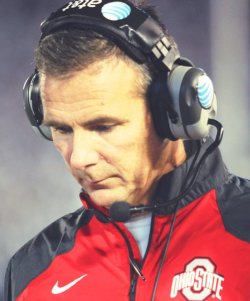 Those mental lapses were then nearly compounded when the Buckeyes, already pushing it with having struggling placekicker Sean Nuernberger attempt a 49-yard field goal, should have been nailed for a delay of game penalty that would've made it a 54-yard attempt. 
In the 2nd half, two more crucial penalties would keep Penn State scoring drives alive. With the Buckeyes leading 17-7, Joey Bosa was flagged on a 2nd and 20 play that was, in fairness, questionable at best as he rolled into Hackenberg's knee. In any case, it would've been 3rd and 20 without the flag. Instead, Penn State received new life and scored a touchdown six plays later to make it 17-14. 
Later, on Penn State's last gasp drive in regulation that ended with an overtime-forcing field goal, Curtis Grant was whistled for roughing the passer on a 2nd and 17 play from midfield. Grant hit Hackenberg cleanly as he let go of the ball but was flagged for unnecessarily throwing the quarterback to the ground. Again, a pretty questionable call and we never got a good look of exactly what Grant did after the initial contact but instead of it being 3rd and 17 from the 50, Penn State was given new life at the OSU 28. Six plays later, Ohio State was headed to overtime on the road. 
There were obviously numerous other player mistakes that OSU would like to have back such as Barrett's two picks and Nuernberger's missed 41 yard field goal, issues that could prove more costly against a better road opponent. On the coaching side of things, beyond the clock management snafu that should have cost OSU five yards before the 49-yard field goal, I still have no idea what the Buckeyes were trying to accomplish on the last possession of the 1st half.
With 1:17 to play and a timeout in their pocket, it first looked like OSU would try to move the ball as Barrett dropped back on 1st and 10 but had to tuck it when the line collapsed, going down with 1:10 left. Between downs, they let :26 run off the clock, hiking it on 2nd down at the :44 mark but Barrett ran up the middle for five yards. On 3rd down, OSU went shotgun but Barrett tucked it almost immediately and was sacked. You can debate whether or not OSU should have been more aggressive but what I don't get is why, after you let :26 run off between 1st and 2nd down that you would even put Barrett in position to take back-to-back hits when you have what looked like zero interest in trying to score. Barrett hurt his knee somewhere on that drive, most likely the 2nd down run, which could have been avoided and ended up being a factor the rest of the game. 
DEFENSE DOES THE JOB
Penn State's offense is a joke but the Silver Bullets deserve credit, especially the defensive line, for turning in a performance that helped offset the struggles of the OSU offense. 
In the first half alone, the defense held PSU to 78 total yards on six possessions, limiting them to just five 1st downs, 0/5 on 3rd down and only 1.2 yards per carry. The resulting zero points in the opening 30 minutes marked the first time since 2009 that the Nittany Lions were held scoreless in the 1st half. Penn State ran just two plays in OSU territory as the Buckeyes took a 17-0 lead at the break. 
The defense did yield 162 yards in the 2nd half for 240 total but 77 of those came on one drive accounting for nearly a third of their total game output. 
On the night, the Bullets racked up 10.5 TFL, five sacks, two picks and a forced fumble while giving up just 0.5 yards per rushing attempt. 
Bosa was the main story as he racked up six stops and 2.5 sacks including the game winner, overshadowing a solid performance from Josh Perry that featured 18 tackles including a pair of TFLs. 
OH, LINE
Ohio State's offensive line appeared to show improvement following the debacle against Virginia Tech but it was a bit hard to gauge because of lackluster competition. Last night, we learned the line, though improved from week two, still has plenty of work to do if Ohio State has designs on capturing a road win against Michigan State in two weeks. 
The run blocking wasn't completely atrocious as the Buckeyes did gain 255 yards on the ground but the net rushing was just 216 yards, or 3.8 yards per carry. The pass blocking was far worse especially up the gut as Jacoby Boren, Billy Price and Pat Elflein struggled with their individual matchups as well as cohesion/communication against stunts and twists. The pass blocking was so bad, combined with Barrett's struggles, that the OSU braintrust pretty much abandoned the passing game. Barrett's 19 pass attempts marked the fewest since the season opener while his carries (20) were the most since the week two loss to the Hokies. 
On 57 rushing attempts, the Buckeyes netted no gain on seven, lost yardage on four other legit carries and gave up three sacks. Some of stats (Scoring D, Rush D) might say Penn State has a better defense than Sparty but they don't. Penn State had played nobody before yesterday while Sparty had already faced Oregon and Nebraska so the Buckeyes have two weeks to improve up front if they want to keep their playoff hopes alive. 
boot-ylicious
Despite being called upon to punt just five times combined over the last four games, Cameron Johnston was at the ready and delivered big time for the Buckeyes last night. 
The sophomore averaged 45.0 yards per kick and pinned Penn State inside their own 15 yard line on four different occasions including three kicks inside the 10. Meanwhile, his PSU counterparts punted eight times for just a 34.5 average with exactly one kick inside the 20. 
Leading 10-0 midway through the 2nd quarter, Johnston helped OSU keep momentum with a 48-yarder to the PSU 9-yard line to set up a 3-and-out. Penn State punter Chris Gulla then shanked a 35-yarder giving the Buckeyes excellent field position at the Lion 39. Six plays later, Barrett found Jeff Heuerman for a one-yard score and a 17-0 lead. 
Midway through the 4th quarter, Johnston dropped a 41-yarder at the PSU one as the Buckeyes clung to a 17-14 lead and the Lions would eventually punt. Finally, after a Buckeye 3-and-out from midfield, Johnston pinned Penn State just inside the 10 yard line with just under three minutes left in regulation. The Lions would eventually kick the game-tying field goal but Johnston did his job once again. 
A NEW PERSPECTIVE?
Coming into the game, nearly everyone outside of State College and Las Vegas had the game pegged as a blowout. In fact, the vast majority of opinions I read or heard leading up to game time had Ohio State approaching or eclipsing the 50 point barrier for a 5th-straight week. Instead, the Buckeye offensive line got pushed around quite a bit and J.T. Barrett was nowhere near as effective as he faced consistent pressure for the first time in five games. 
As an additional residual, it looked as if the playcalling reflected a lack of confidence in both the offensive line and the quarterback resulting in a predictable, timid approach that produced just 17 points in regulation with two of scoring drives going for just 39 yards thanks to Penn State's punting woes. In fact, the offense's longest drive of the night was 59 yards capped by Nuernberger's 49-yard field goal. The offense had just one other drive over 40 yards (47, capped by missed field goal), with seven of 12 possessions going for 16 yards or less not counting the possessions to end each half or the two in overtime. 
Considering Ohio State's lone loss and last night's scare both showcased similar flaws, and that Virginia Tech (played William & Mary) and Penn State both essentially had week's off to prepare for the OSU offense, as will Michigan State and Pat Narduzzi, how confident are you in the ability of the Buckeye offense to effectively move the ball in East Lansing?