Playing their first true road game of the year, Ohio State had little trouble in dispatching Maryland, 52-24, in the B1G home opener for the Terps. 
J.T. Barrett was dominant once more with five total touchdowns, Ezekiel Elliott made it back-to-back weeks with 100+ yards rushing and the defense came up with four turnovers to ensure victory. 
The win improved Ohio State to 4-1 overall and 1-0 in league play as they head into another bye week before welcoming Rutgers to the Shoe at 3:30 p.m. on October 18th. 
Before we turn our attention to the league's other newcomer, we put a bow on yesterday's victory with Five Things. 
PAIN IN THE PASS
Randy Edsall's team had high hopes for pulling the upset but J.T. Barrett was once again too damn good directing Ohio State's offense. The redshirt freshman completed 18/23 throws for 267 yards and four touchdowns with another 71 yards rushing and a score to account for 338 of OSU's 533 total yards of offense. The number would've been higher but the big lead caused him to miss the bulk of the 4th quarter. 
Strengthening the "distributor" talk, Barrett hit seven different receivers on his 11 completions in the 1st half, including three for touchdowns. He continued to show great touch and decision making right from the start. On the first drive, he found Evan Spencer after calmly going through his progressions to set up Rod Smith's plunge and on the 2nd drive, he capped it with a perfectly thrown tear drop to Jalin Marshall in the back of the end zone – staring down an oncoming rusher but still stepping into the throw – for a quick 14-0 lead. Whether he's adding the stank needed on slants or perfectly leading guys so they don't have to break stride, Barrett's accuracy continues to impress. 
Yesterday marked the 3rd straight game in which Barrett has completed at least 72% of his passes and his TD/INT ratio during that span is an impressive 14/1 with 909 yards passing and another 156 on the ground. 
Another good sign is how he's attacked pressure instead of succumbing to it like we saw against Virginia Tech though I still maintain more fault lies within the game plan and the offensive line for that debacle. Yesterday, with Maryland showing a lot of blitzes and bear fronts, Barrett completed eight passes that went for 15 yards or more including a 25-yard touchdown to Mike Thomas and a 30-yard scoring strike to Devin Smith.  
EZE-DUZ-IT
I'm the first to admit I haven't been fully onboard the Ezekiel Elliott hype train but I tip my hat to him for what he's done the last few weeks.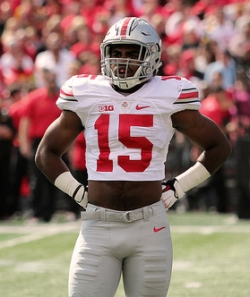 To be clear, I just wasn't sold on him being the bell cow if only because I don't yet see a homerun hitter on par with some of the recent greats to come through Columbus even though I certainly see a methodical, improving and extremely versatile weapon. Maybe when Curtis Samuel's ankle sprain heals he'll earn another shot at showing what he's capable of and take some of the carries currently allotted to Elliott and mostly Rod Smith but the true sophomore is slowly but surely making me a believer. 
Yesterday, admittedly against a pretty bad defensive front being handled by an improving Buckeye offensive line, Elliott punished the Terps with 139 yards rushing on 24 carries (5.8 ypc). Three of those went for double-digit yards with two going for 11 and one for 28 which helped setup Ohio State's first score. If you're interested, Barrett had four rushes of 10+ yards (20, 23, 11, 18) and Cardale Jones had the other two (17, 21). I think what impressed me post about Elliott yesterday was his cuts right at the line of scrimmage in situations where the planned hole wasn't there. He showed solid vision at the point of attack, shuffling horizontally to day light then busting through to the 2nd level. 
It's great to see him running with such confidence (love the Galloway-esque jersey tuck, btw) and you can see why as he's amassed 386 yards rushing over the last three games on 6.5 per carry. He's also been a factor through the air with 10 catches for 109 yards over that same span giving him an impressive 165 rush/pass yards per game on 7.2 yards per touch during Ohio State's modest three-game winning streak. 
MORE LIKE MARYLAND DERPS
As great as Urban Meyer is, there have still been a handful of legit instances where the contrarian view would say he and his staff were outcoached and/or over thought things in the heat of the game. Yesterday, it was Randy Edsall who really shot his team's chances in the foot late in the first half. 
Trailing just 24-10 after a 13 play, 75-yard touchdown drive (great interview, Delany but STFU when the game's on), Maryland forced a 3-and-out by the Buckeyes but with the wind at his back, Cameron Johnston unleashed a 69-yard punt pinning the Terps at their own 7-yard line with 1:12 left in the half. 
Facing a Buckeye front that had continuously pressured the quarterback to that point along with having the wind in their face and just one timeout, Edsall and staff dialed up a pass play in which the intended receiver was running a roughly 13-yard route. On cue, Joey Bosa beat his man and put heat on C.J. Brown who then forced a throw Darron Lee easily intercepted giving the Buckeyes 1st and Goal at the Maryland 1-yard line with 1:02 to play. Barrett found Nick Vannett for a touchdown on the next play giving the Buckeyes a 31-10 lead at the break. With Maryland already set to receive the ball to start the 2nd half, the decision to play aggressive proved a foolish one. 
BULLETS MAKE PROGRESS
After giving up 352 yards passing including three long touchdowns with just one sack and no turnovers in the win over Cincinnati, the Buckeye defense looked much better yesterday in holding Maryland to 310 total yards, or roughly 118 below their season average.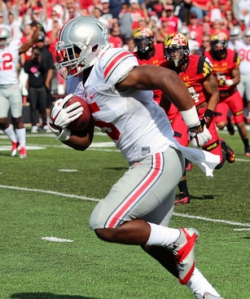 The defense was at its best early as they held the Terps to 104 total yards, seven first downs and 2/8 on 3rd down in the 1st half. In fact, Maryland had just 23 yards with 8:59 left in the 2nd quarter while Ohio State already had 24 points. 
Unlike the Cincy game when the defensive line failed to get significant pressure, the group dominated the line of scrimmage, particularly in the opening half, limiting the the Terps to 2.2 yards per carry (2.8 for the game) while racking up three sacks. Joey Bosa continued his dominance with five stops, two TFL and a sack in the first 30 minutes and the oft-maligned secondary held C.J. Brown to 11/18 passing for 71 yards with a long of 14 while also limiting Stefon Diggs to two catches for 19 yards. 
The Bullets weren't quite as good in the 2nd half with the game no longer in doubt as the gave up four pass plays of 15+ yards including a 25-yarder on Doran Grant and a 60-yarder on Cam Burrows – both on 3rd down – but overall it felt like a step in the right direction especially when you factor in the four interceptions, three of which came from freshmen including Raekwon's pick-six. Speaking of which, it sure felt like he played more snaps that Curtis Grant. 
The defense still has as much work to do as the offensive line if the Buckeyes are going to have a chance to win a night game in East Lansing a little over a month from now but at least things appear to be trending in the right direction. 
MONEY MIKE
You probably had to be at practice every day to understand exactly why Michael Thomas took a redshirt last year but whether or not the reasoning would resonate, the fact of the matter now is he's Ohio State's most consistent receiver and dynamic wide receiver. 
Yesterday, Thomas added to the highlight reel with a spectacular – even by NFL standards – acrobatic grab in the back of the end zone giving Ohio State a 21-3 lead early in the 2nd quarter. The 25-yard scoring strike showcased Thomas' concentration and awareness as he calmly jumped and reached over an interfering defender before delicately planting both feet in bounds for the score. 
He also added a 26-yard completion on the following possession by breaking a tackle on a 10-yard out route and racing up field. On the day, he finished with four grabs for 75 yards giving him a team leading 17 receptions for 322 yards and five scores on the season. Devin Smith still leads the group in yards per catch at 28.5 but Thomas is 2nd at 18.9 allowing him to also lead the squad in receiving yards per game at 64.4. The scary part for Buckeye haters is that many will tell you, including uncle Keyshawn, Thomas is just scratching the surface on his potential. 
Speaking of Smith, he sounded a bit frustrated with a perceived lack of touches this fall when talking to reporters after the game which is interesting considering it came on the heels of Thomas taking his starting spot on the depth chart. Smith has always come off like a team guy in the past and his remarks weren't inflammatory by any stretch but they are still an interesting footnote as Thomas emerges and Barrett continues to utilizes all, not just some, of the weapons at his disposal.