Fresh off a 66-0 dismantling of an overmatched Kent State squad, the Buckeye offense kept rolling in a 50-28 spanking of the chronically overconfident Cincinnati Bearcats last night in the Shoe. 
Though the revamped pass defense was scorched on three separate occasions for long touchdowns, J.T. Barrett and the OSU offense easily overcame the mistakes via 710 yards of offense and a school-record 45 first downs. 
In a game of runs, Ohio State scored 30 straight points at one point in the first half only to have UC counter with a 21-3 blitz of their own before the Buckeyes closed on a 17-0 spurt to provide the final margin. 
With the Bearcats in the review, the B1G slate starts next Saturday as the Buckeyes travel to Maryland but before we turn our attention to the Terps, we take a final look at Five Things from the victory over our friends from down I-71. 
BARRETT'S GROWTH CONTINUES
Yes, it was against another highly suspect defense but you had to like what you saw from redshirt freshman quarterback J.T. Barrett as he completed 26/36 (with four drops) for 330 yards and four touchdowns against zero interceptions. 
The 330 yards marked the 10th best single-season passing day in school history and with 79 rush yards thrown in, he racked up 409 yards of total offense – good for 2nd in school history. Let me take this moment to remind you he did this in just his fourth collegiate game. 
After throwing for 312 yards last week against Kent State, Barrett's 330 against the Bearcats gave him back-to-back 300+ yard passing games, something Terrelle Pryor and Braxton Miller never accomplished. In fact, you have to go back to 2005 and Troy Smith to find similar production. 
Guiding the offense to 710 total yards – good for 3rd most in school history – Barrett gave off a vibe of calm and control as he orchestrated the no huddle offense to near perfection. Given ample time to throw, he continued to show pocket presence and a desire to run through his progressions versus abandoning the pocket which is often the calling card of an inexperienced quarterback. 
We heard talk of Barrett of being a "distributor" just after Miller's injury and that has certainly been the case as J.T. found 10 different receivers last night but he's becoming much more than that. He's a leader and a playmaker who is improving each week. Yes, the Virginia Tech game was a train wreck but a leaky offensive line and questionable playcalling were much more attributable root causes to that disaster than Barrett's play. Minus that game, he has connected on at least 72% of his throws in the other three. On the young season, he's completed 63.6% of his passes on 9.88 yards per attempt with 13 touchdowns against five interceptions. By comparison, just to throw it out there, Penn State's Christian Hackenberg has completed at least 60% of this throws in only two of five games this year with four touchdowns against six picks and has zero touchdowns in three straight games.  
OFFENSIVE LINE GAINS CONFIDENCE
Urban Meyer made it clear through the first month of the season that his offensive line is a work in progress as the starting five wasn't yet fully settled. After last night, the group of (L-R) Taylor Decker, Billy Price, Jacoby Boren, Pat Elflein and Darryl Baldwin is now likely carved in stone. That combo has been on the field more often than not anyway and while Chase Farris also looked particularly strong in the rotation last night the cohesion shown by the starting unit was impressive.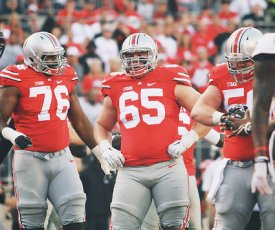 Again, it should be noted Cincinnati's defense reminds one of hot garbage but the guys in the trenches did what they're supposed to do against an inferior opponent as Ohio State racked up 380 yards rushing on 65 attempts, good for 5.8 per carry. 
Those numbers truly do speak to the offensive line's performance versus that of the ball carriers as the total yards and yards per carry were achieved with no running back having a tote longer than 21 yards and the primary ball carrier had a long of 14 yards on 28 attempts. Don't take that as a knock on the backs – that's not the point – it's just impressive to rack up 380 rushing yards without the aid of even one ridiculously long gainer. 
In particular, Boren, Price and Elflein excelled in creating huge holes up the gut as Ezekiel Elliott and company often didn't have to make any move to avoid a defender until they reached the 2nd level of UC's soft defense. 
The pass blocking did force Barrett to escape a collapsing pocket here and there but the line yielded just one sack and generally gave Barrett more than enough time to run through his progressions and step into throws. If nothing else, the unit's confidence is at a season high heading into next weekend. 
PASSING GRADE?
The subject of Ohio State's totally revamped pass defense was the talk of the offseason and through four games, the results remain a mixed bag. Last night, a talented Gunner Kiel completed 21/32 passes for 352 yards and four touchdowns against nary an interception. Three of the touchdowns came as Chris Moore straight toasted Vonn Bell, Eli Apple and Doran Grant on separate occasions to score from 60, 83 and 78 yards out. 
Looking at the overall totals and reliving the big plays, you might be inching close to the ledge. The silver lining, if you're into that sort of thing, is that minus the big plays which accounted for 63% of the passing yards, Kiel was limited to 18/29 passing (62%) for 131 yards (7.2 yards per completion) and the Beacats converted on 3rd down just four of 11 times. 
The reality is that growing pains or not, playing press coverage with little to no safety help will always have the potential to yield big plays. To me, the question is how effective can the defensive backs be in press coverage in limiting the number of big plays surrendered to make the strategy worthwhile and whether or not the plays last night were the result of guys still struggling to adjust to the new system of simply not being good enough in coverage. 
Depending on what Chris Ash and company see as the answers to those questions and what impact it has on scheme choices going forward will be interesting to watch. Ohio State obviously will not totally abandon press coverage but will they employ it less against the few legit passing teams on the schedule? They will certainly have to weigh the risk versus reward because that game last night should have never been a five-point contest with 9:20 left in the 3rd quarter based on how the Buckeye offense was playing. 
ELEVEN DUBGATE V LIVES UP TO THE HYPE
I'm sure I will take some flak for this but I made my 2014 Ohio Stadium debut after vowing to never go again following last year's fiasco at the Wisconsin game and the stadium experience was almost as disappointing. No cops were involved this year and none of the fan angst was directed at me but it only took Cincinnati's first 3rd down to have the Sit Down Crowd start their angry protests. O-H-I-O? More like B-I-N-G-O. I wanted to tweet about it but of course cell phone service in the Shoe is about as plentiful the space allocated for your ass.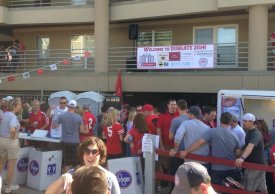 In all seriousness, it wasn't that bad this time around as Jason and I got to watch a rare game together but I do find it incredible people are willing to pay significantly over face value to watch a game in that environment. To each his own, I suppose. 
Meanwhile, a person only had to spend $40 to attend the Eleven Dubgate where the fans are rabid, restrooms, food, beer and TV's are in abundance, and seemingly every fan is passionate and knowledgeable. It was great getting to chat with so many of you and what can you say about the work Ramzy does in partnering with DSAchieves, Yuengling, City BBQ and countless others to pull it all together. Ramzy will share later this week just how successful the 5th annual Eleven Dubgate was in its efforts to raise money but obviously it was a rousing success setting an even higher bar for Eleven Dubgate VI. I know I speak for everyone on the team when I say thank you to our partners and to all of you for coming out and donating to such a worthy cause. 
A TALE OF TWO PROGRAMS
Some perspective is always a good thing and it's even better when said perspective is provided by your chief rival. 
Though Ohio State's playoff hopes took a severe jolt before the season started in the form of Braxton Miller's injury and experienced even more adversity when the Buckeyes dropped the home opener to Virginia Tech, the fact of the matter is things could always be worse. 
Up north, our friends in Ann Arbor are providing the blueprint of "worse" as the Wolverines dropped their third game of the season, falling to 2-3 overall and 0-1 in the B1G. In spectacular fashion, Michigan lost to Minnesota at home yesterday, 30-14, marking the first time in 135 years of Michigan football that they've lost three games in the month of September. 
Some other delectables include:
Michigan is 1-8 in its last nine games against Power Five schools. 
Hoke is now 28-16 at Michigan, good for a 64% winning percentage. 
Michigan is 3-8 over their last 11, good for a 27% winning percentage with five of those losses coming by at least 16 points. 
We already knew that Hoke had mastered Hear No Evil as the leader of the program refuses to wear a headset on game day. Yesterday, we saw he also has See No Evil down to a science as he reinserted a clearly wobbly Shane Morris back into the game in an unconscionable decision. Called on the carpet for the decision afterwards, Hoke sadly played the I Didn't See It card. Pathetic. 
Meanwhile, with that dumpster fire in full force, Ohio State fans have seen the Buckeyes go 27-3 over their last 30 games dating back to 2012 and 33-10 over the stretch of Hoke's tenure with the lone stinkfest coming in Fickell's doomed 6-7 interim campaign. Yes, there have been some bad and painful losses in big games. Yes, the defense, the linebackers and secondary in particular, have not been up to Ohio State standards over the last handful of years. I don't excuse those things and neither should you but the lucky part of all this is: We're Spoiled. 
Can you imagine going through what Michigan Fan is dealing with over the last 6+ seasons of Rodriguez and Hoke? The team is a cumulative 43-38 (53%) during that stretch with zero B1G titles, one bowl win and three bowl losses with two of those coming in not-close games to four-loss Mississippi State (52-14) and a 7-5 Kansas State outfit (31-14).