With a bevy of blue chip prospects, LeBron James and a record 107,517 fans on hand to watch Ohio State battle Virginia Tech, the Buckeyes themselves were a No-Call, No Show in a humbling 35-21 defeat at the hands of the impressive Hokies. 
In a contest in which the Buckeyes never possessed the lead, Ohio State featured dismal offensive line play and receiver play, and atrocious special teams, against a decidedly superior game plan. 
Against those factors, the program surrendered its first home-opening loss since 1978 and its first home defeat against an unranked, non-conference foe in 64 tries. 
With all that good news serving as a backdrop, we take a last look at the loss to Virginia Tech before turning our attention to Kent State. 
BARRETT BATTLES AGAINST UNBEATABLE ODDS
On the surface, it's easy to throw some shade toward quarterback J.T. Barrett based on a stat line of 9/29 passing for 219 yards with one touchdown against three picks but in my estimation, the redshirt freshman was far from the root cause of Ohio State's offensive woes. 
Making his 2nd collegiate start, Barrett indeed made his fair share of mistakes such as holding on to the ball too long and staring down receivers at times but otherwise, he hung tough in the face of jailbreak pressure and showed poise by hiding his frustration with the offensive line or receiver struggles. 
Hampered by a game plan that seemingly featured about 80% go routes which are low percentage plays to begin with (especially when targeting 5'9" receivers like Dontre Wilson), Barrett had a number of throws that were right on the money and a couple purposeful back shoulder throws in an effort to "throw open" a group of receivers that were mostly unable to gain any separation in one on one coverage. 
Frankly, I lost count of how many drops Corey Smith had as he continuously tried to catch the football with his body instead of his hands including a sure-touchdown in the first half and a key slant route on Ohio State's 2nd possession after halftime. 
With the play-calling, drops and constant pressure stacking the odds against Barrett's completion percentage, his efforts were further hampered by Ohio State needing 8+ yards on 12 of their 16 third down conversion attempts which only fed into Hokie defensive coordinator Bud Foster's plan to bring pressure. 
I don't mean to come off like a Barrett apologist but for a kid making his 2nd start, I see potential for him to be the efficient distributor he's advertised to be as a passer and his poise is particularly impressive. Also, he's not Braxton Miller on the run – nobody is – but he's made some plays with his feet including a few huge runs on 3rd down after plays have broken down. 
BACKING THE LINE
Throughout fall camp we heard Urban Meyer and Luke Fickell heap praise on senior middle linebacker Curtis Grant for his growth as a player and leader, the latter of which helped him secure a spot as a captain of the team. And while hyperbole is nothing new for Meyer when it comes to talking about his players, Grant has been solid in run support though depending on who you believe I'm not sure the same can be said for his abilities in pass coverage.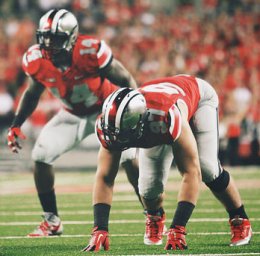 Grant paced the team with 9.5 stops last night including a pair of tackles for loss as the Buckeyes held Virginia Tech to 3.0 yards per a carry.  
Last night, the Hokies leaned on crosses and other intermediate routes in what I saw to be a successful effort to take advantage of Grant's shortcomings in coverage. My admittedly untrained eye felt he struggled to keep up with tight end Ryan Malleck and company on a handful of receptions and other times he either didn't gain enough depth or didn't have awareness of his man as he focused his vision solely on the quarterback. This isn't a new problem. 
That said, while names like Matt Finkes seemed to agree with the assessment that Grant was abused in coverage on more than one occasion, one other name I trust went as far as to call this Grant's breakout game. 
Either way, considering Grant's past struggles and the reality Vonn Bell sat behind a woefully unproductive Pitt Brown for a full season, I would love to see Raekwon McMillan at least see the field from time to time to avoid any risk of becoming disconnected while gaining a little bit of experience before he takes over the starting job next fall when the Buckeyes could actually be a threat to make noise in the playoff race.  
ISN'T THAT SPECIAL
While the offensive line easily won Shitshow of the Night honors, poor special teams play was also a huge factor in the disappointing loss. 
Horrible field position created through poor special teams play helped the Hokies jump out to a 14-7 lead in the 1st quarter. After an Eli Apple interception thwarted Virginia Tech's opening possession, the OSU offense quickly went 3-and-out setting up a Cameron Johnston punt. The sophomore phenom shocked everyone when he shanked a 24-yarder giving the Hokies excellent field position at the Ohio State 43-yard line. Ten plays later, the Hokies took a 7-0 lead. 
After Ohio State answered with a touchdown drive of their own to tie game, reserve safety Ron Tanner lost his mind on the ensuing kickoff, tackling Deon Newsome so far out of bounds they both almost ended up in the first row of AA deck. The 15-yard penalty gave Tech possession damn near midfield, at their own 42, and they again took advantage marching 58 yards on nine plays to take a 14-7 lead. 
On the ensuing possession, Barrett again the led the Buckeyes down the field but an incompletion stalled the drive at the Hokie 23-yard line. Fresh off nailing a pair of field goals against Navy including a 46-yarder, true freshman placekicker Sean Nuernberger badly hooked a 40-yarder allowing Virginia Tech to maintain the 14-7 edge.
After a 3-and-out by the Bullets, the offense marched 57 yards in six plays to the Hokie 10-yard line but again had to call on Nuernberger, who again badly hooked the 27-yard field goal attempt. Rough night for the kid to be sure although his credentials coming in are enough to kep me firmly in his camp. 
Wanting to get in the mix, the kickoff coverage team yielded a 35-yard return late in the half to once again give Virginia Tech great field position at their own 39. Eight plays later, the Hokies were up 21-7 with less than a minute left in the half. 
The final act from this group came early in the 4th quarter just as Ohio State had seized momentum following a 15-yard touchdown gallop from Ezekiel Elliott to tie the score at 21 all. Needing a stop from the defense, preferably one that provided a short field for Ohio State's struggling offense, Kyle Clinton's kickoff sailed out of bounds giving Tech the ball at their own 35 yard line. Six plays and 65 yards later, Tech scored what proved to be the game-winning touchdown. 
SAFETY DANCE
Vonn Bell is a player. And just imagine how much better he'd be right now had he been given more of an opportunity to gain valuable reps and experience a season ago.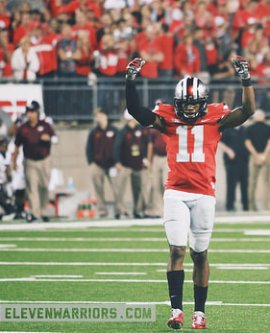 Coming off a seven tackle performance in the Orange Bowl loss to Clemson, Bell battled Cam Burrows for a starting job at safety opposite Tyvis Powell all spring and fall. Last week, though we knew beforehand both would see time, Burrows earned the start over Bell though Bell tallied seven stops compared to four by Burrows. 
This week, Bell earned the start and responded with four solo stops, two assisted tackles and an interception giving the OSU offense great field position at the Hokie 49-yard line late in the 3rd quarter. Regardless of his tackle tallies, what I most like about Bell is that he doesn't typically miss tackles because he actually uses his arms to wrap a ball carrier instead of just trying to unload on a guy in an effort to make the highlights. He's probably still learning the nuances of a new pass defense but with more snaps he's going to be a beast. 
At this point, not that I'm advocating it, but I wonder if any rotation at safety should be between Powell and Burrows as opposed to Bell and Burrows. 
HOKIE HAT TIP
Though it's easy to focus on everything Ohio State didn't do last night, the Hokie players and coaches deserve a huge hat tip for coming into the Shoe and dominating the Buckeyes. 
Hokie defensive coordinator Bud Foster took Tom Herman and Meyer behind the woodshed. Foster brought the house in an effort to exploit Ohio State's inexperience along the offensive front and at quarterback and all Herman/Meyer could think to do was dial up continuous low percentage go routes. That plan was obviously foiled by Tech having more experience talent in their secondary than Ohio State had a wide receiver. 
Offensively, the Hokies scouted Ohio State's weaknesses at linebacker especially in pass coverage and used the tight end to expose it all night long. Of course, that plan wouldn't have worked if not for the clutch throws and impressive toughness shown by quarterback Michael Brewer. He threw two picks but in between he completed 64% of his passes, made huge plays on 3rd down and bounced back from some legit hits from the OSU defense to key the upset.