Hey Coach,
Here we are again, can you believe it? The beginning of August with the promise of another football season on the horizon. This is your third year on the sideline. WOW that went fast. It feels like just yesterday I was talking about how I used to hate you.
Of course we're over that now. How couldn't we be? You've given me nearly everything a fan could ask for: offensive explosions, wild comebacks and of course two undefeated regular seasons. But you, with your attention to detail, probably noticed one word that was askew in that last sentence. You saw it right? Yeah you did.
"Nearly".
Nearly is a funny word. When you're a kid nearly is a good thing. It suggests improvement. It suggests growth. "Oh Johnny you nearly rode it without the training wheels!" That kind of thing.
Conversely, in sports, nearly isn't a word you want to see in the same sentence as your rooting interest. You're a Tribe fan right Urban? In 1997 the Cleveland Indians nearly won the World Series. How did that nearly feel Coach? Yeah, I know…me too.
Nearly in sports hurts because it implies you had a shot, and having a shot is far more painful than coming up incredibly short. We had a shot last year coach. You knew it, I knew it the nation knew it as Auburn's, Chris Davis, raced down the sideline untouched on a November night in Jordan-Hare stadium.
Everything lined up perfectly. The 24-0 Buckeyes finally had a chance to prove to voters, computers, whoever that leaving them at No. 3 despite a mountain of wins was the wrong decision.
Well unfortunately the rest is history. The Scarlet and Gray ran into a Michigan State buzzsaw. A porous secondary was exposed for what it was, and the Spartan defense did just enough to bring it home. All that was left was sadness…and The Papa. It was an unceremonious end to a storybook ride, but there was still a chance for redemption…and we nearly had it if not for a punt return gone wrong (ugh, there's that word again).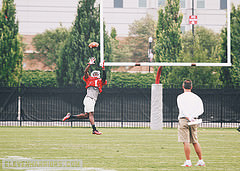 But, like I said, nearly is funny. It can drive you to do strange things like take a hard look at what went wrong. With that introspection comes improvement. A new leader, a new scheme, new pieces, and new drive. Those are the burning embers that emerge out of the ashes of nearly, and they've been heating up all offseason long.
So here we are at the beginning of camp. We've got the most talent you've ever had on a Scarlet and Gray roster, we've got the most speed Ohio Stadium's seen in a long time…and we've got nearly. For the first time in your Columbus career...we've got nearly.
That's a powerful thing.
Sincerely,
Any Ohio State Fan.