Our long, dark crawl through the college football off-season continues. Nary a football will be booted in a Buckeye game for more than 40 more days.
As much as we look forward to the Aug. 30 kickoff against Navy, it's still more than a month away. So instead, we'll look backward.
And there's nothing better to look backward at than the greatest rivalry in all of sports. Summer is a great time to break out DVDs of Michigan games past and BTN obliges with some classic games as well. Just the other day I was watching the 1984 version—the first I saw in person—a 21-6 victory that sealed a date with USC in the Rose Bowl.
That was not a banner year for the Wolverines, who finished 6-6 (5-4 in the Big Ten). But it was a fun game for me and it got me thinking about my favorite wins over That Team Up North. After much consideration, I have brought those five home for your perusal here in this very column.
These are my considerations for the best Ohio State wins in The Game since 1970. Many of them had Rose Bowl or national championship implications. Most of them figured in the Big Ten race. All were memorable for one reason or another.
Here we go.
5) 1987 - Ohio State 23, Michigan 20 (Ann Arbor)

It was a terrible season and Earle Bruce had already been dismissed as head football coach. The Game in Ann Arbor would be his final act as the man in charge. The Buckeyes were 5-4-1 and looking to avoid a .500 season and a losing Big Ten record. Michigan was 7-3 with two conference losses, including one at Indiana (seriously!). This game didn't have the most at stake, but the Buckeyes wanted to win this for Bruce. They even busted out white headbands with "EARLE" written on them.
Despite the emotion, Michigan broke out in front 13-0 early on a Jamie Morris touchdown run and a pair of Mike Gillette field goals. The defense started to turn the tide with a forced fumble that Tom Tupa converted with a short TD pass to Everett Ross to pull within six points at the half.
The Buckeyes stopped Michigan to start the second half and stunned the Michigan Stadium crowd with a short pass from Tupa to Carlos Snow that the nifty running back turned into a 70-yard score. Ohio State led 14-13. After David Brown picked off Wolverines quarterback Demetrius Brown (no relation) and returned it to the 19, the Buckeyes scored on a Tupa keeper but missed the extra point.
Snow's fumble led to a tying touchdown and the teams entered the fourth tied at 20. A 77-yard drive capped by Matt Frantz's 26-yard field goal provided the go-ahead score and a Leroy Hoard fumble ended Michigan's hopes.
Earle was carried off the field in celebration and a younger version of me sprinted out to the block M at midfield, briefly contemplated relieving himself on it, and then regained his sense and simply danced a jig. Bruce went out a winner with a 6-4-1 mark on the season as Ohio State decided not to accept a bowl invitation in the aftermath of firing its coach. Michigan took out its frustration on Alabama, 28-24 in the Hall of Fame Bowl to finish 8-4 (5-3).
4) 1979 - Ohio State 18, Michigan 15 (Ann ARbor)

The other end of the Earle Bruce era spectrum took place in 1979. In Earle's first time as head coach in The Game, his Buckeyes were 10-0, ranked second in the country, and in search of the national championship. No. 13 Michigan was 8-2 (6-1) and looking for a share of the conference title.
Ohio State scored first on a short Vlade Janakievski field goal, set up by two nice runs by backup tailback Jimmy Gayle. Michigan threatened to take the lead, but the Buckeye defense came up with a goal line stand to preserve their slim advantage. It was temporary though, as John Wangler's 59-yard bomb to Anthony Carter gave the bad guys a 7-3 edge late in the first half. Janakievski added another short field goal just before the break to make it 7-6.
Art Schlichter found Chuck Hunter early in the second half to make it 12-7, but the two-point try failed. Fullback Roosevelt Smith restored Michigan's lead with a 1-yard dive and added a two-point conversion to make it 15-12 late in the third quarter. An OSU scoring chance died at the Michigan 10 on a Gayle fumble, but the Buckeyes broke through and blocked a punt later and Todd Bell ran it in. The two-point try failed again and Ohio State had its final margin of victory.
A more comprehensive look at this game and the build-up to it is available here. The Buckeyes went on to a heartbreaking 17-16 loss to USC in the Rose Bowl to finish 11-1. The Wolverines lost 17-15 to North Carolina in the Gator Bowl to finish 8-4.
3) 1975 - Ohio State 21, Michigan 14 (Ann ARbor)

The 10-0 Buckeyes squared off against 8-0-2 Michigan. Both the Wolverines' ties were in non-conference play, so this game was for the Big Ten title and a Rose Bowl berth. There was more at stake for Ohio State, but the game was on the road against a determined opponent.
The Buckeyes led early on Cornelius Greene's wobbly six-yard touchdown pass to fullback Pete Johnson. But Michigan's defense took over after that, making life miserable for Ohio State's offense. The teams traded turnovers for a while before Gordon Bell found Jim Smith on a halfback pass to tie the score at 7 before the half. Archie Griffin fumbled the ensuing kickoff but Michigan missed a field goal try before the break.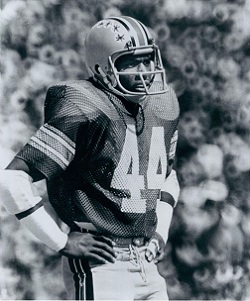 The Wolverines went ahead 14-7 on a Rick Leach 1-yard quarterback keeper midway through the fourth quarter. Things looked bleak the way Ohio State's offense had been stymied, but the Buckeye offense, held without a first down since the second quarter, roared to life.  Johnson dove in from a yard out on fourth down to cap an 80-yard, game-tying drive with 3:18 to play.  
Just when it looked like a tie was probable, Michigan opened up the offense on its next possession. But the Buckeyes were waiting. Ray Griffin intercepted Leach's third-and-long pass and returned it to the 3-yard line. Johnson powered it in for his third score of the game with just over two minutes remaining. Hopalong Cassady's son Craig intercepted Leach to seal the win.
Coming from behind with two touchdowns in the last three and a half minutes was a fantastic gut punch for Bo Schembechler's Wolverines.
Ohio State went on to a 23-10 loss in the Rose Bowl against UCLA, which avenged its regular-season loss to the Buckeyes in Los Angeles. The Buckeyes finished 11-1 (8-0). Michigan lost to Oklahoma 14-6 in the Orange Bowl to finish 8-2-2 (7-1).
2) 2002 - Ohio State 14, Michigan 9 (Columbus)

We all still remember the wild ride of 2002. The narrow wins over Cincinnati, Wisconsin and Penn State were just tense preambles to the trip to West Lafayette and the season-saving "Holy Buckeye" play. Next came an overtime squeaker over Illinois on the road and suddenly the 12-0 Buckeyes were a win from a showdown for the national championship. Michigan was 9-2 but was still nominally in the conference title chase—plus the Wolverines wanted to destroy Ohio State's dreams.
Brent Musburger was screaming into his microphone before the game even began.
Michigan struck first after Ohio State went three-and-out on its first possession. The Wolverines connected on Adam Finley's 36-yard field goal midway through the first quarter. The Buckeyes answered right away, with Maurice Clarett finishing a nice drive—which included a 29-yard scamper by "the difference maker"—to make it 7-3.
John Navarre led Michigan back down the field on the ensuing drive, but the defense held and Finley added a 35-yarder to trim the lead to a single point early in the second period. The next OSU drive stalled and Andy Groom pinned Michigan inside its 10-yard line. But Navarre drove his team down the field and his jump ball found Braylon Edwards in the end zone with a minute left before halftime, giving Michigan a 13-7 lead.
NOPE! Edwards was flagged for obviously pushing off Chris Gamble and Michigan had to settle for a 22-yard Finley field goal and a 9-7 halftime edge.
The game remained that way through the third quarter and deep into the fourth. Ohio State trailed late once again with a championship season on the line. But Craig Krenzel hit Clarett with a 25-yard pass to set up a weak-side option pitch to Maurice Hall's go-ahead touchdown. It was 14-9 with under five minutes to play. Michigan moved the ball on its next possession but Navarre fumbled on a sack in OSU territory and Will Smith recovered to thwart the drive. The Wolverine defense held and got Navarre the ball back for one last gasp. A series of quick passes gave them life at the OSU 25, but Will Allen extinguished that life with an interception on the final play.
The 13-0 (8-0) Buckeyes went on to beat Miami in the desert to win the national championship, while Michigan finished 10-3 (6-2) after defeating Florida 38-30 in the Outback Bowl.
1) 2006 - Ohio State 42, Michigan 39 (Columbus)

They named it "The Game of the Century." Ohio State was ranked first in the country. Michigan was No. 2 and all that stood in the way between the Buckeyes and a shot at a national championship. The stakes could not be higher. And on top of all of that it was Senior Day. Troy Smith would cap a Heisman Trophy career with his final game in the Horseshoe.
Chad Henne led the Wolverines on a game-opening, 80-yard touchdown drive, punctuated by Mike Hart's 1-yard run. Smith countered with a strike to Roy Hall on the next drive. Ohio State took control with a 21-7 second quarter. Beanie Wells busted a long TD run and Smith hit Ted Ginn for a 39-yard score. Henne threw a touchdown pass to Adrian Arrington with a couple minutes left in the half, but Smith was masterful in the two-minute offense and added a strike to Anthony Gonzalez before the break.
Michigan cut the lead to 28-24 in the third before Antonio Pittman carved the Wolverine defense for a 56-yard scoring run. Hart's 4-yard run again trimmed the lead to four points after Doug Datish's bad snap turned the ball over at the OSU 9-yard line. Smith found Brian Robiskie for an insurance touchdown, which turned out to be needed. Henne found Tyler Ecker for a 16-yard score and added a two-point pass to Steve Breaston. Ginn fell on the onside kick, Pittman ran for a first down, and the game was over.
Smith earned his third straight win over Michigan and Henne and Hart lost the third of their four straight defeats in The Game. The Buckeyes went on to the National Championship Game where I'm sure they went on to win big over Florida, although right now I can't recall any of the details of that game for some reason. Want to see it again? Here you go:
---
Those are the five iterations of The Game in the modern era that stand out to me. What are your five?