The off-season is a great time to make predictions, because literally anything can happen between now and the end of college football season.
About a month ago, I put on my Dumbledore hat, grabbed my crystal ball, and tried my hand at scrying into the fall to predict who the top five tacklers on the Buckeyes will be at the end of the 2014 season. This time around, I'll peer into the future to let you know who the five most prolific pass catchers will be, including (of course) the number of receptions, yards and touchdowns they'll end up with. 
I feel comfortable doing this, because there's almost no chance I'll be wrong*.
*In my mind.
Before I get to the bold predictions below, it is helpful to remember that four fifths of the offensive line will be comprised of new starters in 2014, and the only starter — Taylor Decker — will be switching from right tackle, to left tackle. If there are any Khalil Macks out there waiting to play against Ohio State this year, it would probably be wise to fit Braxton Miller for a suit of armor.
In addition to the new line, Miller loses his top receiver of 2013. Philly Brown went off for 63 catches, 771 yards and 10 touchdowns. Dontre Wilson is reportedly the man to fill Philly's shoes this fall, but it's a legitimate argument to say that the sophomore-to-be has yet to show he's capable of handling every down duty in place of Brown.
I believe the passing game will fall off a little from last season based on the above concerns regarding the offensive line and the loss of Brown. An increase in development from Miller could negate or at least mitigate some of that drop-off.
But you came here to see how wrong I am, so let's make with the predicting.
5. Michael Thomas
Thomas has been waiting in the wings long enough. It's time for him to come out of the shadows and have a breakout year. With only three career receptions to his credit, it won't take much for Thomas to put up his best career season so far. He redshirted last year after that three-catch freshman campaign in 2012.
I expect Thomas to be a regular in four-receiver sets and he may make sneak some playing time away from Evan Spencer and possibly even spell Wilson or Devin Smith at times.
Prediction: 27 receptions, 289 yards, four touchdowns.
4. Evan Spencer
Spencer is too valuable a blocker to take off the field, and neither Urban Meyer nor Tom Herman will want to telegraph passing plays by situational subbing. The senior-to-be can catch the football. His criticisms have been more with beating his man than catching the football.
He made three receptions as a freshman in 2011 (his first was insane) for 78 yards and a score. Spencer followed that up with a 12-catch season as a sophomore, covering 136 yards, but without a touchdown. A year ago he was Ohio State's fourth-leading receiver with 22 grabs for 216 yards and found the end zone three times.  
Prediction: Again finishing fourth in catches, Spencer will continue his upward trend, snaring 30 balls for 292 yards, but scoring three times again.
3. Jeff Heuerman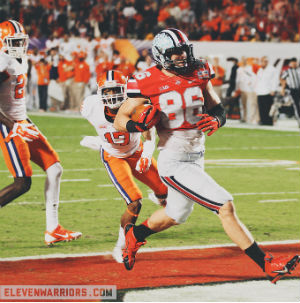 A beast of a tight end, Heuerman is back for his final year in Columbus and his second as a starter. Playing behind Jake Stoneburner, Heuerman caught nine passes his first two seasons for 119 yards and one touchdown.
But last year he shined when given his opportunities, grabbing 26 passes for 466 yards and four touchdowns. He could have been used a lot more. This year, I think he will be. Heuerman has All-American talent. I'm not sure he'll get there because he's such a great blocker, but he should make a run at conference honors.
Prediction: Last year's third-leading receiver repeats his position in the pecking order, but increases his output to 38 receptions, 580 yards, six touchdowns.
2. Dontre Wilson
As a freshman, Wilson looked dangerous whenever he touched the football. He's got all the raw talent in the world and speed to spare. He tied Spencer for fourth most receptions on the Buckeyes in 2013, with 22. Those catches went for 210 yards and two touchdowns.
Plugging that kind of talent into Philly Brown's vacated position could be seriously fun to watch. If Wilson can step right in and make that position his own, his results this year could be ridiculous. But I'm cautiously optimistic. I haven't seen him do it yet. But I think he'll be significantly better at the end of the year.
Prediction: 40 receptions, 690 yards, six touchdowns.
1. Devin Smith
Smith contributed right away as a freshman and is now entering his third year as a starter. Blessed with speed, Smith started showing more versatility in his game in 2013, catching more screens and underneath routes than in previous years. But hey, he can still get by anyone on a go route.
He caught 14 passes in 2011 for 294 yards and four touchdowns, and followed that with a 30-reception sophomore year, gaining 618 yards and scoring six times. Last year, Smith finished with 44 grabs but his yardage didn't jump much — he gained 660 yards (partially due to running more of those short routes) and scored eight times.
I think Smith's development jumps again. He may not put up Philly's reception numbers, but he'll lead the Buckeyes in yards, catches and touchdowns.
Prediction: 54 receptions, 753 yards, nine touchdowns.
Those are my (maybe not-so-) bold predictions for the 2014 season. The Ohio State receiving corps will be fine without Philly, I think, as long as Miller stays upright and delivers the ball.
---
Who do you have in your five?