Yesterday afternoon, players from the losing Scarlet team had to spruce up the trees in Buckeye Grove. Some of them were happier to do it than others; for instance, Braxton Miller's smile was countenanced by Stephen Collier's mulchiness.
This picture and my face describe my afternoon. #BuckeyeGrove #ISmellLikeMulch pic.twitter.com/XrLZeRPdkQ

— Stephen Collier (@S13Collier) April 18, 2014
Buckeye Grove is one of OSU's oldest football traditions, dating to 1934 along with the Gold Pants. Buckeye Grove contains 186 trees, one for every First Team All-American in OSU football history. Each tree has a plaque of one of those All-Americans, from Chic Harley to 2013 honorees Ryan Shazier and Jack Mewhort. The grove will expand over time and outgrow its surroundings. It is living history, and a unique way of remembering past greats.
Maintaining Buckeye Grove ought to be a high priority for the football program as it is more valuable tradition than many think. Much like The Grove and Toomer's Oaks are cultural touchstones for Ole Miss and Auburn, Buckeye Grove could be a touchstone for OSU.
Not every tradition has intrinsic value. For example, see Brady Hoke's infatuation with Ohio or Ron Prince's hilariously dated attempt to get Kansas State fans to wave power towels. Valuable traditions, though, are worth promoting.
Since Urban Meyer took the Ohio State job in 2011, he has instilled several activities that could become valuable traditions. One of them has been for the team that loses the spring game to maintain Buckeye Grove. The recent emphasis on Buckeye Grove shows another nifty trait about school traditions: nesting a smaller tradition within a larger tradition gives the larger tradition more depth and benefits the program as a whole.
Buckeye fans would be loathe to admit it, but Michigan's football history is every bit as proud as Ohio State's. And yet, only 15,000 fans showed up for Michigan's spring game as opposed to Ohio State's 61,000. Why? Aside from the population differences in Ann Arbor and Columbus, Michigan has never made the spring game seem as important.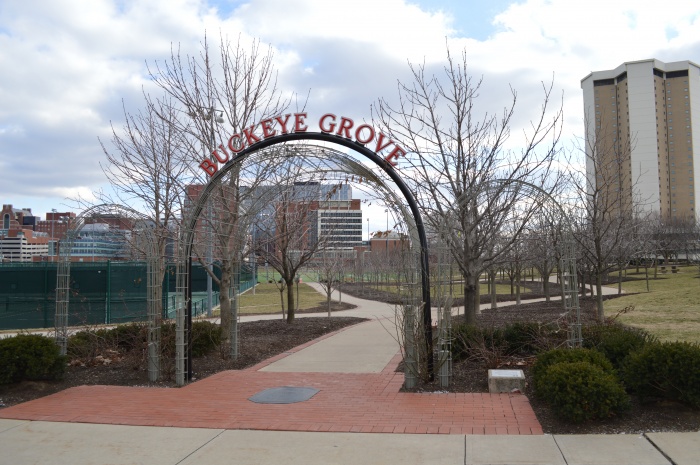 With good traditions, their growth in popularity is an ouroboros. Why is OSU's spring game so important? Because many people go to it. Why do so many people go to it? Because it's more entertaining than other spring games. What makes it more entertaining than other spring games? Its importance. And so on.
The more the university touts Buckeye Grove, the greater importance fans will place on it. And the more a tradition grows, the more Ohio State can add to Ohio State's football legacy, bringing in more fans and money and prestige. Needless to say, those help the program.
Often times, Ohio State's mishmash of architectural motifs (brick, glass, concrete, and sheet metal) detracts from the campus atmosphere. Buckeye Grove is an aesthetic haven next to the concrete that surrounds it on all sides.
Buckeye Grove was relocated to the southwest corner of the stadium during Ohio Stadium's renovations in 2001. It now sits between Ohio Stadium, Morrill Tower, university tennis courts and the Recreational & Physical Activity Center (RPAC). Intentional or not, Buckeye Grove serves as a connection between Ohio Stadium and North Campus. 
Some universities with off-campus stadiums are doomed never to have strong football traditions. South Florida fans have to drive 20 minutes away from campus to get to Raymond James Stadium, and UMass's stadium is an incredible 90 miles away. The Metrodome was only a mile away from the University of Minnesota's campus, yet any Golden Gopher fan would tell you moving to on-campus TCF Bank Stadium is the best thing Minnesota has done for recruiting in decades.
A university's connection to its football team has a lot to do with its stadium's placement. It's a way to connect the football stadium to to the rest of the campus. The Schottenstein Center suffers from being a mile away from residents halls, and even St. John Arena is isolated by parking lots and busy intersections. Buckeye Grove's walkways integrate Ohio Stadium into the main campus, giving the stadium cachet.
Buckeye Grove is not the grandest Ohio State football tradition. Aside from the week after the spring game and whenever another OSU athlete becomes a First Team All-American, it's often disregarded. But it's another aspect of Ohio State football that's entirely positive, and something the university ought to pay greater attention to.