I remember it like it was yesterday: the moment I heard coach speak's death knell in Columbus. It was an April afternoon back in 2012. Head Coach Urban Meyer had just finished one of his first spring practices and was meeting with reporters to give them the skinny. It was there, in that moment, Meyer shattered the head coach perception his predecessor had worked for over a decade to build…and it only took two words: "clown show"
Before we get into that, it's important to understand what I mean by coach speak. Rather than explain it myself, I'll turn it over to the master. Here's a word-for-word excerpt from Jim Tressel's 2009 USC post-game interview:
When asked how bad the loss hurt:
Well, all losses hurt and this one hurts the most because it's today. Our defense played extremely hard and they came up with plays, they got us a turnover near mid-field and we didn't cash in on it at all. They just kept playing, and I thought the punt unit did a great job of setting up good field position down in there and our defense made it hard for them to drive over the course of the game and they played hard, there's no doubt.
When asked how the two young quarterbacks (Matt Barkley and Terrelle Pryor) played:
I think those two young quarterbacks played against two good defenses and those few good defenses brought a lot of pressure and I'm sure that both of them will learn a lot from the experience and that was a tough ball game, especially if you were a quarterback.
And finally when asked to sum up recent losses in prime-time big stage games:
How would you sum it up? We've been fortunate to play in some big games, in some great games against some very good teams and our kids have played extremely hard and the last couple we haven't gotten done, but we've been in a couple tough ones in a row, that's for sure.
What's that Jim? The punt unit did a great job? The game would be tough if the reporters were quarterbacks? We've been fortunate enough to lose some big games?
That's the vest spouting 187 words that don't mean anything. That's coach speak. It's the sports equivalent of a filibuster. Sit in front of reporters, fill the air with tired clichés, then glance at your watch, say "welp look at the time" and exit stage right.
Tressel was a master at it. Like a politician he told us everything while saying nothing. He was the senator.
The above example is all the more impressive because it followed the Buckeyes' fifth straight loss on the national stage (2006 Natl. Championship, 2007 Natl. Championship, 2008 USC game, 2009 Fiesta Bowl, 2009 USC game). What's more, the game was the most winnable of the bunch and the Scarlet and Gray let it slip through their fingers on a last second game-winning drive by a visiting freshman quarterback. Tressel should have been furious, should have toppled the podium, should have thrown his shoe at a reporter. But instead, he said things like "we've been fortunate to play in some big games."
Meyer is no senator. He bangs his fist against podiums, he gets raging mad on the sidelines, and he says what he really thinks. Like when he referred to his wide receivers as a clown show shortly after taking over in Columbus.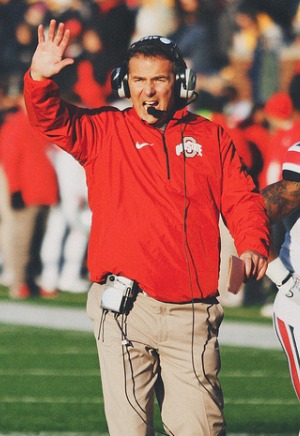 There's no right way to do it. Tressel won a lot of games keeping a cool head and saying nothing to reporters. But one has to admit the keeping it real approach is refreshing.
Last week during the Ohio high school football coaches clinic Meyer had this to say about the team he inherited in 2012:
I kn[e]w exactly what the problem was. It's called leadership on that team. I witnessed it. At my first team meeting, is guys didn't show up, so I gave them a chance to come back the next morning. Four or five of them showed up five minutes late. Got a little problem, don't we? We can fix it. We jogged out that morning at 5 a.m. in 10-degree weather and had a little chat. We ran a couple people out of here because they didn't need to be here.
And this to say about his team post UAB game:
I accepted the fact that we were a bad football team, we're looking at a 6-6 season and I'm going to go recruit my guys to get those guys the hell out of here. I was at Ohio State in 1986 and '87, and that was not what I was used to.
Can't you just feel the honesty? Meyer continued the #RealTalk after the spring game saying this about the hodge-podge of players on the field:
There are guys out there who will never play or they're not ready to play now. [Sports information director] Jerry [Emig] handed me these stats. I'm not sure what to do with these. I don't care. 
And this about potential backup quarterback Cardale Jones:
Cardale was disappointing
To an outsider, these quotes might make it look like Meyer is a tough coach to play for. But I think it's exactly the opposite. Urban makes it easier for players because they know exactly where they stand.
There's no denying Tressel said some very un-senator things behind closed doors, but Meyer's ability to be so publicly candid is a new direction. Coach speak is dead in Columbus. Gone are empty clichés, tired phrases and saying nothing.
And what's left…is the truth.