The college football off-season is a deep, dark chasm of despair that I don't even pretend to understand — any more than I understand why people put the dates of their deceased loved ones on the back of their automobiles.
The only thing one can do is speculate about the upcoming season and count off the days until joy returns to our planet with the first kickoff of the fall.
While I love the offensive fireworks we've seen under the Urban Meyer / Tom Herman regime with the ridiculously talented Braxton Miller calling the signals (or at least clapping them), I much prefer to have a defense that smacks down the opposition and therefore lowers the necessary point total required to win a game.
In other words, I'm a defense-wins-championships kind of guy.
As such, I thought it would be fun to look ahead to the 2014 Ohio State football season and try to figure out which players will finish among the top tacklers on the squad, and what their numbers might look like.
This way, you can all laugh at me after the bowl game and point out how hilariously wrong I was.
The top five stoppers for Ohio State in 2013 were Ryan Shazier (143 total / 101 solo) — because, duh — C.J. Barnett (84/56), Bradley Roby (69/54), Josh Perry (64/38), and Doran Grant (58/43).
What sticks out immediately is that both starting cornerbacks are in that group, along with two linebackers and a safety. The fact that three quarters of the starting secondary are in that group says a lot about the Buckeye defense in 2013. And let's not forget that Christian Bryant was lost for the season just five games in. (His replacement, Pittsburgh Brown, was sixth in tackles (55/33).
Ohio State's tackle distribution hinged on two things — it was incredibly difficult to run against the front seven, and it was ridiculously easy to pass on the back seven.
Because I don't expect opponents to be able to run much better against the Buckeyes in 2014, I think the tackling numbers will favor the back seven again. But I believe the pass defense will be significantly improved — even with the losses of Barnett, Bryant and Roby. And the tackling numbers will be a bit more evenly distributed without Shazier.
Here's how I see the top Buckeye tacklers in 2014:
5. Armani Reeves and Noah Spence (Tie)

I expect teams to attack Reeves in the secondary this fall, so there will be more action on his side of the field. Doran Grant is a returning starter and has shown flashes of his upside, although he has yet to put it all together. So Reeves will be targeted, especially early in the season (and continuously, until he forces teams to stop). He finished with 26 tackles in 2013 (16 solo) playing behind Roby.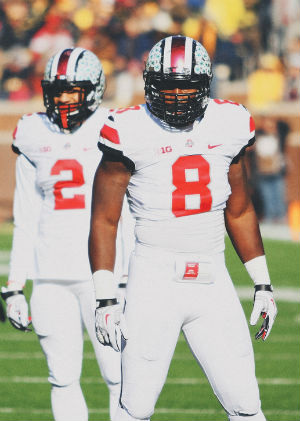 Spence is a surging talent that will have to overcome an early suspension before he starts putting ball carriers on the turf. He logged 52 tackles (24 solo) a year ago, despite missing the Orange Bowl as the first game of his suspension. Ohio State plans to rotate its front four more this year. While that will take Spence off the field more, he'll also be fresher late in the game and I expect he'll make more plays because of it.
Prediction: 59 tackles each, with Reeves making 39 solo stops and Spence making 35 of his without any assistance.
4. Vonn Bell

Bell played in all 14 games last year, but most of that was on special teams or playing late in mop-up duty. He registered 19 stops (16 solo) in his limited action. An injury forced him out of spring ball, but that will only make him hungrier this fall.
I expect Bell to be in the starting lineup against Navy and, barring further injury, making that spot his own. He'll fly to the ball on running plays and serve as a deep protector against the pass. Hence, he'll see a lot of action.
Prediction: 63 tackles (37 solo).
3. Curtis Grant

Grant is a player many expected big things of early in his career. While that didn't materialize, he seems to be a player finally seizing his opportunities. He missed one game a year ago and played hurt in several others, but tied Spence for seventh on the team with 52 tackles (24 solo).
He'll continue to get better in 2014 and if he can increase his recognition speed — both in pre-snap keys/reads and during the play — Grant will shine.
Prediction: 64 tackles (39 solo).
2. Tyvis Powell

Sadly, I have nothing scientific to back this up, but I think Powell will be one of the most improved players on Ohio State's defense in 2014. Besides being the hero that preserved a victory in The Game last year in Ann Arbor, Powell finished with 48 tackles (26 solo). That was good for ninth on the team.
Ohio State's secondary will be called into action repeatedly in 2014, when teams get tired of running into Spence, Michael Bennett, Adolphus Washington and Joey Bosa. That's when Powell will step up and make his presence felt.
Prediction: 70 tackles (54 solo).
1. Joshua Perry

Perry may not be Shazier, but he'll be occupying that position and role in the defense this fall. Even when he wasn't in the RDS role, Perry was fourth among OSU tacklers last season, with 64 (38 solo).
With more of a downhill attack in 2014, Perry's tackling numbers will soar. Ohio State typically has a linebacker lead the way in tackles, and No. 37 will be the man this year.
Prediction: 109 tackles (82 solo).
---
So there it is. Feel free to call me out at season's end. But if you're planning to do that, be sure to fill the comments area with your predictions so I can see how much better you did.